**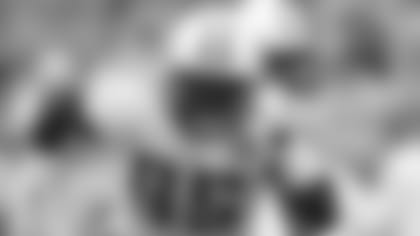 One of the strongest players on the team, defensive end William Hayes will add another force to an already strong start by the Titans' defensive line.
NASHVILLE, Tenn. -- **William Hayes said Friday that he is ready to "bring a little more electricity" to the Titans.
It's fitting, since the third-year pro defensive end is described as a player who can transfer power with little loss of force.
Hayes missed Tennessee's first two games of the season because of a knee injury but is expected to play Sunday when the Titans (1-1) visit the New York Giants (1-1) at New Meadowlands Stadium. Kickoff is noon, and Hayes said he's "just ready to go."
"I'm not going to be limited," Hayes said. "There's no need to be playing this week if I was going to be limited. I'm going to wear the brace for precautionary reasons. There's a secret about the brace I can't let (reporters) know yet. If I play good against the Giants, I'll let the secret out. I'm probably going to wear the brace all season."
When asked what Hayes' return to the front four would mean for the defensive line, Jason Babin told reporters on Monday that Hayes is one of the strongest guys in the NFL.
Tennessee strength and conditioning coach Steve Watterson said Friday that Hayes is "exceptionally strong."
"So much of it is a genetic gift," Watterson said. "His ability to explode using his hips is something you can work on your whole life and not have, not be able to develop. He not only has the gift but is starting to work it into his arsenal."
Watterson said when football coaches speak of hips, they are talking about the integration of everything from just above the knee up to the lower back to "transfer energy from the lower extremity to the upper extremity without any load absorption."
"It's more load delivery," Watterson said. "You don't want that to be the weak link. Some athletes never get to the point where they can, what we call, 'Cock their hips' and be able to get their chest up and have vision while they're driving from the lower extremity, driving from the ground and delivering power, force and in William's case it would actually be like a four-step explosion.
"He can also absorb an awful high amount of energy from another strong player and redirect that energy back into the opposing player," Watterson continued. "Those are gifts, and once you recognize that, you can train that to becoming an important tool."
Watterson said Hayes, 25, has matured really well since coming to the Titans, who drafted him out of Winston-Salem State in 2008.
Hayes recorded 21 tackles, one sack and two quarterback pressures in his rookie season and broke through for 82 tackles, four sacks and 23 quarterback pressures in 2009.
Hayes and Watterson said the numbers were a return on Hayes' investment of hard work and offseason commitment that have refined a raw talent that defensive line coach Jim Washburn saw in Hayes.
"That's going to play big dividends at the end," Hayes said.
Watterson added: "Coach (Jim) Washburn is going to find the tool that best optimizes an athlete's performance. He told me from the start, 'This guy is gifted. I need you to help me hone it.' (When) Jim identifies a component, he's usually right on target."
The Titans' defense leads the NFL in total yards allowed (206.5 per game) and passing yards allowed (85.5 per game).
Tennessee has also recorded four sacks in each of its first two games. Hayes spent the first two games watching tactics used by opposing linemen and waiting to get back on the field.
"It was just so hard to sit there and look at something that you truly love doing," Hayes said.