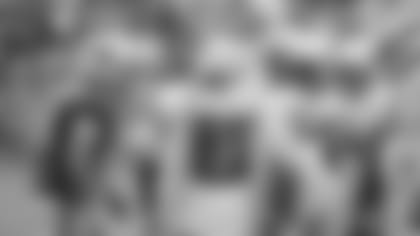 Quarterback Matt Hasselbeck (left) was voted offensive captain by his new Titans teammates.
NASHVILLE, Tenn. -- While the arm and legs of a quarterback are often the easiest components to evaluate during a play, there many less conspicuous factors that increase or decrease the likelihood of the play working.
Titans coaches and players believe 13-year veteran QB Matt Hasselbeck has the watchful eyes, the listening ears, and a style of leadership that will provide what Tennessee needs this season. Hasselbeck's offensive teammates voted him as a captain this week, less than two months since he signed with the Titans.
"I don't take that lightly," Hasselbeck said. "There's a whole bunch of guys that could have been voted captain, and I take that as a huge responsibility on my shoulders."
Hasselbeck, who turns 36 later this month, is the oldest player on the Titans' roster. He has brought a youthful spunkiness to practice that's been balanced by an attentive approach as he tries to learn new terminology, expunge the terms he used for 10 years in Seattle and get in sync with Titans receivers, tight ends and running backs. He said success on a play begins in the huddle since the Titans are lining up receivers at multiple positions.
He also trusts his offensive line and has the faith of his teammates if he wants to make a change at the line of scrimmage.
"If he sees something, he knows how to get us out of it," left tackle Michael Roos said. "He's vocal. He leads by example. He works hard. He's a natural leader and has been for a while."
There are times for growth and development when a new coach, new offensive coordinator and new quarterback join forces, but coach Mike Munchak said the process has been going well because of the communication between Hasselbeck and offensive coordinator Chris Palmer.
"I think he's going to be a guy for Chris Palmer that's going to be very helpful on game day," Munchak said. "What he's seeing, what's working, maybe speed it up if things aren't going as well as we hoped or seeing something coverage-wise. I'm sure that Chris will appreciate his input during the game."
Hasselbeck said his job has gotten easier with the return of Kenny Britt from a hamstring problem and Chris Johnson from a contract holdout. Britt led the Titans with 775 receiving yards in 2010, and Johnson's 4,598 rushing yards in the past three seasons is the most by any NFL player in that span. Hasselbeck, however, said he and the offense are still developing.
"We're still a bunch of guys that haven't played on the same team," Hasselbeck said. "This is our first year so we've got to be crisp. We've got to spend extra time talking about things. It's almost good when you make mistakes (at practice) because the coaches bring attention to it. They harp on it. You feel bad when you're the guy making a mistake, so you don't make it twice."
The Titans open the regular season Sunday at AFC South foe Jacksonville.