NASHVILLE – Warren Moon was the best quarterback in one of the best conferences in college football back in 1977, but he didn't get invited to the NFL Combine, and he wasn't picked in the 12-round NFL Draft.
A scout told him he should consider playing receiver at a time when it was widely believed African Americans weren't equipped to play quarterback in the NFL.
So, Moon headed to the Canadian Football League, where he played six years. Then the NFL's Houston Oilers, and owner Bud Adams, gave him a shot.
Moon has commended Adams for his willingness to give black quarterbacks a chance over the years, and now he's praising his daughter, Titans controlling owner Amy Adams Strunk, for stepping up to make her feelings known about social injustice and racism in the country. Strunk issued a statement late last week calling for change.
"I read it, and I thought that was pretty powerful," Moon said of Strunk. "I think everyone has been waiting on more NFL owners to step up and say things and that was definitely a powerful statement from her, one of the owners. Because that is what everyone has been waiting on – waiting on NFL owners to speak up a little bit more.
"I am proud of Amy, because she has shown since she took over that organization that she is willing to make a lot of positive changes in a lot of ways. I think she understands how visible and how much power she has to make a change in the community, and she is willing to go out and do that and I love that about her. I'm really proud of her."
Strunk joined the calls for equality in the wake of George Floyd's death in Minneapolis, while reiterating the organization's stance against all forms of racism.
"Hearts, minds and institutions need to change throughout our country," Strunk said in the statement. "Those who face racism need to be heard, and more importantly, understood by those who haven't listened before. Our organization and our players have dedicated time and resources to these issues through the 'We Stand For' campaign and we are making a difference in our own community, tackling issues like educational equity, judicial reform, policing policies and assistance for underserved areas. We are proud to support those efforts and we will continue to find ways to impact our region.
"Hearing our players and coaches speak over the last two weeks has been constructive to this vital discussion. I support our players using peaceful protests and their platforms to advance us as a nation. I would encourage those who haven't thought about these issues before to understand the pain, anger and frustration of the black community. Black lives matter. We should all agree on that."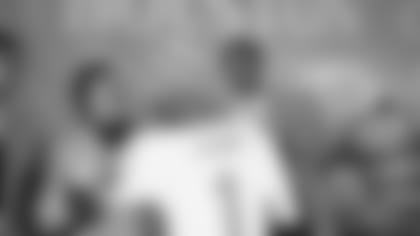 Moon, who played 17 NFL seasons with the Oilers (1984-93), Vikings (94-96), Seahawks (97-98) and Chiefs (99-2000), became the first black quarterback enshrined in the Pro Football Hall of Fame. The former University of Washington star played his first six seasons with the Edmonton Eskimos of the CFL before Adams came after him. Moon said Adams actually tried to sign him in 1983, before he joined the Oilers in 1984.
Moon, named to nine Pro Bowls, guided the Oilers to the playoffs seven times in his 10 seasons, and he threw for 49,325 yards in 17 NFL seasons. Moon said Adams looked at ability at the quarterback position, and not race, when he signed him. And he reminded he proved it again and again when he later drafted quarterbacks Steve McNair (in 1995) and Vince Young (in 2006) with top 3 picks.
"And that's what it should be, and that's what it is now as you see so many African American quarterbacks doing so well around the league and getting more opportunities," Moon said. "Mr. Adams looked at us as good athletes and players, and he looked at us as he thought we could be leaders. He looked at us as someone who could make big plays at critical times in the games and he thought we could be the face of the franchise, somebody who could represent the franchise in a lot of ways, not only on the field but in the community.
"He looked at us as someone you could put on the cover of the media guide, and also somebody he could take to his country club and introduce to his friends, that type of thing. When you are talking about who your quarterback is going to be, you're talking about a lot of different aspects of leadership and visibility that the quarterback is going to be for your team. Because he is going to be one of the most popular people in town as well as possibly the most unpopular people, depending on how you play."
Moon told TennesseeTitans.com in a separate interview earlier this year he believes Adams should be in the Pro Football Hall of Fame.
"What I am most proud of him for is he wasn't afraid to go out and bring African American quarterbacks to his football teams, whether it was me or Steve McNair or Vince Young," Moon said. "He has had African Americans at that position, a position that was always looked it like African Americans weren't equipped to play, so I love him for that."
Last week, Titans safety Kevin Byard, linebacker Rashaan Evans, and quarterback Ryan Tannehill all said they've been encouraged by what has happened in the wake of Floyd's death in Minneapolis, which occurred when police officer Derrick Chauvin kneeled on Floyd's neck for more than eight minutes.
Floyd's death has led to more conversations across the world, and awareness, and a lot of that is happening through protests.
Titans General Manager Jon Robinson and Coach Mike Vrabel have been involved in conversations with players and staff members in their push for social justice.
Moon said Strunk's response, and her willingness to listen to her players, hasn't gone unnoticed.
"As a player you want to make sure you are not doing anything that is going to be a negative light on the organization or puts you as a player in a negative light," Moon said. "Back in my day, players didn't speak out as much because you had to worry about your job security and what others might think.
"When you have an owner who is willing to take a stand and speak about wanting to help make a change, it goes a long way. And players notice that and appreciate it."