INDIANAPOLIS – Nashville's Paul Adams remembers January 8, 2000.
The Christ Presbyterian Academy product, who played collegiately as an offensive lineman at Missouri, remembers being excited, and cold.
"One of my first games was actually the Music City Miracle," Adams said of the Titans' improbable playoff win over the Bills. "I was four years old. I was up in the nosebleeds, so I was pretty high up there. Whenever we'd go to games I'd always wear shorts and a t-shirt. … It was really cold that day.
"I really didn't understand why everyone was cheering so loud and stuff, but when (Kevin Dyson) scored that touchdown, I was like: 'I guess I'll just cheer with them.' It was a good game."
Adams, here at the NFL Combine, grew up a Titans fan. He idolized Hall of Famer Bruce Matthews as a kid, and in more recent years has been inspired by the team's current players, including three-time Pro Bowler Taylor Lewan.
Would you believe Lewan actually bummed a potato skin from Adams when he stopped by "Titans Tonight," a radio show on 104.5-FM, a few years ago?
"I went with my brother," Adams recalled. "We had not made a bowl that year, in 2015, so I came back early in December and we were talking to Amie Wells, who is a grad of Missouri. We started chit-chatting back and forth, and she was like, 'I'll bring Taylor over here.' So (Lewan) came over and asked: 'Hey, do you want this loaded baked potato skin?' We were already eating, and we were like, 'No, you can have it.' He took a bite out of it. We were just talking for 10-15 minutes. It was extremely nice of him to come over and talk to me and my brother, and take some pictures with us."
As things have turned out, Adams has gotten to know Lewan even better, as the two crossed paths while training in San Diego. (No word on whether Lewan bummed any food off of Adams while on the West Coast).
"I've always looked up to him ever since he got drafted by the Titans," Adams said of Lewan.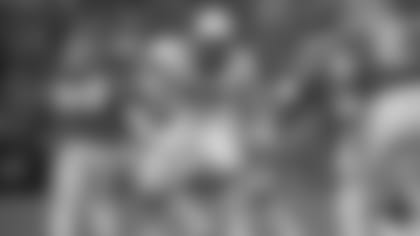 After playing at Missouri, where he was a two-time team captain and 2018 winner of the Team Don Faurot Most Inspirational Award and Team Big M Iron Man Award, Adams is preparing for the NFL Draft.
Adams developed into a solid tackle at Missouri, after playing at CPA for head coach Ingle Martin, a former NFL quarterback who spent time with the Titans in 2007-08. Adams was awarded with one of the Tennessee Titans' Mr. Football awards after his senior season.
Over the next few months, Adams plans to continue working to make himself an attractive draft prospect. He hopes to make a favorable impression before NFL teams here this week.
He looks back at his days at CPA, with Martin, with fond memories. And he can't help but think of how far he's come from that four-year-old kid in the upper deck at Nissan Stadium.
"I think coach Martin – I can call him Ingle now since I'm a little older – has been one of those father figures in my life for me," Adams said. "Any big decision that I've made, I've always contacted him, one of the first people. His input means so much to me. He is a godly man, and he wants what's best for me.
"He has been through all of this before, and he was like: 'The day after I got done with my (combine) I slept for like 30 straight hours, so I really don't expect to hear from you until Monday morning. I have been extremely blessed to have a man like that in my life.
"… All of this is really exciting. It's just extremely cool that I am right here, right now. A lot of praise goes to God, because a lot of blessings have come my way."