HOUSTON -- Prior to moving to Tennessee in 1997, the Titans franchise enjoyed numerous successful eras as the Houston Oilers.
As charter members of the American Football League (AFL), the Oilers were AFL champions during the first two years of the league's existence in 1960 and 1961 behind the play of Hall of Famer George Blanda.
The Oilers set a franchise record of reaching the playoffs seven consecutive seasons (1987-93) during the run-n-shoot era led by Hall of Fame quarterback Warren Moon.
As successful as these two eras were in franchise history, many devoted Oilers fans still point to the "Luv Ya Blue" era of the late 70's as the most colorful and beloved teams during the club's years in Houston.
The city of Houston showed that love in full force on Feb. 6 as Dan Pastorini, quarterback of the Oilers during the Luv Ya Blue years, was one of four sports icons inducted into the Houston Sports Hall of Fame. The evening also featured the recognition of the 40th anniversary of the "Luv Ya Blue" era.
Also inducted in the Houston Sports Hall of Fame that evening was professional golfer Jackie Burke, racing legend A.J. Foyt and Olympic and world boxing champion George Foreman.
These four Houston legends joined the inaugural class of 2018 enshrinees Earl Campbell (Oilers), Hakeem Olajuwon (Rockets) and Nolan Ryan (Astros).
"My family and I are extremely pleased that Dan Pastonini is joining Earl Campbell as Houston Oilers in this Hall of Fame," said Titans Controlling Owner Amy Adams Strunk.
"It is so appropriate that his induction comes on the 40th anniversary of the Luv Ya Blue era when Dan and Coach (Bum) Phillips were the heartbeat of those teams. My congratulations also go out to Jackie Burke, A.J. Foyt and George Foreman. As icons in the world of sports, your induction info this Hall of Fame is richly deserved!"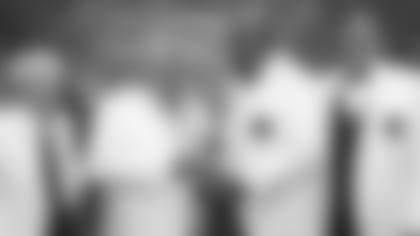 The above message of congratulations was read at the banquet by Debbie Phillips, a close friend of Adams Strunk and the widow of Bum Phillips who coached the Luv Ya Blue Oilers.
Wade Phillips, currently the defensive coordinator of the LA Rams and Bum's son, was Pastorini's Hall of Fame presenter. The two have been close friends since the '70s and often refer to each other as "my brother."
Phillips was an assistant coach on his father's staff during the Luv Ya Blue era and spoke of the fan support the Oilers received at that time.
"What I really do appreciate is you recognizing the Luv Ya Blue era and obviously Dan was a focal point of that," Phillips said. "Let me tell you one thing about that era and the Houston fans. I'm with the Rams now and we won the NFC this year and we had 15,000 people at the (Super Bowl) send off for us.
"The Patriots had 35,000 fans for their send off and they are Super Bowl winners," Phillips continued. "When we came back from Pittsburg after getting beat (after 1979 AFC Championship game), there were over 50,000 people in the Astrodome to greet a team that did not win. We appreciate that very much."
"I would first like to thank the Houston Sports Hall of Fame for selecting me," said an emotional Pastorini. "But I'm going to accept this award not for me, but for the Luv Ya Blue players that are here in force tonight, the Luv Ya Blue fans and the city of Houston and how you supported us during those times.
"I think I played in the greatest time with the greatest people of all time," Pastorini added. "I want to congratulate Jackie Burke, George Foreman and A.J. Foyt for being inducted also. I watched A.J. when I was 9 years old, you inspired me to get into racing. And George Foreman, you're exactly the reason I never wanted to climb into the ring!
"We had a good coach who brought this team and this city together," Pastorini said of his coach and dear friend, the late Bum Phillips. "We were just like family and these guys (teammates in attendance) for the past nine years have come into town for my charity golf tournament and have helped raise over a million dollars. I'm blessed to have these guys as friends, this award is for us, it's not me, it's us!"
With those closing comments, Pastorini called his teammates to the stage to a standing ovation and the crowd sang in unison the Oilers fight song much to the delight of all in attendance.
Joining Pastorini on stage were teammates Mike Barber, Robert Brazile, Kenny Burrough, Curley Culp, Billy "White Shoes" Johnson, Carl Mauck, Vernon Perry, and Robert Woods. Debbie and Wade Phillips remained on stage for the special closing musical moment along with Pittsburgh Steelers great "Mean" Joe Greene, a close friend of the Luv Ya Blue gang.