INDIANAPOLIS – Former Titans safety Tank Williams was back home visiting his parents last month when he found something he hadn't seen in quite some time.
It was his old NFL Combine shirt, from 2002, when he was a draft prospect coming out of Stanford.
"It was a loose little Dri-fit," Williams said with a smile. "Now they wear like these gymnast outfits, where coaches and scouts can see every strand of the muscle. … It has definitely changed over the years."
Williams was drafted by the Titans in the second round of that draft, with the 45th overall pick. He was sandwiched in between defensive tackle Albert Haynesworth (first round) and linebacker Rocky Calmus (third round) in that draft class. Williams ended up playing four seasons with the Titans (2002-05), starting 57 games, before ending his career with the Vikings and Patriots, where he was teammates one year with Titans head coach Mike Vrabel.
Now Williams is back at the NFL Combine, working as an analyst for Yahoo! Sports. He's been interviewing prospects all week, and he's also seen a much more intense following of the event, from a fan and media perspective.
"It really is crazy how much it has changed," Williams said.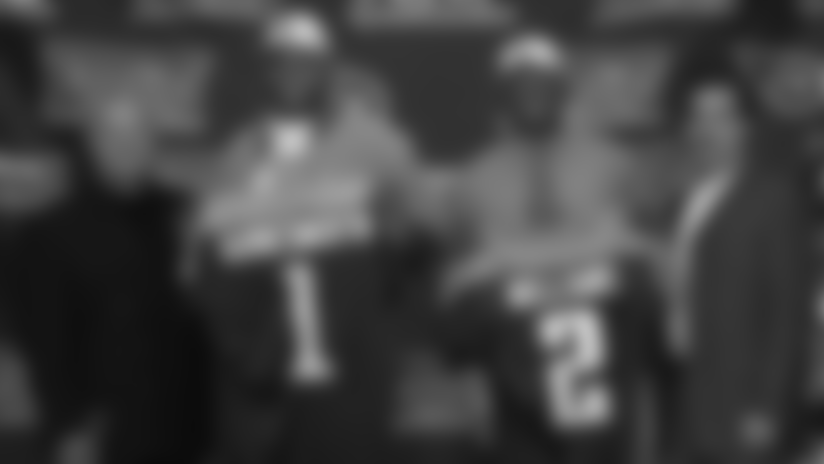 During a break, Williams recalled his days with a defense that became known as the "Tennessee Tyrants."
"I believe that was just the culture that was instilled in us from the guys who came before me," Williams said. "Of course I still catch up with Keith (Bulluck) today, and he's the one that came up with the 'Tennessee Tyrants." But at the same time it was Lance Schulters, it was Jevon Kearse, it was Samari Rolle, and all those guys who had this attitude that we felt we were underestimated and we could go in and dominate and impact the game.
"Our mission was to go out and dominate every week and let our presence be known, in all phases, from stopping the run, stopping the pass, creating pressure on quarterbacks, while trying to make sure receivers and tight ends were scared to catch the ball when they came across the middle. We took pride in that, and did a pretty damn good job at doing that for a while."
Williams started with Yahoo! Sports in 2015. After retiring from the NFL in 2009, he initially worked for a commercial real estate firm for five years before opening his own residential development company, something he did until last year.
But Williams said football has always been his passion, and he loves his gig.
"My role was first fantasy football, but I guess my knowledge for the game allowed me to expand my role with Yahoo to where I cover college football, NFL and fantasy – all pigskin," Williams said. "It's cool being here, seeing the other side. I definitely have a respect for what (media) has done all along, but at the same time I feel like I bring a unique insight of understanding what these players have gone through, whether it's the draft process of going to the NFL.
"I just want to handle myself in a way where I am respectful to the players, and to the business. I want to put the best content out there, and that it is informative and entertaining."
Williams said he's kept an eye on the Titans.
He returned to Nashville for the team's Alumni Weekend last year, and has a unique perspective on Vrabel from his days with him with the Patriots.
Looking ahead to the NFL Draft, Williams has his thoughts on what the Titans should do.
"I think they are right on the cusp," Williams said. "From an offensive side of the ball, whatever you can do to help Marcus Mariota just become the quarterback we believe he can be, I believe that would be a good thing. Corey Davis came on last year, and Derrick Henry became a dominant force in the run game. So that one-two punch of having Henry as the main back, with Dion Lewis, and then a No.2 receiver would definitely help give Mariota another target.
"If you could have Delanie (Walker) come back and be the player he's been, and have Jonnu supplement as well, then they could have some really nice weapons and have some success."
As for Vrabel, Williams said the Titans are in good hands.
"I was in the linebacker meeting room with Vrabel and Tedy Bruschi (in New England) when Matt Patricia was the linebackers coach and it was like all of those guys were extensions of Bill Belichick and Patricia," Williams said. "They just had a complete understanding of not only the defense, but how you are supposed to approach each and every practice, each and every week, each and every game.
"And I believe that is the foundation (Vrabel) is building in Tennessee, and players need to focus on understanding their responsibilities and going out there and doing their jobs. If everyone does that, then you'll have success on the field. And having that team-first approach, and having that camaraderie as a family, that is important because everyone will buy in and support each other. If you can have that solid foundation, (the Titans) will have success."