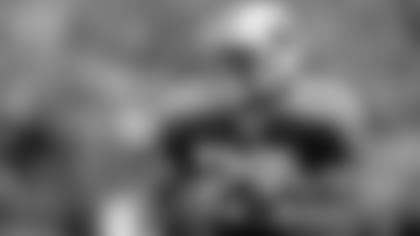 Eddie George will announce the Titans' second-round pick Friday night from Radio City Music Hall.
NASHVILLE, Tenn. -- Former Titans running back and franchise rushing leader Eddie George will announce the team's second-round draft pick (52nd overall) Friday night from Radio City Music Hall.
The NFL announced today that 33 legendary NFL alumni, one representing each team and two representing the St. Louis Rams, will announce second- and third-round draft picks, continuing a successful program that began last year in which each selection in the second round was announced by a former player.
Former Titans defensive end Jevon Kearse announced Tennessee's second-round pick a year ago.
The NFL alumni scheduled to be on-hand to make the announcements from the podium feature six Pro Football Hall of Famers, including two from the Class of 2012:
• *Arizona Cardinals, Roger Wehrli (DB)
• Atlanta Falcons, Alge Crumpler (TE)
• Baltimore Ravens, Matt Stover (K)
• Buffalo Bills, Phil Hansen (DE)
• Carolina Panthers, Mike Rucker (DE)
• Chicago Bears, Otis Wilson (LB)
• Cincinnati Bengals, Isaac Curtis (WR)
• Cleveland Browns, Gary Collins (WR)
• Dallas Cowboys , Chad Hennings (DL)
• Denver Broncos, Terrell Davis (RB)
• Detroit Lions, Barry Sanders (RB)
• Green Bay Packers, LeRoy Butler (S)
• Houston Texans, Danny Clark (LB)
• Indianapolis Colts, Marvin Harrison (WR)
• Jacksonville Jaguars, Fred Taylor (RB)
• Kansas City Chiefs, Will Shields (G)
• Miami Dolphins, Dwight Stephenson (C)
• Minnesota Vikings, Anthony Carter (WR)
• New England Patriots, Troy Brown (WR)
• *New Orleans Saints, Willie Roaf (OL)
• New York Giants, Michael Strahan (DE)
• New York Jets, Wesley Walker (WR)
• *Oakland Raiders, Willie Brown (DB)
• Philadelphia Eagles, Brian Westbrook (RB)
• Pittsburgh Steelers, Dermontti Dawson (C)
• St. Louis Rams, Isaac Bruce (WR) & Torry Holt (WR)
• San Diego Chargers, Courtney Hall (OL)
• San Francisco 49ers, Jesse Sapolu (OL)
• Seattle Seahawks, Walter Jones (OL)
• Tampa Bay Buccaneers, Dexter Jackson (S)
• Tennessee Titans, Eddie George (RB)
• *Washington Redskins, Ken Harvey (LB)
Teams marked with a * do not have a second-round selection, barring a trade into Round 2.  Their player representatives will announce their Round 3 picks.
The 2012 NFL Draft will continue the three-day format introduced in 2010, with the first three rounds broadcast in primetime at 7 p.m., CT on Thursday, April 26 and 6 p.m. CT on Friday, April 27, and concluding with Rounds 4-7 on Saturday, April 28 at 11 a.m., CT. 
The NFL Draft will be broadcast on NFL Network and ESPN/ESPN2.  Fans also may watch the live NFL Network stream on NFL Mobile and follow all of the Titans' selections at Titans Online.com.