MIAMI - Former Titans guard Steve Hutchinson waited for the call from the Hall, not knowing whether it would come or not.
When it did – Hutchinson was elected to the Pro Football Hall of Fame of 2020 on Saturday – he could hardly contain himself.
"Everybody always says you wait for the knock, and you do," Hutchinson said. "I think I was the last one to get the knock – I was on the top floor (of the hotel). And that last 10 minutes (waiting), it seemed like it was like seven hours. It was crazy.
"When I got the knock, you start floating, and are like: Is this real? And it is emotional. My wife and my kids were in the room with me and we just kind of broke down at once. It is great. It is indescribable, really. It is unlike anything."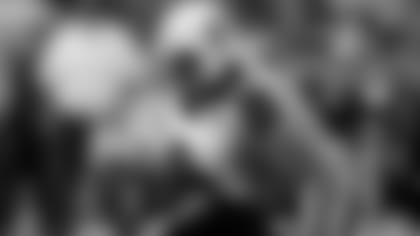 Hutchinson played in 169 games over 12 NFL seasons from 2001-2012, mostly with the with the Seahawks and the Vikings. He played guard in 2012 with the Titans, and later assisted with the personnel department with the team.
He continues to make his home in Nashville, and said he enjoyed his time with the team.
Hutchinson blocked for running back Chris Johnson, and in front of quarterbacks Matt Hasselbeck and Jake Locker. He was coached by a pair of Hall of Famers – Mike Munchak and Bruce Matthews.
"I really enjoyed that last year (in Tennessee)," Hutchinson said. "We didn't have a great record (6-10), we didn't have a great year. But I got to spend a year with Bruce Matthews as my offensive line coach, and Mike Munchak as my head coach, and you can't ask for a better set-up for an offensive lineman, to have two Hall of Fame coaches. And obviously we love the area – we stayed there.
"It was a good year, even though it wasn't a successful year (record wise). It was a year I was happy to be a part of."
A year ago, another former Titans offensive lineman, Kevin Mawae, was elected to the Hall of Fame.
Hutchinson was a Pro Bowler seven times in his career, including three straight seasons with the Seahawks (2003-2005). Hutchinson was a five-time All-Pro first-teamer and was twice named to the All-Pro Second-Team.
He was selected to the 2000s All-Decade Team, and voted to seven consecutive Pro Bowls.
Now, he's a Hall of Famer.
"I have about 200 and something texts to open up right now," Hutchinson said. "When I lay down in bed and scroll through them, and respond to them … Just knowing now there is no pressure anymore, and there is no anxiety.
"I can wake up in the morning and have a brunch and, they are going to measure everything on my big head for this bust. It's such a great moment and I have so many people I am thankful for, all the people who helped me get here. It feels good now to say, "I'm a Hall of Famer."