**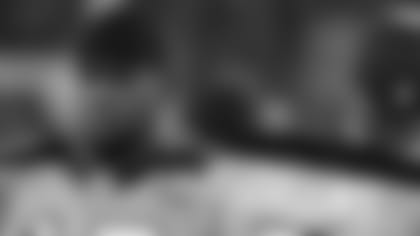 Titans coach Jeff Fisher is expected to announce after Thursday's practice which quarterback will start Sunday against Jacksonville.
NASHVILLE, Tenn. -** Jeff Fisher knows he can't keep the identity of his starting quarterback secret until kickoff Sunday even if he wants to.
So the Tennessee coach is trying to keep it quiet for another 24 hours.
Fisher said Wednesday he will announce his starter Thursday, trying to carve out another day of competitive advantage for the winless Titans against Jacksonville (3-3).
"I'm going to assume that as long as we can keep this thing a mystery, the better chances we have. There's clearly a difference in skill-sets between the two quarterbacks. That's obvious,'' Fisher said.
The coach stuck with Kerry Collins as his starter all season. But the Titans are 0-6, and owner Bud Adams reportedly wants to see Vince Young start Sunday.
Neither Collins nor Young spoke to reporters Wednesday, and offensive coordinator Mike Heimerdinger was not available to three reporters asking to speak to him after practice. The Titans signed John David Booty to the practice squad Wednesday, and he worked with the scout team - duties that had been handled solely by Young since Patrick Ramsey was cut Oct. 3.
The quarterbacks are very different.
Collins is the pocket passer with the accurate arm. But the 15-year veteran has eight interceptions - one more than all of last season. His receivers have dropped at least 18 passes, Collins is completing just 54.8 percent of his passes, the offense ranks last in the NFL in time of possession and the Titans haven't scored a touchdown in eight quarters.
Young remains best known for his legs than his arm, having rushed for 979 yards since being drafted No. 3 overall in 2006. He is 18-11 as a starter, a job he lost to Collins in the 2008 season opener against the Jaguars after being intercepted twice and spraining his knee.
"I still have faith in Kerry Collins, that's our guy,'' linebacker Keith Bulluck said. "No one in this locker room, no one on this team said anything. That call came from the head.''
Asked if Young would be ready if promoted to starter, Bulluck referred questions to the quarterback. But he said Young's got to be ready because people can look great in shorts during offseason workouts but not be up to playing at kickoff.
"I have confidence in both of our quarterbacks. Right now Kerry is our starter, and I'm fine with that,'' Bulluck said.
Both quarterbacks worked with the first-team offense Wednesday. Center Kevin Mawae said he didn't know of a change and that quarterback switches can produce mixed results. He noted Young taking over for Collins in 2006 when the Titans were 0-3 with the team finishing 8-8 and how Collins replaced Young in 2008 as part of a 10-0 start.
Mawae said team owners can do what they want but he thinks Adams will leave final decisions up to Fisher.
"I know everyone wants a quarterback change because a quarterback change is the one thing that can incite something. But if everybody else is doing their job, including the offensive line and receivers, then everybody looks better, including the quarterback,'' Mawae said.
Receiver Justin Gage indicated he senses a change is coming, while tight end Bo Scaife, who played with Young in college at Texas, said he was not the coach when asked about a change at quarterback. Scaife said he knows Young, the 2006 Offensive Rookie of the Year, wants to play.
Is Young, who has more career interceptions (33) than touchdowns (22), ready?
"I hope he's ready,'' Scaife said. "Only Vince knows if he's ready. He's been looking good in practice, looked good in training camp. Only Vince knows when he's ready. Practice is different than the game.''
NOTES: RB Javon Ringer hurt his lower back or hip near the end of practice and was carted off the field before being helped inside the team's building. Fisher did not have any information on the severity of the injury, though the rookie was in obvious pain. ... DB Vincent Fuller (broken right arm) was not listed on the injury report, and Fisher said he has been cleared to return. CB Nick Harper (broken right arm) was limited. CB Cortland Finnegan (right hamstring) did not practice, but Fisher said he could be on the field Thursday.