**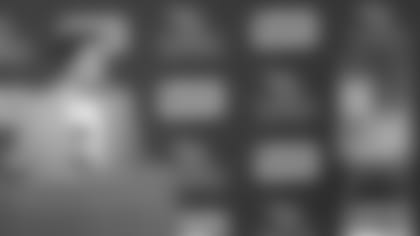 Cornerback Cortland Finnegan has been voted  the 2010 Titans Community Man of the Year.
NASHVILLE, Tenn. –** The Tennessee Titans announced today that cornerback Cortland Finnegan has been named the 2010 Titans Walter Payton Man of the Year Award winner.  Finnegan was selected by a voting panel that consisted of his teammates, Titans staff, members of the news media and local non-profit and community executives for his dedicated community service. 
Finnegan is now a finalist for the league-wide 2010 Walter Payton NFL Man of the Year Award that will be awarded during Super Bowl week in Dallas.  This prestigious NFL award has been in existence since 1970 and is the only NFL award that honors players who demonstrate outstanding balance in their lives between civic and professional responsibilities.  In 1999, the NFL renamed the award after the late Walter Payton as a tribute to his greatness, both on and off the field.  Man of the Year candidates were chosen based on guidelines from the NFL that state all candidates should have completed at least three seasons in the NFL and be currently playing in at least their fourth season in the league.
In one of the closest votes ever, Finnegan was selected from a group of eligible finalists that included Rob Bironas, Ahmard Hall, Michael Roos, Stephen Tulloch and Vince Young.  These finalists were named "Titans 2010 Community All-Stars" for their community service contributions. Mr. Adams and the entire Titans organization are very proud of the terrific community efforts of all players, who continue to make a difference in the lives of those less fortunate in our community.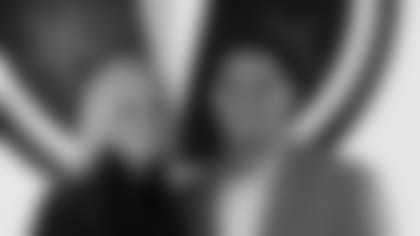 Cortland Finnegan, pictured with his wife, Lacey, who also serves as the executive director of the ARK 31 Foundation.
"Cortland and the other nominated players have set the bar for the other players to follow regarding their tremendous work in the community," said Titans Owner/President K.S. "Bud" Adams, Jr.  "It is very important to me that everyone in the Titans organization realizes that they have an opportunity at some level to assist those less fortunate and Finnegan's efforts are truly deserving of this honor.  He joins an elite group of players from our past to be honored as the Titans Community Man of the Year."
Finnegan was drafted by the Titans in 2006 and has emerged as a leader of the secondary with 13 career interceptions, 390 career tackles and five QB sacks. He earned All-Pro Honors and a trip to the Pro Bowl in 2008.  Finnegan also set a franchise record with his 99-yard interception return for a touchdown against Houston in 2008.  Thus far during the 2010 season, Finnegan has recorded 69 tackles, one sack and two interceptions, including a 41-yard interception return for a touchdown against the Eagles.
Finnegan is the President and founder of The Cortland Finnegan ARK 31 Foundation, which benefits children with special needs and disabilities. ARK (acts of random kindness) 31 has raised over $150,000 for other charitable organizations since its inception in 2009. Finnegan is a strong believer in being a good role model and leading by example. He has participated in various team events such as Titans Caravan, Titans Charity Golf Tournament, Titans Hospital Visits, Titans School Visits, PLAY 60 Day at the Zoo, Fisher & Friends Charity Softball game and other player hosted events throughout the year.  In addition, he personally makes appearances at many local events, interacting with children and teens including football camps and the NFL's PLAY 60 initiative. His days off are full of community appearances at local charity events, youth visits and schools where he is thrilled to bring smiles to friendly faces.  He also enjoys attending high school football and soccer games to encourage the young athletes. Finnegan has been named a Titans Community All-Star for his charitable work in 2007, 2008 and 2009. 
"I would like to congratulate all of the nominees this year and thank them for the countless hours they devote to helping our community," said coach Jeff Fisher. "Cortland is obviously a very good player, but he's also a huge asset to Nashville. He does a number of things to benefit others that have been publicly recognized in addition to the efforts that only a few know about.  He is a worthy recipient of this award and I applaud him for his work in our community."
The following are the 2010 events that Finnegan and ARK 31 have hosted:                
• Annual Karaoke For A Cure:  Finnegan's signature event that benefits The Leukemia and Lymphoma Society (LLS) where he invites his Titans teammates and other local celebrities to participate in a karaoke bid war to raise funds for the cause. 
• Annual Milton High School Football Camp:  A free youth football camp hosted by Finnegan that is open to the public held in Milton, FL.  The camp gives kids an opportunity to be one on one with NFL athletes who encourages and inspires kids to follow their dreams and lead a healthy lifestyle.
• Annual Celebrity Golf Tournament:  Cortland partnered with Vince Young in 2010 to co-host the 1031 Scramble 4 Kids in Brentwood, TN.  This event raised $50,000 for ARK 31 and the VY Foundation to further their charitable causes.
• Annual Kid's Carnival Day:  An annual event created by Finnegan held at the Nashville Zoo where he invites teammates and cheerleaders to interact with youth in various activities including games, autographs, inflatables to promote exercise and leading a healthy lifestyle. 
• Sudden Service Convenience Stores Promotion:  In just 3 short weeks, Cortland and Sudden Service teamed together to create awareness of ARK 31 and its efforts which raised $44,000 for the foundation to give back to the community.
• City Saver Coupon Book Promotion:  Cortland partnered with City Saver to encourage kids to sell coupon books as a fundraising opportunity and to be active in the community through visiting the top selling schools to reward and encourage the students.
• Cortland's Annual Christmas Dinner- Cortland personally hosts an annual holiday dinner at LP Field for 300 families from Special Olympics and LLS.
"This is a true honor and privilege to be recognized and receive this award," said Finnegan.  "I am very humbled to be among the caliber of recipients who have won this award in year's past and I am blessed to be among of that group.  I also have a wonderful group of people who support my foundation and I'm thankful for that."
Finnegan now joins an elite group of players that have won the award since the team moved to Tennessee in 1997.  The team's previous Community Man of the Year winners include:
1997 & 1998: Al Del Greco
1999: Chris Sanders
2000: Kenny Holmes
2001: Jason Fisk
2002, 2003 & 2004: Kevin Carter
2005: Steve McNair
2006 – 2007: Keith Bulluck
2008: David Thornton
2009: Kyle Vanden Bosch
For more information about The Cortland Finnegan ARK 31 Foundation, visit www.ARK31.org.