**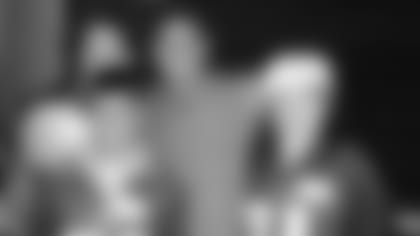 Cornerback Cortland Finnegan poses with children during his annual holiday celebration.
NASHVILLE, Tenn. --** Titans cornerback Cortland Finnegan was recently named the Titans 2010 Community Man of the Year for his philanthropic efforts such as the event held Tuesday night. 
Finnegan and his foundation, ARK 31, hosted 325 guests from his two area non-profit organizations of choice, The Leukemia & Lymphoma Society and Special Olympics for Christmas dinner, at Cabana Restaurant in Nashville. Finnegan and his teammates, Colin Allred and Michael Griffin along with Titans Cheerleaders Jena and Keesha were on hand to sign autographs and pose for photos.  A special guest, Santa Claus, was also on hand to take photos with guests and hear last minute holiday wishes.
Finnegan surprised patrons by giving two grants to the charities for a total of $30,000 and also selected a handful of other area non-profits to receive grants before the end of the year.
This is the fourth year Finnegan has hosted this special holiday celebration with many of Santa's helpers working diligently behind the scenes to pull the evening together. 
Craig Clifft, general manager at Cabana Restaurant and board member of Finnegan's foundation, coordinated his staff to donate its time, while vendors such as Robert Orr Sysco, A&B Distributing, Creation Garden Produce, Dixie Produce and Anne's Cakes donated product for the event.
Cabana's renowned chef and owner, Brian Uhl, broke his left wrist Monday night, leading him to the emergency room with no sleep for 48 hours as he and his staff, Chase Ingalls, Chad Waiwaiole and Cameron Hack prepared the holiday meal for guests Tuesday evening.     
"I am so grateful to all the people who helped make tonight possible," said Finnegan.  "I am so blessed and it makes my holiday to see all of you enjoy yourselves this evening.  Thank you to my foundation staff and to Cabana for making this event an incredible night for all."
More about Finnegan's two charities of choice:   
The Leukemia & Lymphoma Society is the world's largest voluntary health organization dedicated to funding blood cancer research, education and patient services. The Society's mission: Cure leukemia, lymphoma, Hodgkin's disease and myeloma, and improve the quality of life of patients and their families. Since its founding in 1949, the Society has invested more than $550.8 million for research specifically targeting blood cancers.
The Special Olympics is an international nonprofit organization dedicated to empowering individuals with intellectual disabilities to become physically fit, productive and respected members of society through sports training and competition.
For more information about the ARK 31 Foundation, log on to www.ARK31.org.