**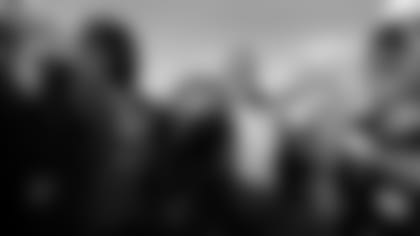 Head coach Jeff Fisher wants his team to get off to a strong start to the 2010 season.
NASHVILLE, Tenn. —** The Titans have had trouble with consistency the last two years. Tennessee has started fast and fizzled, then stumbled woefully out the gate before finishing strong.
Tennessee opened the 2008 season winning its first 10 games only to blow home-field advantage with a playoff loss. The Titans followed up with an 0-6 start, but did make NFL history—becoming the first team to finish .500 after such a bad start (the team went 10-2 after its winless streak).
Now they need to put two good halves together—start fast and finish strong.
Defensive tackle Tony Brown said he's seen players committed to returning to what he called "Titans football" since the offseason started back in March.
"The sky's the limit for this team," Brown said. "Right now we don't want to talk about playoffs or Super Bowl...we know we have a pretty good team. We just have to go out and display it."
Coach Jeff Fisher, entering his league-leading 16th straight season with this team, says what the Titans have to do is simple.
"We need to get off to a good start this year," Fisher said.
That's why Fisher tweaked his training camp schedule yet again, putting his team on the field any time from at high-noon to sessions under the lights at night. The Titans are putting in extra study time on some opponents, too, including the Oakland Raiders before the season opener Sept. 12.
They also got younger, letting four starters leave including key leaders in center Kevin Mawae, linebacker Keith Bulluck and end Kyle Vanden Bosch. Tennessee now has 10 players in camp 30 years or older including kicker Rob Bironas (32) and backup quarterback Kerry Collins (37). Fullback Ahmard Hall (30) and Bironas are the only starters in that group.
It won't be easy. The Titans go into the season tied with Houston for the league's toughest schedule based on opponents' winning percentage in 2009 at .547.
"It's all about us," Vince Young said. "We've got to go out and take care of our responsibilities."
Young is back as the starter after coming off the bench to oversee that winning finish and improving to 26-13 as a starter. The Titans also have Chris Johnson, the NFL Offensive Player of the Year back looking to become the first in league history to string together consecutive 2,000-yard rushing seasons in his quest for Eric Dickerson's league rushing record.
Together, Johnson and Young helped the Titans rank second in the NFL in averaging 162 yards per game. Young had his best passer rating yet at 82.8, and receivers Nate Washington and Kenny Britt are much more comfortable in their second season with this team.
"We feel like we're equipped at those positions to score points," Fisher said. "We're didn't set our goals to go out and win 13-10. We want to increase our points per game. At the same time, we gave up way too many points per game last year. We need to improve both those areas."
This is the first time since 2007 that Fisher has had both his coordinators back from the previous season, and offensive coordinator Mike Heimerdinger has worked all offseason to rev up a unit that averaged 27 points per game with Young at starter. Defensive coordinator Chuck Cecil's challenge is bigger, replacing three starters and improving the defense against the pass.
The Titans gave up 258.7 yards passing per game, a figure inflated by a 59-0 loss at New England.
But Tennessee drafted end Derrick Morgan, signed Brown to a new deal and brought in free agent ends Jason Babin and Raheem Brock. With tackle Jason Jones healed up from a shoulder injury that ended his 2009 season and promising Sen'Derrick Marks, the Titans hope to help their secondary with more quarterback pressures and sacks.
"If we can get back to where we were with JJ and the guys rushing up front, which it looks like they'll be fine with the rotation, it's certainly going to improve it," Fisher said.
The Titans do get one break from the schedule. Three of the first four games are at home, which should help avoid a sluggish start. Three of the final five are at home including a tough four-day stretch with visits from Jacksonville and defending AFC champ Indianapolis.
"Just so we don't start out like we did last year," receiver Justin Gage said.