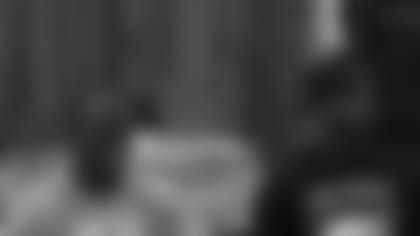 Cornerback Jason McCourty signs a football for a young Titans fan at Cortland Finnegan's annual Kids Carnival Day Saturday at the Nashville Zoo.
NASHVILLE, Tenn. — Titans fans of all ages enjoyed the opportunity to meet several of their favorite players while supporting children with special needs and disabilities Saturday during an event at the Nashville Zoo.
The third-annual Kids' Carnival Day benefitted The Cortland Finnegan ARK 31 Foundation, which serves children with special needs and disabilities in Middle Tennessee. 
Titans players autographed posters, hats, jerseys and helmets for attendees, who were able to participate in carnival games, get their faces painted and enjoy the zoo.
"The players continue to give back," Finnegan said. "Nashville Zoo has been so great in opening up their arms. It's our third year of doing it. We had 1,100 people show up last year, and it just keeps getting bigger and better. I want to thank everyone that participates and helps out."
Finnegan, the Titans' 2010 Community Man of the Year, started ARK (Acts of Random Kindness) 31 in 2009 as an additional philanthropic endeavor to work he was already doing for other organizations. He said he is grateful for all the help the foundation receives.
"These guys love to come out and give back," Finnegan said. "When they get a chance to come out and do something, it's really beneficial, so it's a good thing and I appreciate it."
Finnegan and teammate Nate Washington recently became fathers of baby girls, so they both appreciated the opportunity to help other children.
"Cortland's doing something positive," Washington said. "That is something that we pay attention to. We want to reach out to them, and we're happy about the things that are going on with the different foundations."
Zack Mershon, 10, and his uncle Josh Domski, 25, and their family came to Nashville this weekend from Rockford, Ill. Domski has been a fan of the Titans/Oilers since Steve McNair and Eddie George and he's sharing that with his nephew.
"Finnegan does a great job with this event," Domski said. "It exceeded my expectations."
Zack said he had a great time at the event Saturday and was looking forward to attending his first Titans game when Tennessee hosts Cincinnati Sunday.
Sarah Rutherford, 17, and her brother Matthew Rutherford, 14, drove to the event from Carthage Saturday morning. Sarah, wearing a No. 31 Finnegan jersey in honor of her favorite Titans player, said the trip was more than worth it. The Rutherfords said they have been Titans fans since the franchise moved from Houston.
Quintina Sisney and her son Brandon Sisney, 9, were "super excited" to attend the carnival for the first time and added that they enjoyed the camaraderie with the players.
Randy Phillips has attended the carnival all three years. He brought his niece Aveyonia Boling, 9, and nephew Xavier Boling, 6, from Mt. Vernon, Ill.
"The kids love the games and the opportunity to meet Cortland," Phillips said. "He's phenomenal when he interacts with the kids."
Finnegan and Washington said they both enjoyed the opportunity to meet fans and show gratitude for all of the support they show during games and beyond.
"I've been having a ball," Washington said. "It's kind of making me wish my daughter was old enough to be running around. It's good to see all the kids' smiles. It brings light and joy into the game we play."