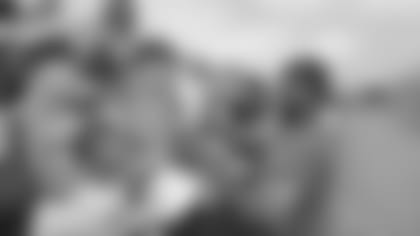 NASHVILLE, Tenn. --** Fans braved the heat, packing Greer Stadium Saturday night to see current and former Titans battle it out on the softball diamond during the 9th Annual Comcast "Jeff Fisher and Friends" Charity Softball Game, presented by CapStar Bank.
The night's festivities began with a "Hit it Out of the Park" contest. This year's winner was Donnie Nickey, who hit three home runs. Runner-up was Patrick Ramsey, who hit two balls out of the park. Show Dog Nashville recording artists Carters Chord performed the national anthem and Staff Sargeant Chris Payne, an Iraq veteran, threw out the first pitch of the night.
Fisher's Triple Plays team included former Titans Steve McNair and Brad Hopkins and current players Lavelle Hawkins, Cortland Finnegan, Nate Washington, Kerry Collins, Vince Young, Keith Bulluck, Michael Roos, Ahmad Hall, Justin Gage, Jacob Ford, Jevon Kearse and strength and conditioning coach Steve Watterson.
Alan Lowry's CapStars included former Titans Kevin Dyson and Chris Sanders and current Titans Donnie Nickey, Vincent Fuller, Craig Stevens, Jason Murphy, Jevon Haye, Eugene Amano, Patrick Ramsey, Jason Jones, William Hayes, Mark Jones, Matt Mulligan, Rob Bironas and secondary coach Marcus Robertson.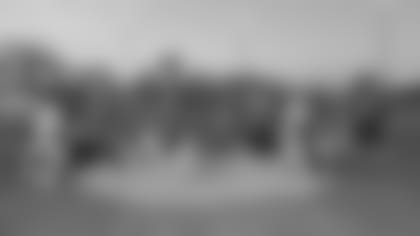 Some of the highlights of the night included a home run by Sanders, the game's MVP from a year ago, a two-run single by Amano and a pair of doubles by Nickey. Players also spent time with fans, signing autographs and posing for pictures.
McNair drew the loudest response from the crowd as he entered the field prior to the game. He narrowly missed on two home runs that were fielded just inside the outfield fence.
In order to prevent a second straight loss to Coach Lowry's team, at one point Fisher loaded the bases with cheerleaders to help pad the score. After 10 innings, Fisher's team claimed a 10-8 victory.
Following the game, Fisher named Kevin Dyson as the game's MVP and Lavelle Hawkins as the Least Valuable Player.
Afterwards, Fisher told fans he remembered telling them a year ago that the Titans were "going to be pretty good." They went on to finish with the NFL's best record at 13-3, winning the AFC South title.
"This year we're going to be even better," Fisher said.
The evening was capped off by a dazzling fireworks display presented by Bridgestone and Best One.
The annual event benefits Mercy Ministries, Soles4Souls, Catch-A-Dream, Nashville Children's Alliance and several other local charities.