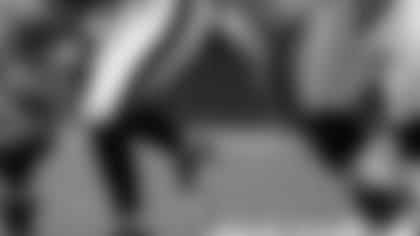 Defensive tackle Jurrell Casey had six tackles, two QB hits and 1.5 sacks in Tennessee's 23-22 victory.
NASHVILLE, Tenn. -- Defensive tackle JURRELL CASEY of the Tennessee Titans, wide receiver JULIO JONES of the Atlanta Falcons, linebacker JUSTIN HOUSTON of the Kansas City Chiefs, free safety STERLING MOORE of the New England Patriots and running back EVAN ROYSTER of the Washington Redskins are the finalists for PEPSI NFL ROOKIE OF THE WEEK honors for games played on January 1, the NFL announced today. 
Fans can vote for one of these five players on NFL.com/rookies now through Wednesday at 6 p.m. ET to determine the PEPSI NFL ROOKIE OF THE WEEK.  
The PEPSI NFL ROOKIE OF THE WEEKwill be announced Friday on NFL Total Access on NFL Network and on NFL.com.
After the regular season, five players will be nominated for Pepsi NFL Rookie of the Year honors.  Fans can vote for the winner on NFL.com/rookies throughout the month of January.  The winner will be announced at a press conference at Super Bowl XLVI in Indianapolis.
A closer look at the finalists:
• Tennessee Titans defensive tackle JURRELL CASEY had six tackles, including two for a loss, along with two quarterback hits and one and a half sacks in the Titans' 23-22 victory over the Houston Texans.
• Atlanta Falcons wide receiver JULIO JONES caught four passes for 76 yards and two touchdowns in the Falcons' 45-24 win over the Tampa Bay Buccaneers.
• Kansas City Chiefs linebacker JUSTIN HOUSTON had seven tackles, two of which were for a loss, three quarterback hits, one and a half sacks and one fumble recovery in the Chiefs' 7-3 win over the Denver Broncos.
• New England Patriots free safety STERLING MOORE had two interceptions, one of which he returned for a touchdown, in the Patriots' 49-21 victory over the Buffalo Bills. He also added two passes defensed and a tackle.
• Washington Redskins running back EVAN ROYSTER carried 20 times for 113 yards and caught five passes for 52 yards in the Redskins' 34-10 loss to the Philadelphia Eagles.
This is Pepsi's tenth year as the official soft drink sponsor of the NFL and the tenth year that Pepsi will present the NFL Rookie of the Week and NFL Rookie of the Year awards.