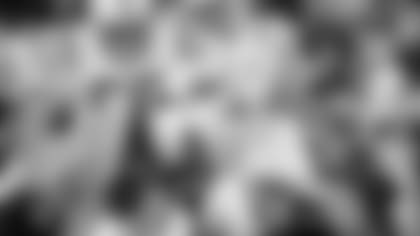 Tennessee's defense will look to get back on track at home Sunday vs. Indianapolis.
NASHVILLE, Tenn. — Less than a month removed from leading the NFL in points and yards allowed per game, the Titans have fallen to the middle of the pack with consecutive lopsided losses.
Tennessee ranks 16th of 32 NFL teams in yards allowed per game (358), and is tied for 15th in points allowed per game (22.5). Titans defensive coordinator Jerry Gray said the fix involves returning consistency on each play. 
"When we were the No. 1 defense in the league three weeks ago, guys just played consistent," Gray said Thursday. "They didn't do anything out of character. They just did their job. … I ask guys all the time, 'Don't make great plays, make routine plays look great.' "
Tennessee (3-3) hosts Indianapolis (0-7) at noon Sunday at LP Field. The Titans are trying to snap a two-game losing streak that includes their worst loss in the history of LP Field (41-7 against Houston Sunday).
"You've got to get back to where we were three weeks ago," Gray said. "What we're not doing is getting back to the basics. You've got to stop the run in order to get them in second-and-long and that's where your sacks come from. Sometimes you get mixed up and try to go do stuff that's really not pertinent."
Rookie linebacker Akeem Ayers said the message to Titans defenders has been "Don't make the play harder than you need to."
"If you do what you're supposed to do, and play your proper technique and do your proper assignment, you don't have to try to get as big of a play, you'll be in position to make the play you're supposed to make," Ayers said. "As a defense, everything is set up for each person to do a certain thing which makes the defense work." 
Cornerback Jason McCourty agreed that each player doesn't need to try too hard for a big play but just be responsible for assignments on each play.
"The more good consistent plays we can string together, the better we'll be as a defense," McCourty said.
The Colts are coming off a 62-7 loss at New Orleans and will again be without perennial Pro Bowl QB Peyton Manning and call upon third-year pro Curtis Painter, who is 65-for-119 for 873 yards.
Titans players and coaches have emphasized that Indianapolis was plus or minus three points from each of its opponents at the start of the fourth quarter in the Colts' five previous games before the drubbing at New Orleans.
"They've just got a different guy running the show," Titans coach Mike Munchak said. "I think he's a very smart quarterback. I think he knows exactly what he's supposed to do and puts the ball at the right person. It's just a matter of if he is as accurate as Manning at making the right plays. That's the stuff for a guy who's doing it the first time. These guys have been in five of their games going into the fourth quarter."
McCourty said Titans defenders are emphasizing the importance of playing correct individual technique and focusing on the role that each player has in making the whole defense work. He said that applies no matter who plays quarterback for the Colts.
"Painter's been there watching Manning for years, so he knows what it takes to run that offense," McCourty said. "He's been making a lot of the checks that Manning used to make. He's just not maybe the same player, but they still have all the explosive wide receivers. I think it's more of continuing to play your type of defense than confusing him." 
Gray said the Colts' offense still has "great weapons" like receivers Pierre Garcon and Reggie Wayne and tight end Dallas Clark.
"It's just that Peyton Manning is just one of those guys that's hard to replace. You're talking about a four-time MVP," Gray said. "Painter's been there. He knows where to throw the football. Trust me, he's really good. He's just been behind No. 18 for a long time, and it seems like it's taking him a long time to get speed. It's hard to replace No. 18. (Manning) could probably win the MVP without even playing."