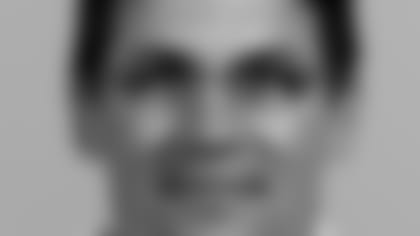 (on if ever thought Cam Newton could start off this strong)
Not that we didn't think he had this kind of ability, but with the way that he has developed and as quick as he did it, that's where the surprise is. We went through a lot with him in terms of trying to decide really seeing what his abilities were, but the thing about it that I like to point out is the thing that has really helped him in his development is the veteran players that are around him. We have a veteran offensive line and we have some veteran playmakers so I think that's a big part of why he has progressed as quickly as he has.
(on if he takes satisfaction in the fact that Cam Newton is playing well after the criticism they took when drafting him)
No not necessarily. When we were going through the whole process it helped us because what happened was we were going through this and someone would bring this up, 'well he can't do this or we heard that,' so it just made us dig even deeper. I think as we went through it that was probably the thing that was most evident. Our scouts came to us with, 'well we heard this and we haven't seen that and can he do these things.' So as we went through the process we broke down every one of his throws that he made last year. Every one of his completions, his incompletions, all of his touchdown passes and everyone says can he make those NFL throws. In today's college game with as many times as these guys are throwing it about 35-40 times a game, they make every throw and they have to make every throw. It's just a matter of seeing whether or not he was going to fit us.
(on when everyone in the organization was sold that Cam Newton was going to be the guy)
Well I know this, it really came down to how Marty Hurney our general manager felt about him more so than anybody else. We went through this process with coordinators, with our quarterback coach and with what Mr. Richardson our owner felt. We brought him in and had him visit with our owner as we did a few of our other top candidates. We brought him in, put him in front of our owner and get an opportunity to visit with our owner as well. It was one of those things we went through as an organization trying to decide it this guy fit and if not then who fit. It really turned out that as we were going through this process and the more we were around him the better and better we felt.
(on if teams are playing defense against Cam Newton differently now than at the beginning of the season)
You are absolutely right, early on people were gearing up with eight men in the box thinking the Arizona game was a fluke. Then he followed it up with what he did against Green Bay in terms of how well we played offensively then people began to realize that this young man has a little bit more to him other than just running the football. That was the other thing too that kind of helped us is that when we went through this process to look at all of his runs, most of the runs he had were called runs. They weren't scrambles like a lot of people think. This is young man that plays within the offense and plays within the confines of what you are trying to do. So I think as we went through the process people stopped loading eight guys in the box and just started playing it honest. When you play certain quarterbacks you have to keep certain guys honest if they have the ability to throw the ball. If you start dropping seven into coverage then the team has the ability to run the ball so they have got to play us honest and that's probably the best thing we have going for us now.
(on if defenses are still spying Cam Newton)
Yes, especially on third down. Third and medium distances you see teams want to spy him which is fine because it takes another guy out of the pass rush. This young man is not looking to run, this man is looking to do what the play calls for and that's to drop back and read coverage and make throws.
(on how Cam Newton and Steve Smith were able to develop so much chemistry so fast)
What's been interesting is the amount of work that these guys have put into it once we got started. In the offseason after we drafted Cam (Newton), they had that players-only workout. That they did for a couple of weeks and it was an opportunity for Cam to meet most of his new teammates and he developed a rapport with a lot of those guys. Then when we did come to camp, what was kind of neat was to watch those guys go out early before practice or stay late after practice and they did those things on their own. In fact today a couple of guys stayed and worked on a couple routes. It's kind of been that process that they have been going through. You see them develop the rapport.  I think the thing about Steve and Cam is that Steve made the effort early on, from day one he called and welcomed him to the team and was around him and saw him during the workouts and hung around him and then during training camp, that is why they have developed that rapport.  It is almost not just quarterback and receiver, but it has been veteran player, young player and trying to help the young man develop.
(on the importance of having a veteran like DeAngelo Williams in the backfield)
It has helped tremendously.  I tell you we have a real good running back tandem with him and Jonathan Stewart.  I think what that does is it gives that element that if you overplay the pass, we have the ability to run the ball which we have seen in a couple of our games.  When we start running it, it opens up the pass.  It works two-fold.  Having DeAngelo back was one of our primary goals.  When we sat down as an organization, myself and Marty Hurney the general manager, we talked about players that we needed to have signed and signed for the long haul and DeAngelo was one of them, as was Charles Johnson on the defensive side, just guys you felt you just had to have back on your team.  What it did was it set a good message to the other players, their teammates, that we were willing to make the effort to keep the good players around.
(on the tough-luck losses and the potential to breakthrough)
We would like to believe that.  We felt like we had that opportunity against Minnesota and obviously we missed the opportunity.  We have been close and the thing really is this is a young team, and I know Tennessee is in the same boat, that missed the OTAs and mini camps.  You sit there and wonder how important they were and how much they would have meant to us if we could have had those extra practices.  We are just starting to develop and getting a feel for who we are as a football team.  Probably the other thing we have to take care of is we have had too many penalties, self-inflicted mistakes, that have cost us opportunities to score and to close games out.
(on added expectations for DeAngelo Williams after he signed his new contract and how that might be the same with Chris Johnson)
No, not in DeAngelo.  Probably the biggest thing I see is just frustration on his own part because he wants to do so well all the time and he just keeps working hard and keeps trying to push himself.  He and Jonathan (Stewart) are a great tandem for us.  The only thing you see is when he doesn't have the success he wants to have, he gets hard on himself.  It is great to see a veteran guy that takes it so serious when something bad happens.  I will tell you right now, I've watched those last couple games, and I'm starting to see the Chris Johnson of old.  I'm starting to see the guy that really is one of the best backs in the league.  Believe me this is a young man that we are most certainly paying very close attention to because of his great ability.
(on if Chris Johnson is starting to get comfortable and if he is worried about a potential breakout game)
To be honest with you, yes, absolutely, especially with the quarterback.  I have always been a Matt Hasselbeck fan having been in the NFC when I was with the Bears and coaching against him when he was in Seattle.  You have a guy that has great command of offensive football as a quarterback and he is going to help open things up for the running game and vice versa.  Yes, there is a concern on our part as far as the coaching staff goes that this is a tremendous football player, good runner and we have to be able to contain him but at the same time, we can't commit all of our ducks to stopping just one guy because of the quarterback.
(on implementing his system in his first year)
Truthfully it has been a little bit tougher, mostly because of the injuries we have suffered.  If you look at our injured reserve list, it is a who's who on that.  You can't help but look at who we have lost as far as the defense is concerned.  We lost our two starting inside linebackers, guys that would have played every down for us in Thomas Davis and Jon Beason, two guys that are very integral in what we want to do for the future.  We lost them in week one and week two.  That has kind of set us back a little bit.  We are fortunate that we had enough quality backups at the offensive line.  We have lost three offensive linemen.  I think the injuries have slowed us down more so than anything in terms of our development as a football team, as a complete team.  Obviously, offensively we have done some really good things and a big reason and a big part of that is because of the people we have.  We have a veteran offensive line with the exception of one rookie playing tackle for us.  We have tight end by committee which is a part doggone good committee, Greg Olsen and Jeremy Shockey.  I think it is a great one-two punch for us.  We have Steve Smith playing about as well as he has ever played in his career, along with Brandon LaFell and Legedu Naanee at the other wide receiver spot and then you mentioned our two running backs and our fullback.  We are a good core of veteran players on the offensive side, but defensively we are starting two rookies at tackle, a second-year player at one end, a fifth-year player at another end and the list goes on and on as to how young we are on the defensive side.
(on how Shockey has been)
He has been tremendous, he really has.  I know the one thing I know about Jeremy that I've learned is all that stuff is about wanting to win and wanting to be a part of winning.  I don't think people really quite know who he is as a young guy.  I'll tell you right now that I couldn't be more happier than I have been with him because he has been tremendous for us.
(on using the records of other teams after the bye to motivate his team)
No, we haven't.  The only thing we have talked about really is the fact that we want to get after this game.  We want to take them one at a time.  For us we are looking at this as a beginning of a new season.  I'm just telling the guys today that at this point in time this eighth week that we just passed really to me has signified that we have gone through OTAs, mini camps, training camp and the preseason and sure we are 2-6, but now there is an opportunity with eight games to go to focus on them one at a time and look to go 1-0 this week.
(on Mike Munchak and how he has done in his first year)
I think he has done tremendous, I really do.  You put the tape on, and there are a lot of similarities in some of the things they are and they are becoming with them and us.  Probably the biggest difference is obviously the veteran quarterback.  But unfortunately you guys lose Kenny Britt, who I think he is tremendous talent and it slowed the offense down a little bit.  I think as Chris (Johnson) gets back into the fold, I think this football team can be as dangerous as anybody, especially in the AFC South.