**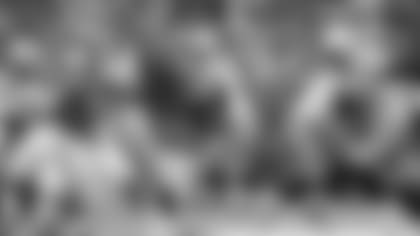 Kerry Collins became the 12th player in NFL history to reach 40,000 career passing yards.
KANSAS CITY --** Multiple Titans players reached milestones Sunday, but Tennessee's road to the playoffs ended with a 34-14 loss at Kansas City.
The Chiefs (10-5) scored on their first four possessions, but the Titans were beginning to shift momentum when Kansas City's Eric Berry intercepted Kerry Collins and returned it 54 yards for a touchdown to build a commanding 31-7 halftime lead.
Collins became the 12th player in NFL history with more than 40,000 passing yards. Collins, who now has 40,141 career passing yards, moved closer to passing Johnny Unitas (40,239 passing yards) for 11th place on the list. Collins also moved past Joe Montana by one completion for ninth on the all-time completions list with 3,410 completions. He trails Montana by 410 yards for 10th on the passing yards list.
Collins said last week he hadn't been paying attention to the stats because he was concentrating on trying to get the win against the Chiefs, and said Sunday that the failure to do so trumped the milestones.
"It's hard to feel good about anything," Collins said. "I understand that it's a nice accomplishment and all that, but right now at this moment, with the way (Sunday) went, the way the season has gone, it's not possible to feel good about it."
Collins finished 14-for-37 for 235 yards with two touchdowns and two interceptions for a passer rating of 55.6.
"That was a bad decision and a terrible throw on my part," Collins said of his first interception. "I've got to know the coverage and I've got to know that he is going to be there. It just wasn't a good play on my part."
Collins, who started this season as a backup to Vince Young, did not practice Wednesday to rest a thumb injury from several seasons ago that he aggravated against Philadelphia on Oct. 24 and against Houston on Dec. 19. He has also been battling through a torn tendon on the middle finger of his throwing hand that he suffered against Jacksonville on Oct. 18.
Collins, a 16-year NFL veteran, connected most frequently Sunday with second year pros Kenny Britt (four catches, 89 yards) and Jared Cook (five catches, 96 yards). Collins found Britt in single coverage for a 53-yard touchdown in the second quarter. He hit Cook shy of the goal line, and the tight end then muscled his way into the end zone for a 22-yard score for his first career touchdown. The number of receptions and yards were career highs for Cook.
"Bittersweet of course," Cook said of catching his first career touchdown in a loss. "I mean, it finally came. It's what I have been waiting on. The only thing you can do is continue to play ball."
Tennessee (6-9) has lost seven of its last eight games and finishes its season next Sunday at Indianapolis. The Titans are guaranteed their first losing season since 2005.
"We're going to come back to work this week and finish up," Titans coach Jeff Fisher said. "We're going to take a professional approach this week and get ready and prepare to play a good football team in Indianapolis."
Third-down disparity a major difference
Like in most of its losses this season, Tennessee's defense struggled to get off the field on third down against Kansas City.
The Chiefs converted nine of 18 third downs (50 percent) against the Titans. Kansas City entered the game having converted 35.3 percent of third downs at home this season, but Chiefs quarterback Matt Cassel was razor sharp in the passing game early Sunday.
Cassel completed his first eight pass attempts for 89 yards and a touchdown and kept going. After 17 attempts, he had 14 completions for 221 yards and three touchdowns. Cassel finished 24-of-34 passing for 314 yards with three touchdowns. His most critical throw occurred on a third-down-and-19 play in which he hit Dwayne Bowe in stride, and Bowe ran through Tennessee's secondary for a 75-yard touchdown and a 24-0 lead with remaining in the first half.
"They were highly explosive early," Fisher said. "During their first drives they did some things that we had to adjust to. We settled down, but we didn't make plays. We didn't get them into third downs and get them off the field. Early, we couldn't get off the field. Congratulations to them to converting a third and (19), but you don't convert third and (19) against a good defense and that's how we played at times today. … We had missed tackles, we had guys coming underneath blocks."
It was the third time in four games — all losses — that the Titans had fallen behind by at least 17 points, and the reverse of last week when Tennessee built a 21-0 lead against Houston.
The Titans converted three of 12 third downs (25 percent) against the Chiefs.
Mariani sets kickoff return yards record
Rookie Marc Mariani broke the Oilers/Titans franchise record for kickoff return yardage in a season. Mariani returned five kickoffs for 98 yards (19.6 per attempt) against the Chiefs and has 1,411 kickoff return yards this season. Mariani eclipsed the record of 1,317 kickoff return yards that Bobby Jancik set in 1963 when he played for the Houston Oilers.
Mariani will have one more opportunity to break Derrick Mason's franchise record of 1,794 combined return yards in a single season (2000). Mariani has 1,733 kick and punt return yards this season.
Tennessee's pass rushers managed to drop Cassel one time. Defensive end Jason Babin and defensive tackle Jason Jones converged on the Kansas City quarterback in the second half.
Babin has a career-high 12.5 sacks this season and entered Sunday's game ranking third in the NFL. Jones, who has 3.5 sacks this season, also forced a fumble by Thomas Jones that Titans safety Chris Hope recovered.
Fisher moved into a tie with former Washington Redskins coach Joe Gibbs for seventh on the NFL's list of most games coached with one franchise. Fisher, who is in his 16th full season as Tennessee's coach, will pass Gibbs and coach his 273rd game with the Oilers/Titans franchise next week at Indianapolis. He is 147-125 all-time.