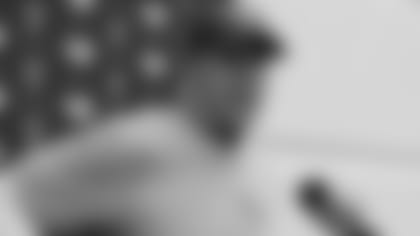 TITANS HEAD COACH MIKE MULARKEY PRESS CONFERENCE TRANSCRIPT - Aug. 10, 2016
(on if he feels like players are eager to play in the first preseason game)
Yeah, I think it's a little tough when you're beating on each other day in and day out.  It's been a little bit of a grind with a Monday night scrimmage, then come back in the afternoon, not even 24 hours and another practice less than 24 hours.  I was a little concerned about this one more than any other because this is the hard one.  The third one.  It may not have been the fastest start, [but] we finished strong.  I think they responded well.  Tomorrow will be another good test with another padded practice, but I think they're ready to hit somebody else.  There's no question.
---
(on what he didn't see from the offense during the scrimmage that he would like to see)*
Again, it's difficult when it's not live.  It's difficult really to assess everything the way you would in a game.  Again, I'll go back to the penalties, and the time of the penalties.  There's really no good time, but when we got them they were really -- your focus has to go up in the red zone.  That's where we hurt ourselves the most.  I was more disappointed in that than anything.
(on if Rishard Matthew's third down numbers is one of the reasons he wanted to sign him)
Yeah, I mean he's made a lot of plays.  Before he was injured he made a lot of plays -- explosive plays, not just the third downs that he was good on.  There were a lot of big plays.  You know, we just liked his catching ability.  What Jon [Robinson] and I have been saying is he gets open and catches the ball strong.  Strong hands.
(on the importance of having receivers that can be trusted on critical downs)
Yeah, it is.  I know as a play-caller you like to have the trust that you already know to get the next play ready, because that's the belief that you already see that it's going to be on a third down situation -- you already know you're going to make a first down, because the trust is just there.  Not just for me, but I know [for] the quarterback the trust factor is huge.  But it is, you can get into a flow when you know you have guys that you can rely on in situations, especially third downs.  You can get into a very good flow calling plays.
---
(on if that trust can be developed before the season starts)*
I think it's out here.  That's what training camp is all about.  I think this is where you develop and grow with your team and offense -- here.  It starts here.
(on if he has determined a series count for the starters on Saturday)
We're going to talk about that.  Probably tonight [with] our staff.  I still haven't talked to our coordinators about it.  I have an idea about what I'd like to do.  It will probably go more my way [than theirs].  But I do like to listen.  I'm not right every time.  I like to take all the input I can and use it if it's possible.
(on if he would give a second-year quarterback more time on the field in preseason than he would a veteran)
Well, it's not just that.  We've got some new receivers that he's going to be working with.  You know, it's a new play-caller, there's a lot of new [things], not just Marcus [Mariota] that you may want to see a little more, but again that will be talked about.
(on if he plans to incorporate designed run plays for Marcus Mariota in the preseason)
We're going to talk about that, as well—probably not to the extent that we're going to do during the season. We're getting really good work out here. Specific drills are all designed just for runs for him, so we're getting a lot of work out here. If we need to run them in the preseason—again, we're still game planning. I don't foresee it to be to the extent of a regular season game.
---
(on if Tajae Sharpe's rise on the depth chart is due to his success or other receivers under-performing)*
I think that was Tajae (Sharpe) coming in here not being intimidated by the NFL, by the guys that are lining up across from him. He hasn't been intimidated whatsoever by anything. Everybody's talking about, 'When the pads go on, can he beat press?' It doesn't shock me that he was capable of beating press. He's done everything to earn that spot, first of all, and nothing to lose it.
(on if Tajae Sharpe is pushing the other wide receivers)
I hope so. I mean I hope so. I'm hoping that's the case. If that's not the case, they're probably in the wrong business.
(on what he'd like to see from Marcus Mariota over the course of the preseason)
Ball security would be one of them. We've had a number of times, ball out in the pocket. I'd like to be a little better with that. Obviously, that has a big difference in outcomes of games. I'd like to a little bit more—let him take control of some of the drives. Again, I don't know how much we'll do in the preseason, but really it's more the turnovers we've been harping on. Probably just that.
---
(on how eager he is to see the offensive line against another team)*
I think everybody's pretty eager to see it. I think they're anxious to show themselves off of what they're capable of doing. They've worked really hard, really well together. Yeah, I'm anxious. It's hard to do it in a scrimmage. When the lights go on, we'll find out about these guys. I have a good feeling about them.
(on how Marcus Mariota can improve ball security)
It's everything. It's the awareness, the rush, the stepping up in the pocket. It's the two hands on the ball. It's knowing when to get rid of the ball. When there's nothing there, get rid of it, go to the next down. It's not a negative. There's a lot of things that go into that, but I know we drill it to death. So when it comes to a game, it's been drilled a bunch.
(on if Marcus Mariota improved in ball security over the offseason)
I think you're going to find out when the games start, because we're so adamant about staying away from the quarterback. I mean they're taking wider rushes. They're staying away from him, which we want, and he's doing a good job. You can tell he's aware of it. You can tell he's putting the ball in both hands to step up, but until there's a live rush, we'll really find out about does it all go together when it's full speed.
Kevin's (Byard) going to be a special player, I think. Again, he's got a lot of confidence in his play—really confident. I love the way he's not afraid to talk. He's got a little strut when he makes a play. I think that's something—that's like a receiver that says, 'You can't cover me.' He's got that kind of mentality that you can't beat me as a safety. And he's shown it. The one thing I think about him is I think you're going to get core special teams player, as well. We're going to get a lot out of Kevin.
(on seeing Ken Whisenhunt on Saturday)
I'm looking forward to seeing him. I've seen him since last season. We saw each other at the Combine and the Senior Bowl. We've spoken many times. I'm looking forward to seeing Ken (Whisehunt).
Titans players take the field for Day 10 of training camp at Saint Thomas Sports Park. (Photos: Gary Glenn)