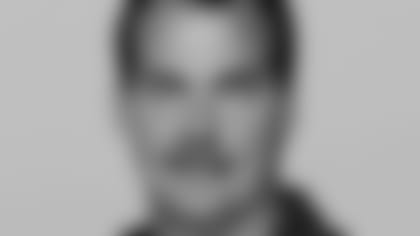 *(on if Demarcus Ware is a player that usually needs additional help to be blocked)
*
There's times when you'll see him chipped and tight ends that way and backs will step that way. He's a great pass rusher. They all rush the passer very well, even the inside backers time things up well and have all been coached very well.
*(on if Gerald McRath had a good week of practice)
*He got a good week; I would expect him to play. I don't know how much, but I expect him to play.
*(on the biggest adjustment for McRath after missing the first four weeks of the season)
*We've had players, for example, who have been scoped and have missed a couple weeks of practice, and came back, rehabbed, had a full week of practice and then played. So there is no issue there.
*(on what kind of a luxury it is to have three starting linebackers who are good in pass coverage)
*It's good. There will be times where if we choose not to go nickel, we don't have to go nickel because all three of them understand what we're doing—and are athletic enough to make the plays.
*(on if Tony Romo is a guy they want to get out of the pocket)
*He's actually better when he's moving, when he gets off the spot, which he does all the time, he's really accurate.
*(on what you do with a quarterback who is better on the run than standing in the pocket)
*No, you can't. You just have to change your rush up and change coverages up, concepts up and hope you can bat a ball down.
*(on if Dallas' running back duo of Marion Barber III and Felix Jones is similar to that of the Giants duo of Brandon Jacobs and Ahmad Bradshaw)
*No, not necessarily. I think both Barber and Jones are real good straight-line runners with change of direction. Bradshaw was more a tremendous change-of-direction, make-you-miss type of runner.
*(on how David Thorton is progressing from his injury)
*He's making progress, making progress. This is four weeks, so we've got a couple more weeks before we can decide what to do, and when we want to trigger his three-week practice session.
*(on if David Thorton is on course with coming back on time)
*Yeah, he's doing well. He's feeling good, doing well.
*(on this week's injury report)
*I've got Sen'Derrick Marks, no practice—doubtful. Leroy Harris, no practice—questionable. Tony Brown, full practice—questionable. Jason McCourty, no practice—out. Justin Gage, no practice—out. Jacob Ford, full practice—probable.
*(on if Leroy Harris is veteran enough to play despite not practicing all week)
*
He can play. For a guy who practiced two days at offensive tackle, started and played very well—he's a guy who can do that.
*(on if he knew Albert Haynesworth's brother who was killed in a motorcycle accident in Nashville last night)
*I did not. I don't believe I've met him—very unfortunate. Very, very unfortunate.
*(on how much newly signed Amon Gordon can help out on Sunday)
*He's got a chance to be active. He understands what we're doing, he got caught up real fast and he's in good shape. So he has a chance, it will be a Sunday decision.
*(on if wide receivers Kenny Britt and Lavelle Hawkins are excited and ready for an increased role with Justin Gage injured)
*In addition to Damian (Williams) and Marc (Mariani) too—yeah, they're all ready to play.  They all have ample practice time and they're all ready to play.