Tennessee Titans 615 Day | Tennessee Titans - TennesseeTitans.com

To Celebrate 615 for the 2022 season, the Tennessee Titans are giving back to the local community by participating in a week-long food drive!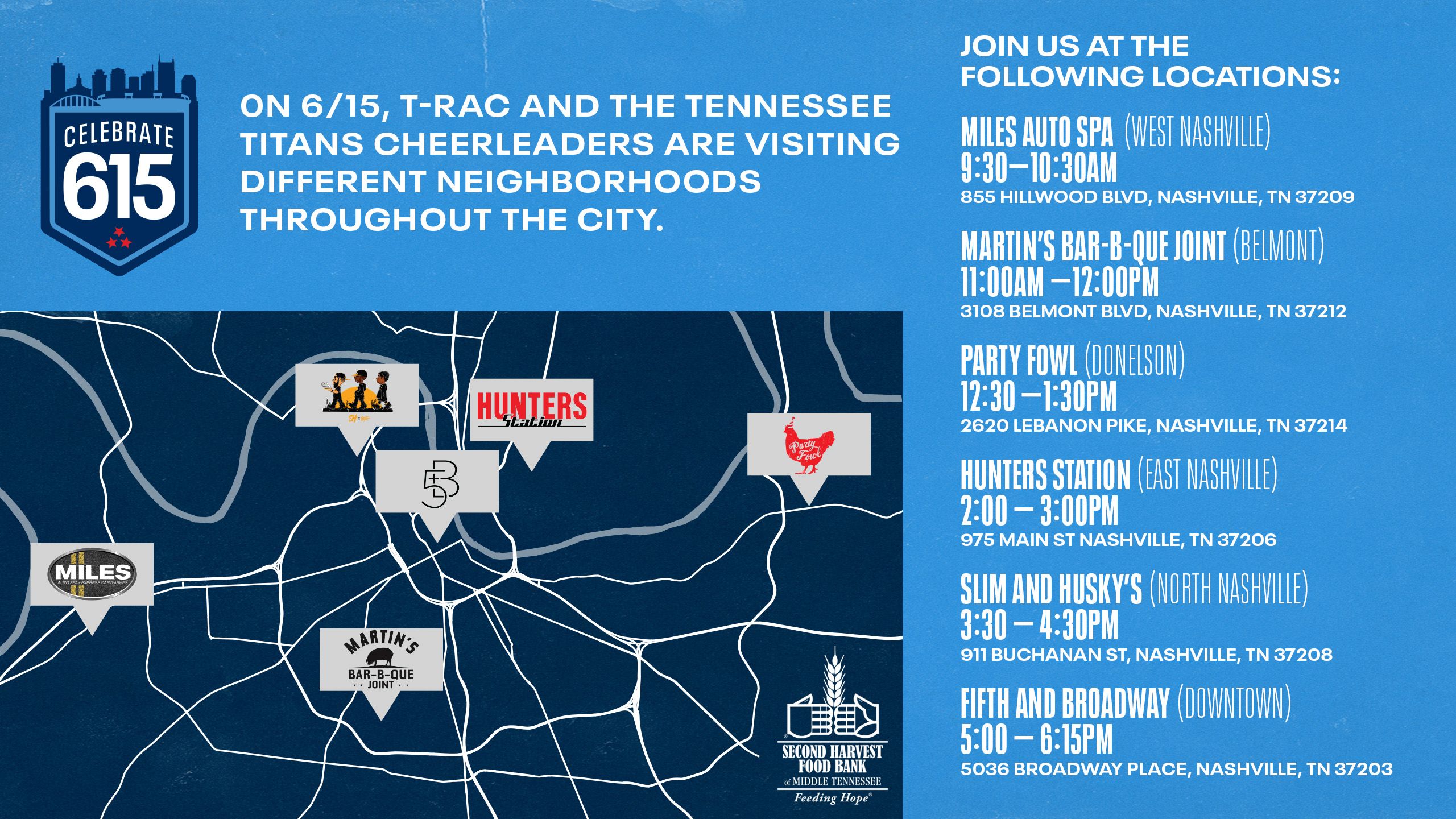 From 6/8 to 6/15, you can donate non-perishable food items at these locations:
MILES Auto Spa (West Nashville) 9:30 AM -10:30 AM
Beginning June 8th at 10:00am until June 15th at 10:00am, the MILES Auto Spa in Hillwood is providing one (1) Free XP1 wash and 25% off any detail package when you provide a non-perishable food donation in support of Second Harvest and the Titans Celebrate 615 Day campaign.
Martin's Bar-B-Que Joint (Belmont) 11 AM - 12 PM
Party Fowl (Donelson) 12:30 PM - 1:30 PM
Hunters Station (East Nashville) 2 PM - 3 PM
Slim and Husky's (North Nashville) 3:30 PM - 4:30 PM
Fifth and Broadway (Downtown) 5 PM - 6:15 PM
In keeping with the '615' theme, the Titans will host a pop-up store on the second floor of Fifth + Broadway near the escalators on Wednesday, June 15 at 5 p.m. CT. The store will feature a retail area with '615' t-shirts, screen printing, and giveaways. $6.15 happy hour specials will be running until 6:15 p.m. CT. in the adjoining food hall.
Donations will be collected at these locations by Second Harvest Food Bank of Middle Tennessee. If you would prefer to donate monetarily, click here!
On 6/15, Titans mascot T-Rac and Titans cheerleaders will be visiting the above locations throughout the day with free Titans giveaways and more!
Support Nashville with a limited edition 615 T-shirt exclusively available at the Titans Pro Shop. A portion of the proceeds will be donated to the Titans Foundation
June 15 is your day, Nashville!

CELEBRATE 615 DONATION
The Tennessee Titans are fundraising on behalf of Second Harvest Food Bank of Middle Tennessee to provide food to people facing hunger and work to advance hunger solutions. If you would prefer to donate monetarily, please click the link below.
Celebrate $615 Day Sweepstakes Winners