Britt to appear in Chattanooga, Monteagle and Winchester; will join Johnson and Mariani in Huntsville and Florence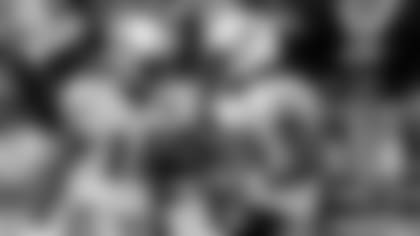 Wide receiver Kenny Britt (18) and running back Chris Johnson (28) are among the players headlining Day 9 of Titans Caravan.
NASHVILLE, Tenn.  –Tennessee Titans wide receiver Kenny Britt, running back Chris Johnson and wide receiver Marc Mariani will headline Titans Caravan on Thursday, May 10, Day 9 of the team's two-week annual tour through the Mid-South.
The 14th Caravan, sponsored by Grange Insurance, will stop on Thursday in the communities of Chattanooga, Monteagle, Winchester, Huntsville and Florence.  Britt will appear in all five locations and will be joined in Huntsville and Florence by running back Chris Johnson and wide receiver Marc Mariani.
Britt will begin the day with a 9:00 a.m. visit to Red Bank Elementary School in Chattanooga (1100 Mountain Creek Road).
The Caravan school program features a high-energy, educational message from seven-time Pro Bowl Titans mascot T-Rac, host Rhett Bryan and at least one Titans player.  The Titans use the opportunity to speak to the youngsters about the NFL's Play 60 program, which stresses the importance of getting at least 60 minutes of active play each day, and also the benefits of making good choices in all parts of their lives. T-Rac and the Titans school program are sponsored by Tennessee State Parks, which celebrates its 75th anniversary in 2012 and will provide several unique surprises to viewers during the program. 
The Caravan then heads to Monteagle Elementary School (120 East Main Street) for a 10:30 a.m. school visit, followed by a 1:15 p.m. school stop at Broadview Elementary School in Winchester (4980 Lynchburg Road). 
Johnson and Mariani will join the last two public stops: 3:30 p.m. at Shoe Carnival in Huntsville (6275 University Drive NW) and 6 p.m. at Buffalo Wild Wings in Florence (2870 Florence Boulevard), where Mariani will also attend.
The public events allow fans to meet the players, T-Rac and the "Voice of the Titans" Mike Keith.  Posters are provided to all Caravan attendees for autographs, and photos are encouraged.  Every Titans Caravan public event is sponsored by the Trusted Choice agents of the Insurors of Tennessee and is done at no charge to fans.  Public stops generally last one hour.
Also for the first time, the U.S. Army will be joining the Titans Caravan public stops.  Fans will have the opportunity take part in a cornhole competition, test their skills at a variety of team-building exercises and claim free commemorative Titans Caravan 2012 dog tags.  U.S. Army representatives will be on hand to share the exciting opportunities available in today's Army.
Britt provides an explosive element to the team's passing game with his combination of size, speed and catching ability. Before suffering a season-ending injury in the third game of 2011, the former first-round pick had already amassed 17 receptions for 289 yards and three touchdowns on the campaign.  In Britt's first two seasons (2009–2010), he led the team with a total of 1,476 receiving yards and tied for the team lead with 12 touchdown receptions.
Adding world-class speed and big-play ability to the rushing attack, Johnson has rushed for 5,645 yards and 38 touchdowns in his first four NFL seasons. The former first-round pick has the uncanny ability to score from anywhere on the field. He produced one of the most extraordinary seasons by a running back in league history when he amassed a franchise-best 2,006 rushing yards and an NFL-record 2,509 yards from scrimmage in 2009.
Mariani has made an immediate impact as a return specialist in his first two NFL seasons.  As a rookie in 2010, the former seventh-round pick earned Pro Bowl honors after finishing second in the AFC and fourth in the NFL with a 12.2-yard punt return avg. and finishing fourth in the AFC with 25.5-yard kickoff return avg. Mariani also set the franchise record for most combined return yards on punts and kickoffs in 2010.
Titans Caravan began in 1998 as a small effort to spread goodwill through the region. This year, six full-time staffers will travel to 50 total stops with Titans players and T-Rac through the Mid-South on a specially-decorated motor coach provided by Grand Avenue.  Since 1998, Titans Caravan has made over 700 stops, traveled approximately 50,000 miles, visited close to 300 schools and allowed the team to interact directly with an estimated audience well in excess of 100,000 fans.