Over the years, Titans Cheerleaders have encountered Titans fans at every military base they have visited around the world. It was no different last month when cheerleaders Anne B., Yalea, Stormi, and Angie raised morale with troops stationed at Fort Lewis, Wash.
"The whole trip was just a blast! It was the most amazing experience, and I will never forget the people that I met because they touched my heart," said second year veteran, Angie. "Hearing some of their stories and what they do so we can have our freedom is truly incredible."
The Cheerleaders were able to spend time in downtown Seattle while on their trip, visiting Pike Place Market and the Space Needle.
"This was my first time to visit the Seattle area, and it was great to take advantage of the opportunity to see some of the famous sites around town," said Michigan native, Yalea.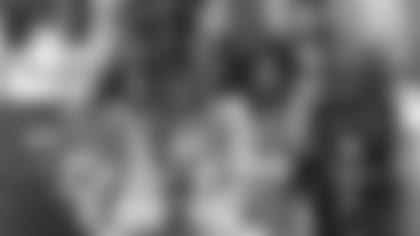 While on base, the ladies spent time at Fire Station 104, talking with the military firefighters and learning more about the dangers of their job.  Next, they spent a few hours at the Joint Base Fort Lewis-McChord Exchange, a giant military shopping experience serving the military and their families on base.  The Cheerleaders posed for photos and signed pictures and other Titans merchandise for fans.
"Meeting all of the brave men and women that dedicate their lives as well as their family's lives was an incredibly rewarding experience," added Yalea. "To be able to simply sign a poster for them when they do so much for this country was something I will never forget."
The Cheerleaders finished their trip with a night of bowling with some of the young men stationed at Fort Lewis. Army wife and second year cheerleader, Stormi, summed up the trip by saying, "With the military being such a large part of my life and who I am, I always enjoy the time I give back to the troops. I want to bring a smile to troops serving worldwide. My husband is currently serving in Afghanistan, and I hope that performance groups, teams, and entertainment groups can bring him a moment of normalcy. That's all I can ask for as a proud Army wife and a Titans Cheerleader!"