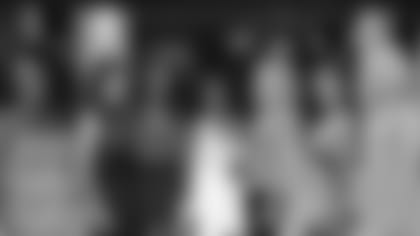 ATLANTA -** Current Titans cheerleaders Jocey, Chocez, Julia, and Felicia attended All Pro Camp and Convention for Professional Cheerleaders on June 19-20 in Atlanta. Tennessee Titans alumni cheerleaders Laverne, Sabrina, and Jennifer were also in attendance.
'All Pro' is a full weekend of learning new, innovative choreography for professional cheerleaders to learn. Stacie Kinder, Director of the Tennessee Titans Cheerleaders, is on the staff. Her presence at the camp is a significant one because of her leadership and dedication to the Titans cheerleaders for 7 seasons.
The Titans cheerleaders' attendance at All Pro was a fun way to kick off their upcoming season. All leagues such as NFL, NBA, and  MLS teams were at the convention including cheerleaders and dancers from  the New York Jets, Minnesota Vikings, Houston Energy, Houston Texans, Washington Redskins and many more teams. All Pro is a great way for all professional league cheerleaders and dancers to come together for the art of dance.
The conclusion of the weekend ended at Ludacris's restaurant Strait's Atlanta. The restaurant was a pleasant time for the girls to relax and enjoy about their weekend. The weekend ended on a great note because Ludacris introduced himself to the Titans Cheerleaders and posed for a picture. His professionalism was indicated during his visit with the Titans cheerleaders.