This offseason, our spotlight shines on second-year cheerleader Travona. Known as "Tvo" by her teammates, Travona just finished her PhD in Clinical Counseling: Teaching and Supervision from Trevecca Nazarene University, making her the only Doctor on the Titans Cheerleading Team! Travona's accomplishments are numerous as seen in her spotlight below.
You tried out for the Titans previously and didn't make the team. What prompted you to audition again?
We all have dreams, and being a member of TTC literally is a dream come true. This was a personal accomplishment I wanted and had been working toward for a long time ... 10 years to be exact. After multiple amazing experiences with teams in the NBA, NHL and a brief stint in the NFL prior to this one, I did my due diligence and knew that Team Kinder was where I ultimately wanted to be. I knew it, believed it, felt it and dreamed it. TTC was in my heart. The judges and Stacie (TTC director) just needed to see it and believe it as much as I did.* *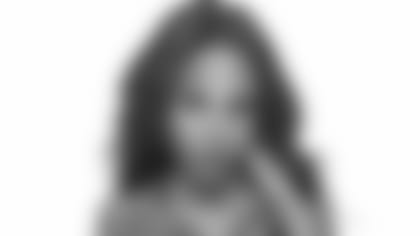 You have traveled extensively for education. Give us a rundown of your experiences.
I'm an educator. So having the opportunity to travel abroad to do what I love was very rewarding. I have traveled, lived, and studied in five of the seven continents. My longest stints were in Daejeon, South Korea (2.5 years) and Riyadh, Saudi Arabia (1 year). Australia and Antarctica are next on my bucket list. I speak functional Korean and a little Arabic. My favorite continent by far is Asia.
What is your favorite part of being a TTC? What is the most challenging part of being a TTC?
My favorite part of being a TTC is definitely doing appearances and suite visits. I absolutely love having the opportunity to get out and communicate with the fans, being a role model, and volunteering in the community. The most challenging part is time management and balancing "regular life" with TTC demands. We put in many hours, love, blood, sweat and tears to prepare ourselves for game days. Many people don't know that our season is practically year-round. We have auditions, a mandatory training camp (just like the players), mandatory rehearsals, fitness training and tests, football knowledge and current events written test, appearance requirements, etc. We have to do it all and make it look effortless.
What drives your passion to be a dancer?
Outside of my desire to learn and perform, I'm a bit of a tomboy, and I have always loved sports. In fact, much of my adult life and educational pursuits have been focused on sports and entertainment. It is because of my love and enjoyment of sports that I figure if I do something I love I'll never have to work a day in my life. Dancing does not come easy to me because my fundamental background was that of a "rah rah" cheerleader (2 different worlds). So, as an avid educator, it is my belief that you never stop learning. Learning and striving to get better at something I enjoy is what drives and motivates me. With this being the case I had to find a niche and sports/cheer/dance was mine. And let's be honest, as a cheerleader/dancer there is no bigger stage than being on an NFL football field; that in and of itself is motivation. My life and the things I have done and seen are because of my experiences with cheerleading/dance. I have been forever touched and changed through cheer and dance. It is my hope that I can mentor and be a role model for someone else.
Bargain shopping for sure!!!
Eeeek. I can't tell you that blushing it's a secret.
I actually don't have one. I'm a body splash kind of girl; so Victoria's Secret or Bath and Body Works body splash all day
Ddak Galbi (Korean spicy chicken and cabbage dish)
If I told you then it wouldn't be hidden anymore. LOL
What are your life goals and aspirations?
My life's ambition is to be happy, set and accomplish my goals while living life to the fullest with no regrets.
In your opinion, what is the biggest stereotype or misconception people have about professional dancers?
Professional dancers (more specifically TTC) are more than dancers. We are activists in the community, role models and above all, professionals. People only see and focus on what they see visually but we have careers as well. Many people think that we only take pride in how we look and only value our physique. My teammates and I work tirelessly around the clock to be the best we can be at everything we do. We are all educated women who grind and work extremely hard in our various professions. Outside of the glitz and glam we are nurse practitioners, personal trainers, doctoral students, psychiatrists, entrepreneurs, and teachers. The list goes on and on. If people only knew how hard we worked to make what we do look seamlessly and effortless, they would respect our craft that much more.
Who is most likely to finish a workout first?
It depends on the day but I'm going to go with Brooke; she was the Camp Kinder Fitness Friday champion this year
Who is the first to jump on stage and sing karaoke?
That's tough; none of us are shy obviously but I'd say Heidi; she's the singer on the team!!
Who has the spunkiest personality?
Who is most likely to play a practical joke on a teammate?
Who goes above and beyond in everything they do?
Honestly speaking, everyone; we're semi-perfectionist! But if I have to choose one person I'd say Jocelyn
Who is the 'mama bear' of the team?
Something you'd like to say to Titans fans:
I'd like to say a huge big THANK YOU to Titans fans, your continued support and positive motivation is completely appreciated. Looking forward to a great progressive season in 2017!
You were a rookie last year. What advice do you have for the TTC rookies?
Proper Preparation Prevents Poor Performance. Rookie season is the time to be a sponge; learn the tricks of the trade and seek guidance from your big sisters/vets. Learn and respect TTC traditions. The season is long, but goes by extremely fast. Soak in every moment because everything you do is a first and you'll never get to redo, a first time, because you only get one shot at having a first experience. So go big every time. #GoBig #OrGoHome