This is your third year as a TTC- what keeps you wanting to come back year after year?
The opportunity and the people.  I began my dance journey at 3 when I took my first ballet class; I was obsessed and have not stopped dancing since. After dancing on the sidelines as a pom girl for four years at Oklahoma State, I knew I still was not finished. Moving to Nashville and going to Titans games, I knew cheering for the Titans was a huge goal. I am also a HUGE football fan, being a cheerleader gives you the best view on Sunday! I am not quite ready to give up my view from the field quite yet!!
This year you were selected to be "Dance Captain" for the team. What does that job entail and what does being selected for that role mean to you?
I am honored to serve as the Dance Captain for the 2017 season. This role allows me to be more involved in helping our team reach their performance potential. I lead our warm up to make sure we are stretched and ready to dance, I record and manage all of our dance videos and I also keep updated lists of what dances we have learned. We cover a lot of material; it is my responsibility to retain the choreography to ensure accuracy when it comes time to perform specific routines.  I also started "Throwback Thursday" playlists, we always warm up to throwback songs on Thursday (TLC, Earth Wind & Fire, Spice Girls, Usher and tons more!)
You recently had your photoshoot for the 2018 TTC Calendar- where did you shoot and how was the experience?
I shot at the gorgeous Buzzard's Roost in the Fall Creek Falls state park. This was one of my most memorable moments with the Titans Cheer organization. The view took my breath away and I was able to shoot at sunset with my beautiful teammates Elizabeth and Andrea. 
Tell us about TTC Training Camp- what are your favorite and hardest parts?
My favorite and hardest parts of training camp are the same – FITNESS FRIDAY! Each Friday we meet to train for not only our fitness test, but also for game day endurance. These workouts are no joke! We are all pushing ourselves to the limit! It is also my favorite part because of the pure teamwork and encouragement that everyone brings to the table.  We really come together as a unit during these Fridays!  
What is the craziest thing you have ever experienced on game day?
I was once hit by a helmet on the sidelines! An opposing team member was not happy about a call that had been made, he threw his helmet and it hit me in the leg! I did receive a phone call from their organization to apologize!
What is your favorite TTC dance routine?
We perform so many great routines throughout the season, but I think my favorite routine was our 'Pep Rally" hip hop dance. If you were at the 2016 Thursday Night Football game you saw this dance! My former captain, the fabulous Jessi T, choreographed this piece and you can't help but get hyped up performing it! We also had a very special raccoon dance with us who took it over the top!!
What surprised you the most when you joined TTC?
I was hoping making the team would mean making new friends; I had no idea the family I was joining. We all have different inside jokes with each other. I carpool every week with Kelsey. We have group chats where we only send memes of dogs. We also take time to be together outside of practice days. Each month we have a "fit" event where we try a new work out and a "fun" event where we explore the city!
It isn't only the girls on the team; our hair and makeup team, the game day security, our photographers and so many more who form this family. When we are all together on game day it feels like one big family reunion! Living far from my parents and siblings is tough, but having this group makes it a lot easier!
How did you end up in Nashville, TN?

To tell you the truth, I moved to Nashville for love. My fiancé (boyfriend at the time) moved here after college and from my first visit, I was sold on Nashville. The sense of community Nashville has makes you love this city as soon as you arrive.
What is your current full-time job and how do you manage to balance doing both TTC and your job so well?
I currently work full-time as an Account Executive for an independent insurance agency.  Finding a balance is tough, but it all comes down to my schedule. I have to plan out my days, sometimes to the hour, in order to make sure I am able to complete it all. You should see my planner (I have yet to go digital, I still write everything down).  I thrive most being busy, constantly being on the go makes for a happier lifestyle for me!
What are 3 things you cannot live without on game day?  
My boot insoles - we are dancing/moving throughout the stadium for 7+ hours in high heels! Those insoles save the day!
Jocelyn's gameday playlist – when we are all our  locker room getting ready for the game Jocelyn makes sure to get us pumped up for the day! It makes me want to dance just thinking about it!
My MAC Retro Matte Liquid Lipcolor in the shade "Feels So Grand".  It the perfect red game day lip color!  
It's 11:11- what do you wish for?
No lie, I wish for the safety of my car rides!! I have had terrible luck with my car over the past two years (I have had FIVE people hit me, one totaled my car).
What is your favorite genre of dance to perform?
On the field, hip hop is my favorite! I LOVE dancing with lots of personality and hip hop allows me to be a cooler version of my normal self. When I was a competitive dancer growing up, I was 100% a contemporary genre lover. Once I was in college dancing at Oklahoma State, I realized my love for breaking it down!!
If you could have lunch with anyone from history who would it be?
I really just want to have a girl's lunch with Amy Poehler and Tina Fey, we could grab a burger and laugh the day away.
Do you have any gameday superstitions?
[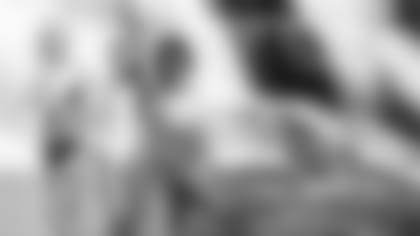 ](http://www.titansonline.com/cheerleaders/merchandise-order.html)
Buy 2018 Calendar
I don't have very many on the day of the game, but the night before I am very strict about following a specific routine. Spray tan, pack my bags, practice our dances, set about 7 alarms so I make sure I get up, check my bags AGAIN, and then I finally try to sleep!
checks bags again once I wake up
What is your guilty pleasure?
French fries with hot sauce from Burger Up.
What is your favorite way to get a workout in?
Running the hills and stairs at Capitol Hill is the best, makes me feel so accomplished. I also love making it to a group class like Barre3 or Barry's Bootcamp!
Something you would like to say to Titans fans:
THANK YOU! Meeting you and sharing a love of this team makes my job so fun. Who's ready for the playoffs??  
What would be your advice to anyone who is thinking about auditioning next year?
Start preparing now! Make sure to be on the lookout for the VIP Workshop and Prep Classes in 2018, I attended both before making the team and they were extremely beneficial while preparing to audition. You want to come to auditions as the best version of yourself!
You are a new special edition crayon- describe the color you would be and why?
I was named after my dad's favorite color "Kelly Green", so I think I would make a color to match the spelling of my name!  The "Kellee Green" crayon would be a little darker shade of green, but would have some glitter added to throw in some personality! Would be great for coloring glittery grass in a coloring book!  
My sister Andee, she is truly one of the most incredible women I know. She is a single mother to my adorable nephew, Kannon. Kannon was diagnosed with Lennox –Gastaut Syndrome, a rare form of epilepsy, at the age of three. Since his diagnosis, she has become his warrior. She has written a children's book "Sometimes I Get the Wiggles", she serves as an ambassador for multiple boards, and she is an advocate for children with disabilities across the country. She makes me insanely proud and inspires me to better myself and my community.