This off-season our spotlight shines on Jessica, first-year Titans Cheerleader, but a veteran in the NFL. She is new to Nashville after having spent much of her life on the east coast. Read on to learn all about Jessica!
This is your rookie season as a TTC, but prior to becoming a TTC, you were a Washington Redskins Cheerleader. How many years were you on that team and what prompted your move to Nashville and ultimately audition?
After my husband came home from Afghanistan, he wanted to pursue his MBA and was accepted at Vanderbilt. We thought it was a great school in an amazing town, and that's what brought us to Nashville! The five seasons I spent dancing with the Redskins were a fantastic experience for me in so many ways, so when we moved here,
I knew I had to audition for the Titans.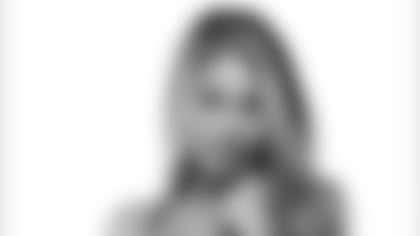 What is the most memorable TTC experience you have had thus far?
There are so many to choose from but my most memorable TTC experience is making the team and getting a rose from the legendary Steven Tyler. (Close second is getting an award for "best hair").
How has dance impacted your life?
Over the years, dance has become a constant in my life that helps me stay centered. Through it, I've grown both mentally and physically. It's been my passion and my outlet for self-expression while at the same time helping me to become aware of my capabilities as an athlete. It's also allowed me to travel the world and taught me the value of hard work and sacrifice in reaching goals I would have thought unattainable.
You have performed with many artists and traveled during your professional career. Who was your favorite artist to perform with and why? Where was your favorite place to travel?
I've been given the opportunity to work with some incredible artists in my 6 years in the NFL, but the artist I feel most honored to have performed with is my teammate and captain Jessi. She is a beautiful and inspiring leader who has a spectacular gift. Not only is she a phenomenal performer, but she is also passionate, authentic, a great teacher, and she's extremely witty too. I hope I grow up to be like Jessi.
Afghanistan was my favorite place to travel. Being able to bring a piece of home to our military while overseas was a surreal experience. We were able to travel to different FOBs to perform for and hang out with some of the bravest men and women I have ever met. It's also pretty neat to experience the thrills of riding in C-130s, C-17s, H-60 Black Hawks and shooting M4s and M240 machine guns with service members!
Take us through a day in the life of Jessica when the TTC's have practice and game day.
I usually start my day at 5:00am at Hot Yoga Plus before work. My evening usually consists of going to the gym, taking my dog to the park and eating dinner before I head off to practice. I normally get to practice a little early to review material and get weighed in. At practice I dance and bond with my teammates and then I usually end the day by preparing everything to do it all over again.
I always start game day off with coffee and breakfast. I head to the stadium early so I can organize my locker and get some stretching in. We have team practice to go over routines and sidelines we'll do that day on the field. After practice, we get our hair and makeup done by Bill and his team from The Edge Salon (while Jocelyn plays some Juicy J!) and then we suit up for GAME TIME! After the game and all of the excitement, I wind down by having dinner and drinks with my teammates.
My favorite song to belt in the car is: Angel by Aerosmith.
The one chore I hate doing is: washing my car...so I make my husband do it.
My biggest pet peeve is: bad posture.
My favorite style of dance is: Ballet.
What are the top three most important things to you in your life?
(The order depends on my mood.)
If you could send all of the Titans fans a message, what would you say to them?
Thank you for making my experience in Nashville so wonderful. It has been a pleasure cheering alongside some of the best fans in the NFL!