To start the regular season, our first Cheerleader spotlight shines on 4th year Heather. Heather is a line captain on the team; she works in entertainment financial management, and she is a graduate of the University of Alabama. Read on to learn more about Heather!
First, let me say how thankful I am for the opportunity to serve as one of four captains this year! I had the opportunity to learn from three fabulous captains over the past three seasons, Tiffany, Brintley and Tandra. Each one led with a slightly different style, which I hope to blend together and apply on and off the field this year. We picked our line groups in July so I've had two full months with my group. Each woman is special to me and each has a unique personality to add to the group. I obviously expect my ladies, as well as the entire team, to work hard, but also play hard! We put so much of our time and energy into the team, which shows on game day, but we also have to remember to soak in and cherish every moment and opportunity we are given due to being part of the team.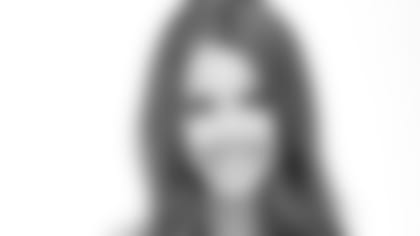 How did you prepare to audition for the TTC's this year? Does it get easier each year?
After the last home game of the season, we get a couple of months off from practice prior to tryouts starting in April. I spend these months as a time to refocus and make new goals for myself. I always want to make sure I do something in the off-season that makes me more valuable to the team when I return for tryouts. This past off-season's goal was to come back more flexible than the year before, so I dove deep into hot yoga and loved every second of every class. The weeks leading up to tryouts I focus in on the small details that make up the entire package such as hair, make up and audition outfits. Does it get easier each year? Yes, and no. Each year the audition gets easier in regard to knowing what the process is like and what our coach is looking for. However, each year I expect myself to do better than the years past, so I put a lot of pressure on myself to be my absolute best.
Who do you admire most in the sports industry?
I have great admiration for two women in the sports industry: Our coach, Stacie Kinder, and my boss, Lou Taylor. Stacie has been with the Titans for over a decade. The way she has grown the Titans cheerleading program throughout her time is unbelievable and admirable. She works around the clock, constantly working to better the team and figure out what needs to happen to make our footprint bigger. Because of her dedication to the organization she has given so many girls, like me, a once in a lifetime experience to be part of the NFL. As the CEO of a thriving business management firm located on Music Row and in Los Angeles my boss, Lou, is another strong female in the sports industry that I admire greatly. Lou, with passion and inspiring vision started the business in her mid-twenties when most of her peers were still working on their degrees. The firm manages the finances of actors, musicians, models, writers and professional athletes. Her main goal is to alleviate the stress money causes on high profile individuals, including NFL players. She has built a firm full of servant-hearted professionals of which I'm honored to be a part. She encourages each of her employees to super serve their clients so that the client can focus on their professional careers. Both Stacie and Lou have been part of my life for over three years and have made such a large impact on who I am today and who I strive to be in the future.
If you could do anything for one day, what would it be, and who would you do it with?
If I could do anything for one day? The first thing I think of is sleep! Between work, Titans and every day responsibilities, I don't get a lot of sleep. But, assuming I'm all caught up on sleep, I would spend one day on the beach with my husband where cell phones, Internet and social media don't exist!
What are you looking forward to the most this season?
I'm really looking forward to cheering another season with my rookie sisters! Six of the seven women that I made the team with are still on the team for a fourth season. Each year I get to know each one a little better and I am really looking forward to seeing how a fourth year will grow our friendships.
Beyonce or Janet Jackson? Beyonce
Fruits or vegetables? Veggies
Chicken or turkey? Neither! Fish
What is your favorite workout to do? What is your least favorite work out?
My favorite workout is kickboxing. Three years ago this month, I joined HOTBOX Fitness Nashville and have never felt better about my fitness. In 60 minutes you knock out cardio, strength and you sweat… A LOT. My least favorite workout is spinning. For some reason I either make the classes to hard on myself or way to easy, I can never find the perfect intensity level on the bikes.
You are one of the married members on the squad. How do you juggle married life with the rigorous schedule of TTC's?
My husband, Ryan, and I were married after my second season on the team, but he has been a part of my life since before I started cheering with the Titans. Because he has been around since day one, he understands and supports my crazy schedule. Ryan is a singer/songwriter so his life is equally has hectic as mine. He travels a lot, which makes juggling even harder. However, we make it work for us. We are constantly comparing schedules and calendars to find a day where we can spend the entire day together without any "responsibilities". Ryan knows that cheering in the NFL was a lifelong goal of mine, and I know how hard he has worked to get to where he is in his music career, so we do what we need to make our dreams come to life while still supporting each other along the way. Sometimes we go a few weeks without seeing each other, but knowing we are each other's biggest supporters makes everything easier.
What prompts your decision to continue to try out for the TTC's?
Each year I grow to love the organization more and more. I also know that I will not be able to cheer forever, so I want to take advantage of cheering while I'm young and able to be part of the team. I think that there is a season for everything in life, and I know that my season with TTC isn't over yet.
What is your favorite part about being a TTC and has it changed since your rookie year?
I think I could spend all day listing off what I love about cheering for the Titans, but I can narrow those reasons down to my top three. First, I love that as a young adult I am still able to dance three to four times a week at practice as well as perform throughout the year. Second, I am truly thankful for every woman I have met during my years with the organization. Each one has taught me something about myself, and some of my best friends are from the Titans family. Third, I love the opportunities I have to serve in the Nashville community due to my role with the team. The Titans play such a huge role here in Nashville, and I am grateful to be part of the organization. I think it is safe to say my top three now is the same as my top three from my rookie year. When I first tried out for the team, I was hoping to continue dancing, meet new friends, and serve in the Nashville community.
What advice do you have for a TTC candidate that has no knowledge of professional cheerleading?
Current team members and alumni have first hand knowledge, so try to get to know some of the girls and ask for advice. Also, follow TTC on Facebook, Instagram and Twitter. Our director updates these pages with videos and photos that show off the style of the team. Watch the videos and see what you need to do to match the style of the team. Good luck!