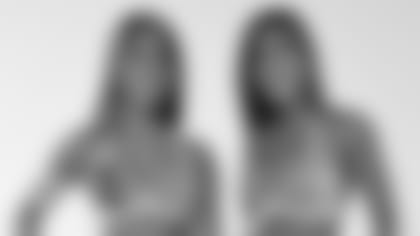 The final spotlight before our new 2010 squad is chosen belongs to "The Twins," Alyson and Kristin. These beautiful identical twins may look the same, but they are each unique in their own way; one has studied neuroscience in zebrafish and the other is close to graduating from nursing school! Fans have enjoyed watching them on the sidelines for two seasons and now, we have the opportunity to learn more about each of them.
Both of you have been on the squad for two years now. Describe how it feels to cheer with your sibling.
Alyson: It has been very rewarding to cheer with my sister because we have grown up doing everything together. After we graduate college we will be going on different paths and will not be spending as much time together, so sharing this experience with her is an opportunity that I will never forget.
Kristin: My sister and I have grown up dancing together in the studio and on our high school dance team. When we went to different colleges our sophomore year, we were not able to spend that much time together anymore. When we decided to try out for cheerleading, we were able to spend more time together and enjoy dancing again. I missed having that closeness to my sister and TTC allowed me to enjoy that relationship. This experience will always be more meaningful to me because I was able to do it with my twin sister.
Why did you decide to become a TTC?
Alyson: I have danced my entire life at a studio, and in high school, I was on the dance team for four years. Dance has always been a passion of mine, and when I enrolled in college I wanted to continue it. I also enjoy being a part of a team and Tennessee Titans cheerleading was the perfect combination of dancing and being a part of a team.
Kristin: I decided to become a TTC when I realized how much I missed dancing and being part of a team. Cheerleading has allowed me to be a part of something that I love to do. I also enjoy being a role model for young people in the community. I have an older sister that was a TTC for two years, and she allowed me to see what the Titans organization was all about.
Do you have nicknames? What are they?
Alyson: Most people call me Alyson, but my family and close friends call me Aly.
Kristin: I do not really have any nicknames. Most people call me Kristin, but some family members call me Miss Kris or just Kris.
Aside from dancing, what are your favorite pastimes?
Alyson: My favorite pastimes away from dancing would be relaxing and spending time with my family, friends, and pets. I enjoy running with my dog every day. I also enjoy reading a good book or going to the movies.
Besides spending time with the people close to me, I give my time to community groups around Nashville. One program that I am currently involved with is the literacy program at the YMCA. I tutor a young girl in reading and work with her to improve her literacy skills.
Kristin: Aside from dancing and nursing school, I take care of my two dogs. I absolutely love animals and I like to enjoy most of my free time with them. I have a beagle/king cavalier spaniel mix named Henry and a Great Pyrenees named Emma.
How do you prepare for game day?
Alyson: For game day, I make sure that I am physically fit, and get enough rest the night before. Game days require a lot of energy so the better fit I am and the more rest I get, I am confident that I can look and perform my best on the field.
Kristin: I prepare for game day by making sure that I know the routines as well as I can. I also make sure that I get enough sleep before a game. It can get very tiring being out on the field, and I need to make sure that I have energy throughout the entire game to cheer on our team!
What is one thing people would never believe you accomplished?
Alyson: One accomplishment that people may not know is that I participated in a summer research program studying the effect of nicotine on the working memory in zebrafish. I presented my undergraduate research at the Society for Neuroscience in Chicago in the fall. Neuroscience professionals from around the world attended and it was an honor to be a part of such a prestigious group.
Kristin: I think that many people do not realize how career oriented the women on the team are. I am currently in my last year of nursing school and that will be my biggest accomplishment in my life thus far.
Who is your dance icon and why?
Alyson: I don't have a specific dance icon, but I admire those who dance with their heart and do not give up their passion. I know it takes a lot of hard work and determination to be a great dancer.
Kristin: I do not have a specific dance icon, however, I look up to dancers who never give up no matter what struggles are presented to them. Dancing can be used as an outlet to get through good and bad times.
My friends would characterize me as:
Alyson: My friends would characterize me as someone who is caring and appreciative of others. I enjoy listening to what others have to say, and try to give them advice. I am also very focused and motivated with school and am determined to have a successful career.
Kristin: My friends would characterize me as someone that is caring and easy to talk to. I enjoy helping others and getting them through hardships that they experience in their lives. They might also say that I am hard working and motivated to succeed in life's endeavors.
What is your most memorable moment as a TTC?
Alyson: My most memorable moment as a Tennessee Titans cheerleader was when a few other cheerleaders and I travelled to Mexico City, Mexico for a week. It was great to see that the NFL and specifically, the Titans organization have so many fans outside of the U.S. During our trip, we attended many appearances and performed for fans all over the city.
Kristin: My most memorable moment as a TTC would have to be the first time I stepped out onto the field in front of all the fans. It is overwhelming at first to see how many people there are in the stands. It is truly an incredible feeling. I will never forget how that moment made me feel. Another memorable experience that I had was going to NFL Mexico in Mexico City. We were treated like celebrities there, and I was amazed at how many people were Titans fans and wanted to meet us. I am so thankful for the amazing experiences that I have received through TTC. This organization has allowed me to do so many things that I will never forget.
What do you do during the off season?
Alyson: During the off season I focus on my school work. Currently I am studying for the MCAT and am applying to medical school this summer so I am spending all of my extra time focusing on my career goals.
Kristin: I stay very busy during the off season. I am a full-time nursing student which takes up most of my time. I also try and stay as active as possible to keep in shape.
Where do you see yourself in five years?
Alyson: In five years I see myself graduating from medical school and living my dream to become a physician.
Kristin: I will begin my career as a nurse in one year and I hope to work up to a position in pediatric critical care. I also see myself starting a new chapter of my life by getting married and starting a family.
Your advice to young dancers would be:
Alyson: My advice to young dancers would be to never quit something that you love to do. I know the year that I did not dance after high school was very hard because I missed it so much. Even if you are not a part of a dance company or team, you can always take classes or just go out dancing with friends.
Kristin: My advice to young dancers would be to never give up. It is never too late to achieve goals and dreams. Never let anything get in the way of happiness.