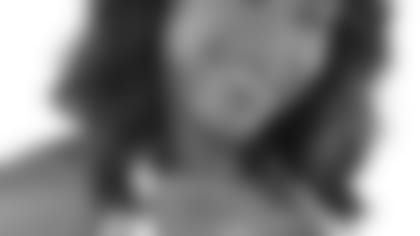 Wow, we finally got a late morning; we met in the lobby at 9 a.m. and traveled through beautiful South Florida to Sunlife Stadium where we had our first field practice and began choreography for Sunday's pregame show.  After a three-hour practice, it was off to the beach for the "battle of the beauties" where the cheerleaders of the AFC went head to head with the cheerleaders of the NFC in various events at the beautiful Ocean Manor hotel.
I am proud to say, the AFC was victorious in winning the volleyball and tug of war competition, while the NFC won the flag football competion.
Next, I had the pleasure of teaching choreography for the NFL Japan cheer clinic, along with Justine of the Dallas Cowboys, Pamela of the Minnesota Vikings and Amanda of the Seattle Seahawks. We taught two dances to two groups; they were fast learners and good dancers.
After the Battle of Beauties and working with NFL Japan, we departed to our own special suite in the hotel to freshen up and prepare for the beauties reception.  There, we had the opportunity to meet different fans that had traveled for Sunday's pro bowl, signed autographs, took photos and slightly unwind.  But the night was not over as we returned to our Pro Bowl warmups, and it was back to Sun Life Stadium for a second practice to ensure a spectacular performance on Sunday.
Our motivation was pizza at the end of practice, and it worked; we had a great practice! As you can see, this is the end to another long day, and I've got to get some sleep!