**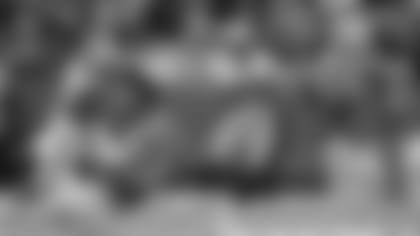 Wide receiver Kenny Britt scores on a 53-yard touchdown pass in the second quarter.
KANSAS CITY --** The
Kansas City Chiefs
were in no mood to celebrate the greatest one-year turnaround in franchise history. They didn't even want to talk about it.
''It just means we were just that bad last year,'' guard Brian Waters said. ''Our goal is to get to the next part of the season.''
The Chiefs (10-5) took a giant step toward their first AFC West title in seven years and first playoff berth in four by racing past Tennessee 34-14 Sunday and putting all the pressure on the San Diego Chargers, who kicked off 3 hours later needing to beat Cincinnati to keep KC from clinching.
Although everyone around Arrowhead Stadium has been trying to avoid even saying the word ''playoffs'' all week, there was obvious pride in winning 10 games after winning only four in 2009 and totaling a paltry 10 victories in the three previous seasons combined.
In the Chiefs' first 50 years, five wins had been the biggest one-year improvement.
''It's a huge accomplishment,'' said quarterback Matt Cassel, who threw three touchdown passes in the first half against the Titans.
''It's a huge turnaround for us, being 4-12 and going through the year we did last year. I know there's a ton of adversity and all those things were very difficult to handle at times. But to be here with 10 wins on our season and one win away from a division championship - I mean, it's remarkable to say the least.''
Cassel connected with Jamaal Charles for touchdowns on KC's first two possessions and Eric Berry returned an interception 54 yards for another score as the Chiefs raced to a 31-7 halftime lead. Cassel hit 12 of his first 13 passes.
The Titans (6-9) spent much of the game dropping passes, missing arm tackles and piling up penalties while losing for the seventh time in eight games.
Dwayne Bowe had six catches for 153 yards, including a career-long 75-yard touchdown as the Chiefs remained unbeaten in seven home games.
The Chiefs had 327 of their 458 total yards and all but three of their points while rolling up a 31-7 halftime lead.
''The game got out of reach early,'' Titans coach Jeff Fisher said. ''You've got to execute to near-perfection when you get down like we were and we just didn't do that.''
A couple of times in the ragged second half, it seemed fights were about to break out. By the end of the third quarter, each team had three unnecessary roughness penalties.
''It's just two physical teams going at it,'' Chiefs cornerback Brandon Flowers said. ''Wasn't nobody going to back down. So when you get two teams like that, stuff like that is going to happen.''
The Titans, one of the league's most penalized teams, were flagged nine times for 74 yards, while the Chiefs uncharacteristically drew seven penalties for 84.
Chris Johnson, the fourth-leading rusher in the NFL, had only 58 yards on 14 carries for the Titans.
''It's always disappointing when you're not able to run the ball. Anytime you get down like we were, there's not much you can do,'' he said. ''They were stacking the box. But that's not why I didn't have a big day. It's the number of touches that I had. When you go down by that many points, it's going to be hard to have a big day.''
In his second game since undergoing an emergency appendectomy on Dec. 8, Cassel was 24 for 34 for 314 yards and three TDs. He was not intercepted.
Kerry Collins, nearing the end of his 16th season, hit a career milestone that gave him little satisfaction. On his 53-yard touchdown pass to Kenny Britt in the second quarter, he became the 12th quarterback to go over 40,000 yards passing. He also connected with Jared Cook on a 22-yard touchdown pass and was 14 for 37 for 235 yards and two touchdowns. He was intercepted twice.
''There will be time for me to think about it and I understand it's an accomplishment,'' he said. ''But the emotions are so bitter over today and the way the season has gone, it's just hard to feel good about it.''
Cassel was 4 for 4 on KC's first possession, capping it with a screen pass to Charles that went 14 yards. After a Titans punt, Cassel was 6 for 7 in a 10-play, 61-yard drive. On second down from the 5, he tossed a perfectly timed fade pass to Charles in the corner of the zone for a 14-0 lead.
On KC's next possession, Ryan Succop made a 35-yard field goal. He also kicked a 42-yarder in the third.
Bowe, whose hot-and-cold season has included a two-game stretch where he had only one catch, got behind the secondary on a third-and-19 play from the Kansas City 25. Hauling in Cassel's pass near the 50, he quickly changed direction and sprinted into the end zone for the 75-yard touchdown play.
With 22 seconds left in the half, Berry stepped in front of a receiver and weaved 54 yards into the end zone. The rookie safety broke two feeble attempts at arm tackles and avoided two more attempts before diving into the end zone for his first NFL touchdown and a 31-7 lead.
''That was awesome,'' he said. ''The D-line got great pressure and I just came up with the ball. I think the pressure from the D-line forced the throw. Right after they got the pressure, they turned around and started blocking.''
NOTES: In the first quarter, Marc Mariani broke the Titans franchise record for kickoff return yards of 1,317 set by Bobby Jancik in 1963. ... It was the seventh time this season a Chiefs opponent failed to score in the first quarter. ... Dwayne Bowe and Jamaal Charles are the third WR-RB combo to go over 1,000 yards receiving-running in a season. ... The announced crowd of 65,606 was the smallest of the year at Arrowhead. ... Thomas Jones fumbled in the fourth quarter, ending his streak of touches without a fumble at 862.