NASHVILLE, Tenn. – Adoree' Jackson was away at school in Los Angeles, roughly 1,800 miles away from home, when his mother got the news.
Vianca Jackson had been diagnosed with breast cancer.
She didn't have the heart to tell her "Sweet Pea."
"I couldn't tell him," Vianca Jackson said. "I told my husband, and I think they all wanted me to tell Adoree', but I couldn't hurt him. I didn't want him to ever think about me, and be worried. I didn't want his grades to drop. I didn't want him to get hurt in any sport. I wanted him to keep his mind clear, and keep his focus on Jesus. I knew I was going to be OK. So he didn't know anything."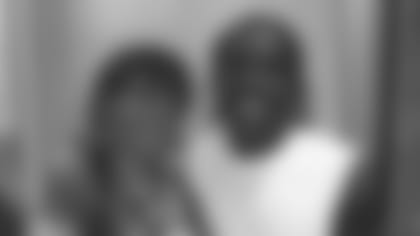 Vianca Jackson, a breast cancer survivor, will be recognized as the Honorary 12th Titan before Monday night's game between the Titans and Colts at Nissan Stadium. She was diagnosed in May 2015 when Adoree' was at USC. After chemotherapy and lumpectomy surgery in December of the same year, she's now cancer free.
Her most recent doctor's appointment, in August, was a good one.
Monday night will be a great moment for Vianca Jackson and her son, a first-round draft pick by the Titans who has become a fan favorite for his play as a cornerback and return man.
"I will cry because I am very emotional -- that is just me," Vianca Jackson said. "I am excited, and I am so excited for Adoree' because his dream is coming true. I am so happy for him."
Adoree' Jackson was born in East St. Louis, and started out at Belleville East High (Illinois). It's where his parents still live. But Jackson left the school – and home – after his freshman year of high school to move to California, where he could face better competition in football and track, and take advantage of a better education at Serra High in Gardena, California.
Jackson ended up earning a scholarship to USC, and he starred at the school.
He was in his sophomore year when his mom got the scary news. Looking back, Jackson said his mom's courage helped inspire him even more. Vianca Jackson told him about the diagnosis when he came home from school at Christmas break in 2015, after she had surgery, and after she got good news from her doctor.
"I think she made it easier on everyone else," Adoree' Jackson said. "She always had a smile on her face, and she is always positive and upbeat. That's just the kind of person my mother is. I think that's where I get my 'always being happy' from, from her.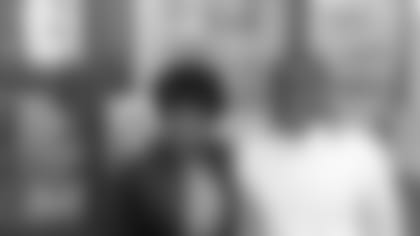 "Whenever I would call her, there is no pain and no worry in her voice. The way she carried herself and how she went through it, you always have faith she will overcome it."
Jackson, who has started all five games in his rookie season with the Titans, said Monday night will be special. He hopes his mom's presence will inspire other women.
"It is cool to have my mom out there, all the things she went through, battling to survive," Adoree' Jackson said. "I know she's not the only one out there, but for her to be recognized and for other women going through it, they can have hope and faith that there is a good outcome."
Vianca Jackson, who lives in Illinois, attends the team's home games.
She nicknamed Adoree' "Sweet Pea" when he was a little boy, and she said he's brought her happiness since he was a baby. When a gentleman shining shoes recognized him at the airport and asked him for a picture not too long ago, it brought her to tears.
It was a reminder of how far he'd come.
Leading up to her trip to Nashville for Monday night's game, Vianca Jackson said she's thankful for her health, and for the good fortune of her son.
"I still remember when he was in his playpen, when he was brand new, he would bob his head making noise, smiling," Vianca Jackson said with a smile. "I was like, what is he doing? He was just always so happy, just smiling so big.
"He makes me smile. I am so proud of him, and the man he has become. He has such a good way about him. I can see him smiling through his texts. He is a beautiful kid, my Sweet Pea."
The Titans select USC defensive back Adoree' Jackson in the first round (#18th overall) of the 2017 NFL Draft. (AP Photos).