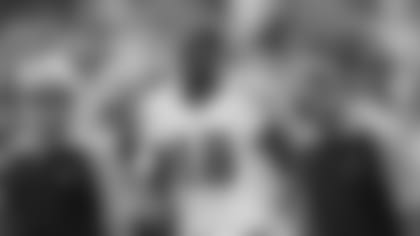 The bye week will help provide answers to how long wide receiver Kenny Britt will be out with his injured hamstring.
NASHVILLE, Tenn. --** Tennessee's to-do list on its bye week includes rest, reflection and preparation for the second half of its season.

Aside from recovery time for quarterback Vince Young, who aggravated an ankle sprain in the fourth quarter, and wide receiver Kenny Britt, who hurt his hamstring trying to track down the first pass thrown to him Sunday in San Diego, Titans coach Jeff Fisher said defensive starters also need rest.

Fisher said Young and Britt visited doctors Monday, and Young's injury did not appear to be as severe as a high-ankle sprain that would require more healing time. Fisher said Britt "may miss some time."

"I don't think he'll do much this week, but I'd say he has a chance to get back on the field next week," Fisher said of Young.

The reflection will occur when Titans coaches evaluate how the team has fared with its 5-3 start, before preparing for a Nov. 14 visit to Miami. San Diego defeated Tennessee 33-25, handing the Titans their first road loss of the season.

"I think we have to put this one behind us because it was not an easy loss," Fisher said. "It was one we could have won. We still finished 3-1 in the second quarter (of the season). We're in a good situation to start the second half of the season, knowing the pressure is going to come once we get in the division, so it'll be an exciting second half."

Five of the Titans' final six games will be against AFC South foes, including consecutive home games against Jacksonville, Indianapolis and Houston in a 14-day span in December.

Fisher said the areas that Tennessee will "continue to emphasize and improve" are third-down efficiency on offense and defense and time of possession. Philadelphia and San Diego converted a combined 22 of 36 (61 percent) third-down attempts in the past two weeks. The Eagles kept the ball 33:24, and the Chargers kept the ball 37:47 Sunday, more than a full quarter longer than Tennessee.

During Fisher's tenure from 1995 to 2009, the Titans ranked third in the league in third down defense (36 percent of conversions allowed) and third in time of possession (31:17).

"It's very unusual for our team to have such a discrepancy in time of possession," Fisher said. "There's a lot of contributing factors: third down efficiency, one and two-play scoring drives, kickoff returns and three-and-outs on offense, then the run game. That's going to be very important in the second half of the season. We're also going to emphasize rest. We've played a lot of snaps and played five out of the top 10 offenses this year."

Fisher said the team will also assess its offense. Prior to Monday's game, running back Chris Johnson ranked second in the NFL with 771 rushing yards. The Titans have tried to create running room with the passing game and have thrown for 581 yards in the past two weeks.

"We want to create balance in what we're doing and stay on the field, but we also have to take our shots," Fisher said. "We heard weeks and weeks, 'Can't you put the ball down the field?' Well, we're putting the ball down the field. The byproduct of that is on occasion an incomplete pass, then you run for a couple of yards and then you're third-and-8 and you don't convert. In the past couple of weeks we've shown some people that, regardless of who's under center, that we can put the ball down the field."

Titans linebacker Will Witherspoon said Sunday that Tennessee will continue to improve on all aspects in the second half of the season.

"Over the course of these first several weeks, I think one of the best things is every one of these guys is working to get better," Witherspoon said. "We always take our mistakes, week-in and week-out, win or lose, and we try to improve on them."