**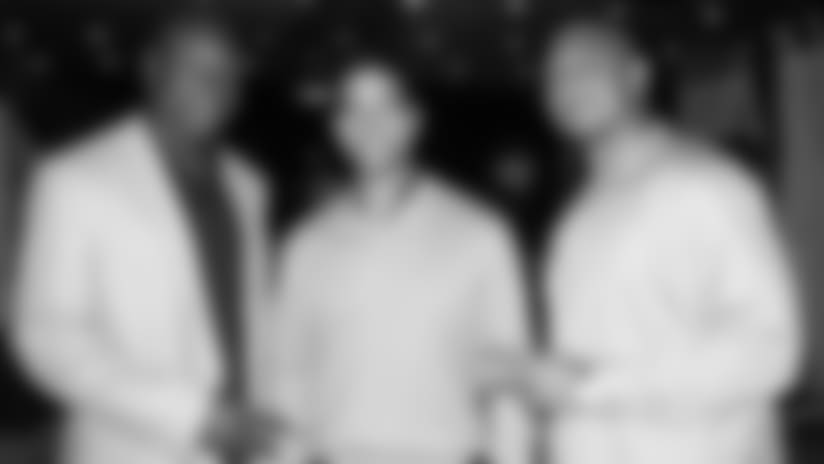 Linebacker Keith Bulluck (left) pictured with CSI Miami actor Adam Rodriguez (center) and tight end Bo Scaife (right) at his charity event.
NASHVILLE, Tenn. --
Titans linebacker Keith Bulluck hosted his 4th Annual Wine Tasting Event, "In Vino Veritas," at Sambuca Restaurant in Nashville to benefit the Keith Bulluck Believe and Achieve Foundation. Bulluck's exclusive event was co-hosted by
Nashville Lifestyles Magazine
and featured a large selection of fine wines by Lipman Brothers. Patrons enjoyed a selected menu by Sambuca, an exclusive silent auction and a special performance by
Laura Vida.**
Titans players, alumni and other celebrities that showed to support Bulluck's efforts were: Ken Amato, Colin Allred, Rob Bironas, Kenny Britt, Alge Crumpler, Cortland Finnegan, Vincent Fuller, Chris Hope Chris Johnson, Stanford Keaglar, Gerald McRath, Donnie Nickey, David Thornton, Vince Youngas well as former TitansAlbert Haynesworth and Eddie George.
Bulluck's childhood friend, actorAdam Rodriguezfrom the hit TV series CSI Miami was on hand to greet the crowd in addition to country music artist Keith Anderson.Bulluck says* *Rodriguez was his inspiration for this event as his interest in wine tasting grew over the years as he made frequent visits to California to see Rodriguez – getting to know the wine country.
Bulluck said he continues to do this fundraiser since all of his other events are geared towards children.
A two-time winner of the Titans' Community Man of the Year award, Bulluck will give away turkey dinners for foster care families next month.
"I started my foundation early in my NFL career and the kids actually look forward to the different things that I do to take them away from the every day things that are going on in their lives," he said. "I like being able to do that, especially since I am able to. An event like tonight is also fun for me and my teammates."
About the Keith Bulluck Believe & Achieve Foundation:
In the spring of 2003, Keith Bulluck founded The Keith Bulluck Believe & Achieve Foundation in effort to give back to a community he knows well. Specifically, he focused his time in the off-season and philanthropic efforts to benefit children in the foster care system. As a former foster child himself, Bulluck has overcome many obstacles in his life to become a hero in the eyes of children as well as adults. Bulluck's purpose in establishing his foundation is to "level the playing field" for children in foster care by giving them the same privileges and opportunities as those in more fortunate circumstances. Bulluck is accomplishing this through programs that provide educational and financial assistance to participants. Bulluck, through his foundation, raises thousands of dollars on an annual basis to benefit children in foster care as well as underprivileged children.