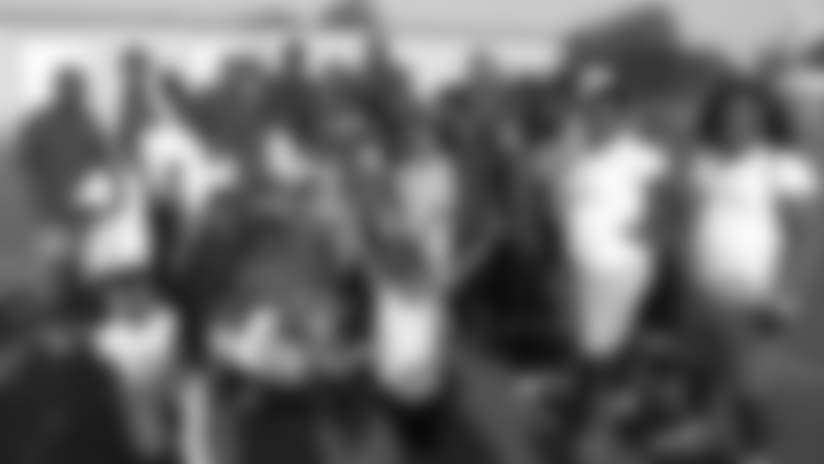 LB Keith Bulluck poses with 50 children from the Boys and Girls Club and the YMCA after Monday's practice.
NASHVILLE, Tenn. --** Linebacker Keith Bulluck gave away book bags and offered words of encouragement to a group of 50 children from the Boys and Girls Club and the YMCA Monday as part of his efforts with his Believe & Achieve Foundation.
The children had many questions for Bulluck, who hosts several fundraising events throughout the year to raise money for children in the foster care system. The product of a foster home from age 12 to 18, Bulluck is fully aware of the hardships that many children face today.
"I tried to let them know that it's not always about going to school and being the coolest person on campus," Bulluck said. "A lot of times you have to go in and do your school work. It's not about being an athlete. You can be whatever it is you want to be, but your school work comes first."
Bulluck gave away Nike book bags to 50 children containing school supplies that were donated by Sam's Club.
Bulluck gave away Nike book bags filled with various school supplies, Keith Bulluck Believe & Achieve Foundation T-Shirts and other back-to-school items. The message that Bulluck continued to reiterate was that doing well in school is important, as is having dreams and goals.
Classes began for these children a few days ago, but Bulluck hoped that delivering his message now would help jumpstart their year.
"I think it's important that it's done during the first couple weeks of school so they go into the school year and develop a goal if they don't have any," Bulluck said.
Bulluck, the Titans' Community Man of the Year in 2006 and 2007, has more big plans for his foundation in 2009.
"I took some time off of it last year, but I think with the passing of Steve (McNair), it kind of made me look a little more at giving back to people and realize how Steve's fans were so appreciative of him," he said. "I'm looking forward to this year and my foundation. We're going to do some big things."