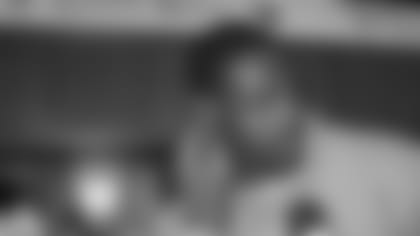 ](http://www.titansonline.com/media-center/videos/WR-Kenny-Britt/ca19402b-5d2e-47e0-81e4-15b77245da6e) NASHVILLE, Tenn. --** Kenny Britt felt something awry in his hamstring but kept running.
"I was running," Britt recalled Wednesday. "I ran some more, my hamstring pulled, and I ran a couple of more (steps), which I should have never did."
The second-year wide receiver tried to track down the first pass thrown his direction Sunday but wasn't able to reel it in.
"(I was) feeling a little tight on the play, and I tried to overextend myself to go get the ball," Britt said. "As I did that, it popped, and then I felt it again. (I thought),' This is a little strain, that I can get up and keep playing,' but if I was out there playing hurt, it would have hurt the team, so I definitely had to come out the game."
The play resulted in one incompletion statistically in a 33-25 loss at San Diego, but its impact remains unclear.
Titans coach Jeff Fisher said Wednesday that he did not expect Britt to play in Tennessee's next game, a Nov. 14 visit to Miami. Quarterback Vince Young (ankle) and Chris Johnson (thigh) also did not practice Wednesday. Britt left Sunday's game in the first quarter, and Young left the game in the fourth quarter after aggravating an ankle sprain the QB endured on Oct. 18 during a 30-3 win at Jacksonville. Johnson has not missed any time this season.
"They're both getting better," Fisher said of Britt and Young. "Kenny is not going to play against Miami. That's all I know right now. I think Vince has a chance to be on the practice field next week."
Britt, Young and Johnson were three of several Titans players who did not practice Wednesday, a day that included Tennessee's claim of wide receiver Randy Moss off waivers. Moss was placed on waivers by Minnesota three games after the Vikings traded a third-round pick to the New England Patriots for Moss.
Tennessee (5-3) is trying to take advantage of its bye this week to rest, recover and recharge as it moves into the second half of the season.
The bye week will also allow time for the Titans to bring in Moss and let him adjust to Tennessee's offense. Moss has 948 career receptions for 14,778 yards and 153 touchdowns. This season, which includes four games in New England and the past three games with Minnesota, Moss has 22 catches for 313 yards and five touchdowns.
Britt has team-highs of 23 receptions for 434 yards, and his seven receptions for touchdowns are tied for fourth in the NFL. In Britt's absence, Nate Washington had a career-high 117 yards on four catches and one touchdown against San Diego. Lavelle Hawkins had four catches for 56 yards and Damian Williams had two catches for 43 yards, Jared Cook had one catch for 36 yards, Craig Stevens had two catches for 29 yards and Johnson had five catches for 24 yards.
"All of our backups have come in and done an awesome job," Washington said Wednesday before the Titans acquired Moss. "We just have to come in and succeeded off their energy. These guys in this locker room are all like brothers. These guys are sunk in together, and when you get a team like that, we're playing as brothers, not as co-workers."