**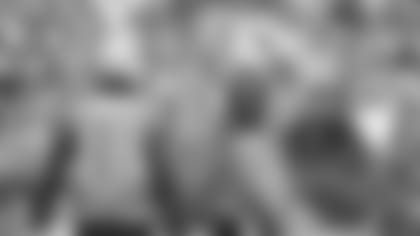 The Titans are hoping to have WR Kenny Britt and QB Kerry Collins back for Sunday's game.
NASHVILLE, Tenn. --** Kerry Collins to Kenny Britt proved to be an explosive combination against Philadelphia on Oct. 24.
The 16-year veteran quarterback and second-year receiver connected on seven completions for 225 yards and three touchdowns in rallying the Titans past the Eagles.
Collins has not played a full game since, and Britt has not played since injuring a hamstring on Oct. 31. The Titans haven't won since both were on the field against Philadelphia, going from first in the AFC South to last.
Collins and Britt returned to the practice field Wednesday in limited roles as Titans coach Jeff Fisher scheduled a walk-through so the team could rest and recover. It is uncertain whether Collins or Britt or both will return to the field Sunday when Tennessee (5-6) hosts Jacksonville (6-5), but both said they were pleased with their progress.
"It's that point in the year where everybody's got bumps and bruises and everything they're dealing with," Collins said. "I'm going to do everything I can to get healthy."
Britt said his return will depend on how the remainder of the week goes.
Fisher said Britt looked "pretty good" in practice Wednesday and plans for further evaluation of the receiver this week. He said Collins appeared better than he did on Sunday when he was listed as Tennessee's No. 2 quarterback behind rookie Rusty Smith, who made his first career start at Houston.
"It's already been a significant boost for (the team), knowing that (Collins) has a good chance to play," Fisher said. "Obviously we can do a little bit more, game plan wise. Guys are excited."
Injuries at quarterback have disjointed Tennessee's offense. The Titans have had three different starting quarterbacks in as many weeks — all losses — and have scored three of their four lowest point totals of the season in that span.
"We've obviously been sliding with (starter) Vince (Young) going down and Rusty being a young guy," Collins said. "It's important for me to get back out there. I know that and that's why I'm working as hard as I am."
Collins replaced Young in Tennessee's first contest with Jacksonville — a 30-3 win by the Titans — on Oct. 18 after Young sprained his ankle and knee against the Jaguars. Collins tore a tendon in a finger of his throwing hand against Jacksonville but finished that game and played the entire game against the Eagles. Young returned against San Diego on Oct. 31 but aggravated the ankle injury, and Collins finished that game.
Collins started at Miami on Nov. 14 but injured his calf, and was replaced by Young. The following week Young started against Washington but left after a season-ending thumb injury and was replaced by Smith in his first NFL action.
"If I'm able to go this weekend, I'll bring some experience," Collins said. "Rusty did everything he could. It was a tough situation. Continuity is a good thing, but that's the reality of life in the NFL."
The Titans claimed 13-year NFL veteran receiver Randy Moss off waivers from Minnesota on Nov. 3, but Moss has had a quiet start while the Titans' quarterback situation has shuffled.
Collins said it would be great to have Moss, Britt, Nate Washington and Justin Gage available at the same time.
"Kenny was playing great when he got hurt … it would be nice to be full strength for the next few weeks," Collins said.
Despite the four-game losing streak, the Titans are one game out of first in the division, and four of their remaining five games are against AFC South opponents. The backstretch of divisional games was a change by the NFL this season.
"What we said (when the schedule came out) was, 'Your season is going to be determined over the last five or six weeks of the year because you're in the division.' Now no one anticipated the injury situation up in Indy, which I think has contributed to their losses, but it's there for everybody," Fisher said.
The familiarity with Jacksonville, the fact that the Titans will host Jacksonville and Indianapolis (6-5) within five days of each other, and the sheer necessity to rest were all factors in Fisher scheduling Wednesday as a walk-through.
Collins said players "realize that we've got to win this week."
"We put ourselves in this situation. The reality is what it is. We've got a stretch of division games and none are more important than this week," Collins said. "We're still in a position to accomplish everything we want to accomplish this year. We realize that. I sense the guys have that urgency. I sense they know what's at stake."