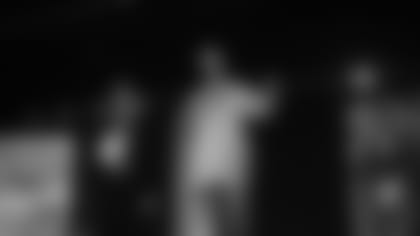 Kicker Rob Bironas addresses students at Martin Luther King Magnet Middle School on Tuesday.
NASHVILLE, Tenn. -- Titans kicker Rob Bironas surprised students and faculty at Martin Luther King Magnet Middle School on Tuesday for another week of the Titans Tuesdays school program.
Bironas was the guest of honor at a special school-wide assembly to kick off "Child Health Week" in Tennessee to encourage the youth and share his personal story.  The school was chosen to participate in the Titans PLAY 60 Challenge and Bironas was on hand to speak about the program.
Bironas told the students that he wouldn't be an NFL player today if he hadn't followed his dream for years after college.  Bironas signed with the Titans at the age of 27 after being with other NFL teams and playing arena football.  He was working at Best Buy when he got the call from the Titans and attributes his dedication to the game to finally landing his dream job in the NFL. 
During the assembly he also talked about the importance of staying focused during the week, making homework a priority before outside activities and staying positive.  Bironas also spoke to the students about his journey to the NFL and told them he started playing sports at a young age.  He also spoke about the pressure that a kicker can be under, especially when it comes to game-winning field goals. 
"I work better under pressure," said Bironas.   "That's what I love about this game – I play for those moments.  I use it as motivation and make sure to keep my mind focused.   I never linger on a missed goal, I analyze it and move on to the next one."
MLK students will participate in the Titans PLAY 60 Challenge to become more physically active and will receive various prizes at the end of the challenge.  Bironas also stressed the importance of leading an active lifestyle and healthy diet that includes low-fat, high fiber foods, low-fat dairy, fruits, vegetables, lean meats and whole grains, as well as encouraging the students to get at least 60 minutes of active play per day.
After the assembly, select students were chosen by the school for their leadership, grades and behavior to be PLAY 60 Ambassadors and spend additional time with Bironas for a meet and greet opportunity.  The students were able to ask questions and were given an autographed poster and PLAY 60 materials.  The school's administrators said the students greatly enjoyed the opportunity to meet Bironas and be recognized as school leaders and appreciated the encouragement to lead a healthy lifestyle.