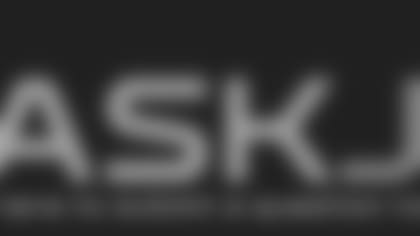 ](http://www.titansonline.com/news/ask-jim.html) NASHVILLE, Tenn. –The second quarter of the season kicks off on Sunday against the Dolphins.
Let's kick off another Titans mailbag, now… Connie Felipe from Beaverton, Oregon
Question: Dear Jim. Just wondering WHY RB DeMarco Murray has MORE catches than any of the WRs on the team?  Even before veteran future Hall of Famer Andre Johnson?  I know we have a receiving corps that CAN catch a ball so why is a running back have more catches?
Jim: Hey Connie. You're right, Murray has 19 catches and next in line is Tajae Sharpe with 16. Rishard Matthews (12), Delanie Walker (11) and Johnson (7) are behind them. Keep in mind Murray is on the field a lot more, and he's targeted a lot more. He's been a nice weapon out of the backfield. Letting him catch passes is not necessarily a bad thing. But certainly moving forward the team needs more from the receivers as well.
---
Paul Yen from Sherman Oaks, California
Question: Hi Jim. I enjoy reading your coverage of the Titans. Here's a bit of an unusual question for you: Do you think that Tre McBride has the versatility to switch from wide receiver to cornerback (ie. like Richard Sherman)?  The reason I ask is because McBride showed signs of being a promising gunner on special teams and being a good open field tackler. McBride seems to have the physicality and ideal size (6'1) and speed (4.4) to defend taller receivers and tight ends. Currently, the Titans do not have large corners (McCourty, Cox, McCain, Blake), and perhaps McBride with his speed and long arms (and great hands) could make an impact on the defense (as well as adding to special teams)? I know that he was offered a scholarship to play cornerback in college. Pete Carroll is a coach that often likes to experiment with position changes.  Do you think Mularkey/LeBeau would be willing to experiment with a position switch for McBride? I know this is kind of an odd question, but I was just curious. Thanks for the work that you do.
Jim: Hey Paul. This is an interesting question. Let me start by saying I like McBride. I always have. He's a hard-working young man and he's a really good athlete. He had a great offseason. With that said, I can't see a position switch coming for him. Don't get me wrong: I'm not saying he's not capable. I just don't think it's going to happen. He just needs to keep working hard on the practice squad – at receiver – and be ready when an opportunity presents itself.
---
Lee Webb from Kingsport, Tennessee
Question: Hey Jim. Thank you for taking the time to read this and for all the great work you do! Titans nation appreciate it. My question is about the lack of production by the offense and the struggles of Mariota. I really think coach Mularkey and OC Terry Robiskie need to scheme more around Mariota and his strengths. He came from a spread offense that utilized the shotgun with 4 wr sets and he had great success with it. This season he doesn't look comfortable most the time because he is playing under center with just a few receiving options the majority of the time, other than the end of the game in comeback mode. I know they are just trying to keep him upright but at some point they need to realize it's not really benefitting him and may actually be hurting him confidence wise  and developmentally.  That is the last thing we want for Marcus. I could go on and on. Do you think if our offense continues to struggle Mularkey and Robiskie might switch things up to better suit Marcus? He is the centerpiece of this team, it should be built around his skill set
Jim: Hey Lee. I appreciate the question. I think the offense continues to be a work in progress. Marcus needs to settle in, and the receivers need to be better around him. What's really hurting the team is the slow starts. We still haven't seen a first quarter touchdown, and the team has been outscored 30-9 in the first quarter of games this year. Mularkey and Robiskie are trying to find a balance with a quarterback who has a unique skill set, and running backs capable of dominating games. Obviously they're not there yet, but don't give up hope yet.
---
Joel Rohm from Yuba City, California
Question: Hey Jim. I'm pretty disappointed with the season so far. Way too many self-inflicted errors that have resulted in losses. Titans have the potential to be good and could easily be 3-1 or 4-0 instead of 1-3. This "exotic smashmouth" offense seems like it can be effective, but the play-calling has been horrendous. It seems at points like Terry Robiskie is bringing back the old "run-run-pass-punt" offense that the Titans have been running for years now it seems. In my opinion another "change" needs to be made in that department. Anyways to my question. Are we gonna see any other color of uniform other than white this season? Change it up a bit! Thanks for all you do Jim TITANUP
Jim: Hey Joel. Appreciate the feedback. As I mentioned to Lee, better starts would help. And Robiskie knows what he is doing, he just need better execution on Sundays. The theme this week centered on receivers running better routes and being in a place on the field where Mariota expects them to be. That would allow the entire offense to be more productive. As for the uniforms, you're in luck. The Titans will be decked out in light blue on Sunday in Miami, and you're going to see some navy soon.
---
Gabriel Varney from Kingsport, Tennessee
Question: Hi Jim. First of all let me say I've enjoy reading your posts and articles. Keep up the good job!! So my question is about the coaching actually. This year it seems like Mariota is taking a few steps backwards. He looks very uncomfortable in this new "exotic smashmouth" offense. Yes in his defense, the receivers do not get enough separation and haven't been precise on their routes so by no means am I blaming Mariota by himself. Mariota does the best when the offense is in more of a spread like he is used to back in college and out of the gun and not in all these tight formations where it shrinks the field and forces Mariota into making a play. I know the head coach wants to establish the team as a run team but it seems like it is hindering Mariota and his abilities. I mean shouldn't Mularkey tailor the offense around Mariota to where he is more comfortable and can get the best results? I mean after all, Mariota is the face of the team and the franchise quarterback, not DeMarco Murray or the running game! … Don't get me wrong, you HAVE to have a running game in the NFL. I 100% agree but don't build your team around it when you have a quarterback who is as great as Mariota. Thanks again Jim and GO TITANS!!!!!!!!
Jim: Hey Gabriel. Appreciate the feedback. I'll be honest. Right now the strength of the team on offense is its running backs and the offensive line. The team was built to run the football, and the Titans are going to continue to run it. I agree, Mariota is capable of doing a lot of things on his own, but for one reason or another the passing game isn't clicking right now. In the second quarter of the season, the team hopes things will improve. Mariota is going to play a big role this season and for years to come, but he's going to have to lean on some pretty good backs, too.
---
Michael Hughes from Cape Girardeau, Missouri
Question: Hi Jim. First-time writer here, but I've been a die-hard Titans fan since I was 6. With the current state of our passing game (26th in yards), do you think the Titans miss players like Justin Hunter and Dorial Green-Beckham? Both had enormous big-play potential, and were great for throwing a 1-on-1 fade from a goal line formation. This offense is desperately in need of a big-play receiver, and I have yet to see anyone stand out this year. Do you envision maybe Sharpe stepping up as he gets more comfortable with regular season reps? I'd love to hear your thoughts.
Jim: Hey Michael. Thanks for the email. DGB and Hunter have talent, but they were too inconsistent during their time with the Titans. They just weren't reliable enough, so that's why they're not around. As for Sharpe, he's going to settle down and be a good one. His work ethic is really good, and he's talented. I know the coaching staff has talked about him needing to be more consistent, but he's just played four games, so that's expected.
---
Logan Anderson from Rexburg, Idaho
Question: Hi Jim. My question for you is why haven't we seen more of Derrick Henry this season on 3rd and shorts as well as 4th and short? Is it coach Mularkey's decision or is our OC calling all the plays? I believe Derrick has the power that can give us a first down when we need it. Will be see more Derrick when we need 2 or 3 yards? #TitanUp!
Jim: Hey Logan. It's the decision of the entire coaching staff. Hang in there with Henry. I think he's going to get more touches moving forward.
---
Truett Vondrak from Houston, Texas
Question: Not a question, just an observation.........
I live in Houston and was in attendance at last Sunday's Texans-Titans game. With so much attention paid to the teams during the national anthem, I just wanted the Titans to know how absolutely stunning it was to see every one of  their players lined up, shoulder to shoulder, showing respect and honor to our flag and country during the anthem! It was a beautiful sight! Thank you Titans and Coach. I, along with many others seated around me, noticed and appreciated it.
Jim: Hey Truett. Thanks for taking the time. That's a Mike Mularkey thing. And I agree, it is well done.
---
Franky Markle from Dyersburg, TN
Question: Jim, I don't want to complain, but "man o man", I'm ready to win some games!! What is going on with Mariota?  Our defense has started slow, but hasn't given up a point in the second half this year, we may be the only team in the NFL that can even say that. When we drafted Marcus I thought our QB issues were over. I realize there is a learning curve, but they can't keep using that excuse. Are the receivers the problem? Thanks for taking the time to read/answer.
Jim: Hey Franky. Appreciate the question. Hang in there. I think it's a combination of a lot of things in the passing game. You're right, it's off to a slow start. This week Robiskie talked in depth about the receivers needing to be more precise with their route-running. While Marcus is going to need to be accurate, sometimes it looks like he's way off target because the receivers aren't where they're supposed to be. I'll say this: Part of the reason is because he's throwing to so many guys he's just not comfortable with yet. The team's top 3 pass catchers – and four of the top five -- weren't on the team last year. So it's still a work in progress. Unfortunately, the rest of the NFL won't wait for them to settle in. So the clock is ticking. But they had a good week of practice this week, so maybe things will click better in Miami.
Have a great weekend everyone!