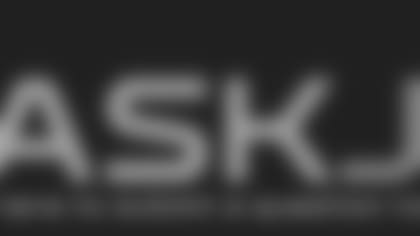 ](http://www.titansonline.com/news/ask-jim.html)
The NFL Draft is in the books.
The next big day on the schedule is the start of the team's rookie minicamp on Friday. Organized team activities are on the horizon, and then next month's minicamp.
Heck, training camp will be here before we know it.
While we wait, let's open some mail…
Ed Reynolds from Quartzsite, AZ
Question: Hello Jim. Great haul at the draft this year. With the additions of some big RB's, what is the projected roster depth for the team -- 5 horses in the corral, or thin it out to make room for other areas of need? Thank you for all you do.
Jim: Hey Ed. That's a good question. It's a packed position, with DeMarco Murray, Derrick Henry, Antonio Andrews, David Cobb, Dexter McCluster, Bishop Sankey and David Fluellen. And that's not counting fullback Jalston Fowler. Murray and Henry are locks, and McCluster has extra value because he brings something different to the table with his quickness, and his return ability. Another one from that group figures to stick as well, maybe two. Will Cobb get more time to prove his worth? Will Andrews continue to thrive in the underdog role and stick? Will Sankey make a case for himself, or is his time up? It's going to be a competitive position, and some guys aren't going to make it.
---
Eric Leonard from Bristol, TN
Question: Hello Jim!  Long time Titans fan, and a fan of yours, as well, for all the insight you provide us fans.  I kinda have a small two-part curiosity here -- 1.  I know records don't accurately reflect the talent on a team, (we lost several close) but what do you project for us this year as far as record?  And 2.  Are there any undrafted free agents "sleepers" that could possibly make an impact on the field?  Can't wait for training camps to start!  Btw Jon Robinson was definitely the man for the job at GM, I see why Amy (Adams Strunk) hired him.  Also, Mike Mularkey deserves this chance to show what he can do with a talented team that he helped build.  Thanks Jim, take care!
Jim: Hey Eric. Thanks for the email, and for reading. The talent is definitely better. The team will have a number of new starters, better depth, and Marcus Mariota should be better in Year 2. As for the undrafted guys, the team will release a list of all of the players once they pass physicals. Some good ones are scheduled to be in the mix, I know that. Have a good one.
---
Sam A. from Los Angeles, CA
Question: I know it's been said that Jack Conklin was drafted to be the RT but will the Titans give him a chance to win the LT spot and move Taylor Lewan to RT instead?  I'd really like to see Taylor on the right side.
Jim: Hey Sam. I'm expecting Conklin to play right tackle, although he'll get some reps at left tackle, just in case. Conklin played a lot of left tackle in college, and is capable. But the feeling I get it they're not going to move Lewan to the right side.
---
Kenny Gore from Horse Cave KY
Question: My first questions in months, been sick & in the hospital. However, I have been following intently. The Titans are a team that needed starters at several positions. We lacked the talent to compete on defense down the stretch; especially in the secondary. We also lacked guys who could be counted on to get separation in the passing game. The running back position seemed addressed with DeMarco Murray. For a team lacking in talented starters we picked a lot of guys in the draft who will not start day one at the top of the depth chart at many positions. Conklin should start, but beyond that I do not see a day 1 starter in the rest of the group. That is very concerning for me as a fan. I know Robinson said it was about year 2 for rookies. However, as a fan I am tired of waiting until next year. I want to see an impact from our draftees especially when we had so many 2nd round picks. 1st, 2nd, & possibly 3rd round guys should be starters, or pushing for playing time. Beyond Conklin I do not see that. Derrick Henry will come in when Murray needs rest. Not good enough for a 2nd round pick. Kevin Dodd will play behind Derrick Morgan & Brian Orakpo. Not good enough for the 2nd pick of the 2nd round. This is basically another 1st round pick & should contribute day 1! Austin Johnson will compete against Al Woods for playing time at NT. Another 2nd round pick. Kevin Byard is a small school player with big production, but is not going to start over Rashad Johnson. I just wish the team would have concentrated on starting level players, instead of "Titans type of guys." Watching Scooby Wright get passed over in the 7th round as we picked a project OLB in Aaron Wallace was torture. We missed the chance to get a day 1 starter to take on a 3yr project. Very discouraging. I realize that Robinson was working to build an identity. However, sometimes that needs to go hand and hand with taking the best player available.
Jim: *Hey Kenny. Thanks for the questions. Hope you're on the comeback trail! I'll say this about the draft class: I expect a number of these guys to make an impact in 2016. Sure, they're going to have to perform in camp, but did you really expect Robinson and Mularkey to say: "These guys are starting Day 1." What would that tell the veterans? The rookies are going to have to work for their spots. Again, some will make an impact out of the gate, and throughout the season. And while I loved watching Scooby Wright myself, if he was viewed by everyone as a "Day 1 starter" he wouldn't have gone with the 250th pick, in the seventh round. Just sayin'. *
---
Darin Finkelstein from Chatham, NJ
Question: Jim, We have had several consecutive years of questionable or disappointing 2nd round draft picks:
Questionable: DGB. Disappointing: Bishop Sankey, Justin Hunter, Zach Brown, Akeem Ayers, Sen'Derrick Marks, Jason Jones and Chris Henry. Heading into the draft I was optimistic we would break the 2nd round jinx.  Other than Derrick Henry, which we can debate was not the most pressing need, did we swing and miss with the defensive selections?  National media is very mixed on our choices.   Would like your thoughts on round 2...
Jim: Hey Darin. Thanks for the question. OK, I'll start by saying this: Marks and Jones were solid picks. Both of them are still playing in the league, and turned out to be good players, especially Marks. Dorial Green-Beckham still needs time to prove himself, but he had a better year than a bunch of receivers drafted ahead of him. It's too early to question that pick. I agree with you on some of the others. Some haven't panned out, and Chris Henry was a bust, there's no getting around it. I liked the Derrick Henry pick, and it depends on who you ask with the Kevin Dodd pick at No.33 in the second round. Some love it, and others have concerns. I've heard some positive things about Austin Johnson. The reality is we're going to have to wait. Will some of these guys turn into long-time starters like Michael Roos (a second-rounder in 2005), or will they turn out to be like Chris Henry. The Titans sure hope they develop like Roos did. Time will tell.
---
Chuck Logan from Mount Juliet, TN
Question: Hey Jim, I am really jazzed at the aggressive moves Jon Robinson and Coach Mularkey are making. For the first time in a very long time it just smacks of sound, smart football knowledge and judgement, it seems like there have been some people asleep at the wheel in recent years gone by. My question: Do Coach Mularkey and the other coaches give much thanks or appreciation for the guys that put film together for them. Gathering specific clips for the different position players to watch that pertains to them I would think. Just wondering, sometimes the guys in the background get their props and I thought these might be some of them. Always Your #1 Fan, Chuck Logan.
Jim: Hey Chuck. Good question. They definitely give those guys props. Robinson and Mularkey had to pay their dues to get where they are today. I've heard Robinson speak on numerous occasions about doing the dirty work he did while working at Nicholls State, waiting for his chance to make it to the NFL. He hasn't forgotten where he came from, I can guarantee you that. And because of that background, the quality control coaches and the behind-the-scenes guys with the Titans get plenty of props for work that goes unnoticed outside the building.
---
Chris Chapman from Hermitage, TN
Question: Hey there. With the NFL DRAFT set to leave "CHI-TOWN" there are numerous teams and/ or cities in the running to host the draft, why is it that I've not seen our "COUNTRY MUSIC CITY" in the running to host an NFL event of this magnitude? Is the bidding decision up to the TITANS or is it up to city officials? Or both? I believe our city deserves this honor just as much if not more than any of the other cities in the running. Maybe Marcus Mariota and our boys need to run outta the gate this year and take us 16-0 to show the rest of the world that we are worthy of this honor.... Thanks for posting my bro!!! GOD BLESS JON ROBINSON and COACH MIKE MULARKEY!!! Welcome to Tennessee all new Titans!!! GIVE EM H@#%!!!!
Jim: Hey Chris. Appreciate the question, and the enthusiasm! I attended the draft in Chicago this year, and thought it was an incredible event. Chicago did a great job. But as I was there, I thought to myself: Nashville could pull this off. Spread the word, Chris. I'm putting you in charge of starting the movement!
---
Question: Jim, it seems things are shaping up personnel wise and roster wise. I've got as much optimism for the Titans now as I ever had in their short history. The roster doesn't worry me anymore, nor does the coaching staff, as we seem to have some of the best in the business coaching the offensive line and defense in particular. My main concern and question is this, will Mike Mularkey be given a decent shot? This team is on the upswing, but I'm worried if we don't have a great record next year, or if we don't make the playoffs perhaps, he'll get ejected like Whiz did. I guess I'm hoping he gets a chance, I hate that he's described as unexciting or milquetoast by the league. I think he's a great guy and I hope he's around for a while. What are your thoughts?
Jim: Hey Robert. Good question. I firmly believe Mike will get more time. Looking back, Ken Whisenhunt just wasn't a great fit, and it became more obvious as time passed. Tommy Smith was the man who made that hire, and he's no longer calling the shots. Amy Adams Strunk, who's now in charge, made the decision to replace Whisenhunt with Mularkey. She'll give him time. And I personally believe the team will make enough improvement that will keep talk of head coaching changes a non-issue.
---
Warren Capelle from Seattle, WA
Question: Hi Jim, first I want to thank you for always doing a great job on your articles and especially your -Ask Jim- segments. I am planning to attend my first Titans game on Sept. 11th when they'll be hosting the Vikings and have pretty much bought and arranged everything except for the game ticket that I read would come out late this summer. My question is: What can I expect regarding gameday traffic to and from Nashville airport? Planning on taking a cab or Uber. And, I guess I might as well ask you, on past experience, when does the noon games usually end with no overtime? I will be arriving early morning and leaving around evening and just trying to be prepared. Other than that, I'm a huge fan of my fellow local boy Marcus Mariota and what he's been able to accomplish coming from an all spread offense that many doubted his abilities to handle a first year starting job under center. He still faces a tough headwind but this upcoming draft is definitely going to not only help him but everyone else on the team. Being a MM fan, it's unfortunate we rarely read stories about his teammates that are a big factor to his and the teams' growth. Looking forward to many more to come. Thanks.
Jim:  Hey Warren. Thanks for the email, and for reading. Man, you're coming a long way for a fly in, and fly right out trip. I'd recommend spending the weekend in Nashville. Enjoy the city. Take in the atmosphere. It's a fantastic place, and the weather should be great in early September. If you have to fly in morning of the game, traffic can get backed up coming from that way beforehand, so hope you get here plenty early. Games usually end around 3 p.m. Enjoy your trip! And again, take in Nashville, not just the game!
Have a great weekend everyone!