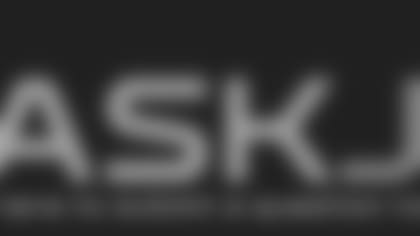 NASHVILLE, Tenn. –** It's June, and things are heating up at Saint Thomas Sports Park.
Two weeks of OTAs down, and another week is coming up. Then comes the team's minicamp. Heck, training camp will be here before we know it.
But first, another edition of the Titans mailbag.
We're starting this one off with Marilyn, who has an idea for a fight song.  I'm giving her the floor first …
---
Marilyn Weldin from Antioch, Tennessee
Question: Can we get some interest going in writing a fight song for the Titans? I thought I would get the soup pot cooking by offering my small contribution.  I won't be hurt if someone totally comes up with something better! I want the very best fight song we can write in Music City!
Titan's fight song – suggestion No. 1
In 4/4 time, about 140 beats per minute.  I used the term "Titan Up" because it is already in our cheering vocabulary.  I hear a simple tune in my head, nothing fancy, just easy to sing for all voices.
Titan up, Titans, let's go!
Titan up, Titans, let's go!
(A sort of chorus – then goes back to the verse):
And when you're down, we'll pull you up, So lift your heads, you've got the stuff!
We've got the spirit, you're gonna hear it!
Titan up – Titans, let's go!
T – I – T – A – N – S --- TITANS!   (Hit 'em high, hit 'em low - Repeat song one more time.)
There you go!  Challenge extended to all Titans fans!
Jim: Nice work, Marilyn! I like the creativity. Let's see if anyone can top that!
---
Sean O'Mahony from Cork, Republic of Ireland
Question: Hi Jim, probably one of the Titans' only Irish supporters here!
1) What sort of role do you think Kevin Byard could play in our success this year?
2) I've been reading a lot about how well Tajae Sharpe has been doing in the OTAs, could we see him possibly vaulting higher in the WR depth chart, or is Corey Davis likely to hold down a top two position?
Jim: Hey Sean. Thanks for the question, and the email from Ireland! I was asked recently about a breakout player for 2017, and I went with Byard. He's going to have a big role, and I think he's going to make more game-changing plays. It's what he did in college at MTSU, and with experience, I think he'll create turnovers in the NFL. As for Sharpe, he was off to a great start in OTAs before being slowed this week. There's going to be competition at the wide receiver position. Rishard Matthews should be a playmaker once again, and I'm expecting Davis to help early. He's going to be tough to keep off the field. Rookie Taywan Taylor has looked really good out of the gate himself, and he could be the slot guy. But I do think Sharpe is going to make a big case for himself in camp. Players like Harry Douglas and Tre McBride are in the mix as well. It should be a good group.
---
Tim Lare from Lewiston, Maine
Question: Hey Jim, first of all, thank you for all of your great insight. I have been an Oilers / Titans fan since the Dan Pastorini days. Being a Titans fan in Patriots Country is not easy, but I keep telling everyone up here that the Titans are young and on the right track. I have a small 2 part question. First of all, the Titans have 5 RB's on the roster.  How many do you think they will actually keep and are there any plans to incorporate Derrick Henry into more of the offense?  I realize DeMarco Murray is the starter and all pro, but I think Henry's running style early in the game will help wear down opposing defenses.  Once again, thank you for all you do to help keep us Titans well informed.
Jim: Hey Tim. Appreciate the question, and hang in there in Patriots Country. I'm thinking it's three running backs, plus fullback Jalston Fowler. Behind Murray and Henry I'm thinking it's either draft pick Khalfani Muhammad or David Fluellen, who coaches really like. Can Muhammad get the offense down and prove worthy of sticking, and playing? We'll find out in time. As for Henry, he's going to get some chances. I can't help but think he'll do more than last year. But as long as Murray stays healthy and keeps putting up good numbers, he's going to be hard to take off the field. He's good in pass protection and he catches the ball well out of the backfield.
---
Dave Bettlach from Chesterfield, Missouri
Question: Jim a couple of quickies.
1) Do you think they will carry 3 QB's on the 53 coming out of camp, due to Marcus Mariota coming back off an injury?
2) Does the final O-line spot come down between Tretola and Levin? Thanks!
Jim: Hey Dave. That's one of the big questions for me, and Matt Cassel's injury should allow Alex Tanney to get even more comfortable, and improve. A lot of unknowns at the position right now. I'll need to see more from the offensive linemen when the pads come on. Along with Levin, draft pick Brad Seaton will also be fighting for a spot, but others could also emerge from the pool of undrafted free agents.
---
Name: Dylan Edward from Houston, Mississippi
Question: Hey Jim! Was wondering what you thought about Nissan Stadium needing so many upgrades. Would it be worth it to maybe rebuild the stadium from scratch? I know it would cost more, but it's just a thought. Also, I'd like to see a defining feature at the stadium to maybe help boost enthusiasm during games. Make the crowd a part of the game that the opposing team as to deal with. Like maybe T with our colors overlooking the stadium. I just feel like there isn't any pregame tradition like Notre Dame or Clemson does pregame. I just feel like that would help. What do you think? Thanks Jim!
Jim: Hey Dylan. The stadium has received a lot of upgrades in recent years, from new seats to video boards to the sound system to ribbon boards. Elevators to the upper deck and improved WiFi also added more zip of late, just to name some of the work done. I can't see a scenario where the stadium is rebuilt from scratch. As far as improved game day atmosphere, there was a different feel last year compared to previous years from an enthusiasm standpoint, and I know that's because of the winning results. The team is always looking for ways to improve the game day experience, so I'm expecting some newness to be sprinkled in there as well.
---
Luis Murra from Torreon, México
Question: Hi Jim!!! My question is about Derrick Henry. I love the highlights, I think he had a great 1 year and just knowing that if Demarco Murray is injured, tired or having a bad day, there is Henry is really good. But I don't see that love from Mularkey. Looks like he expected a more aggressive and punisher in Henry and sometimes he is not playing that kind of football. He is waiting for the holes and sometimes going to the outside ... he is getting yards by the way, but do you feel that way too?  That Mularkey expected a punisher and not an elusive one. Thanks!!!
Jim: Hola Luis! Thanks for the question. Henry remains a popular topic I see. Mularkey actually praised Henry this week, saying this when asked about him: "I think he has looked great. It is evident he has worked extremely hard. I saw a lot of videos of him working out at Alabama (earlier in the offseason). I think he has looked very well, really good for this time of year." And this from Titans OC Terry Robiskie: "I thought Derrick had a fantastic year. He came in as a rookie, and like I told him, 'Freshmen sometimes in college don't play.' "But I thought he had a hell of a year. The Kansas City game (9 carries, 58 yards, two touchdowns) he went in there and did some great things for us early and I think it will be the same thing. We'll find ways to use both of those guys." … Henry did a nice job last year, but he happened to be playing behind the NFL's No.3 rusher, who is a real pro. I think he'll get more chances in 2017, but we'll have to see how things play out in games early.
---
Alan Ray from College Grove, Tennessee
Question: Hi Jim. A febrile atmosphere is building within the Titan fan-base and being so close to the action, I'm sure you're feeling it even more. Since reading the mailbag Bag last week, your response to Dylan from Mississippi has me puzzled.  Dylan asked which game you felt was the most important of the upcoming season.  For easy reference, below is your answer.
"The most important game to me is the first one, against the Raiders. A win would help set the season in motion. But they're all important really. Win that one, and then give one back the next week at Jacksonville, and it's 1-1."
I agree the Raiders game is definitely the one that could set the tone for the rest of the season and winning that game would be a thrilling start.  It's the second part of your answer that prompted me to write you.
You said win the first one against the Raiders (touted by many to be Super Bowl contenders) then go to Jacksonville and 'lose' that one?  We might beat the Raiders but not Jacksonville?  My thinking is, should we be good enough to beat the Raiders...we should smoke J'ville even though they do play us tough.
However, you've got the deeper insight here, could you tell me your thinking behind that prediction of losing the second game to J'ville so I can stop scratchin' my head? Thanks Jimbo, for all your good work.
Jim: Hey Alan. Just to be clear: I'm not predicting the team to lose to Jacksonville. What I was trying to get across is a win against the Raiders wouldn't mean as much if the team then turns around and loses the following week. In reality, all the games are important. A year ago the Titans beat playoff teams like the Packers, Chiefs, Lions, Dolphins, Texans, and beat the defending Super Bowl champs in the Broncos. But as we all know, the Titans lost in Week 16 at Jacksonville. So in my mind all of them are important. While the Raiders game is important because it's Week 1 and it could provide a fast start, it's one of 16.
---
Nicholas Williams from Nashville, Tennessee
Question: Hey Jim. I was wondering what the organization thinks they have in guys like Jace Amaro and D'Joun Smith; two high draft picks with solid college production and NFL caliber athleticism? Obviously they both didn't work out in the organizations they were drafted by for various reasons (Amaro never lived up to his potential and Smith "lacked professionalism"), but especially in Smith's case, I feel like he has a chance to make the roster in the fall given the lack of established depth at CB (I'm certainly rooting for him). Amaro didn't have the blocking pedigree that Mularkey and the Titans expect and utilize in their TE's, but D'Joun Smith is a guy who Jon Gruden called a "complete corner" in the 2015 pre-draft process. Obviously Gruden isn't the be-all and end-all of personnel evaluation, but I respect his ability to identify competitors especially on the defensive side of the ball, and Smith had excellent ball-skills and a willingness to tackle in college; something Robinson seems to heavily value in his CB's.
What I'm also curious about is that these two players didn't really fill the Jon Robinson type of team-first, dependent players in their first stop, but Robinson has nevertheless given them both a 2nd chance with minimal-to-no financial risk, which he has not done much of thus far. This is something that the Patriots seem to do quite a bit of successfully; give players who have shown flashes a 2nd chance in an established organization with a winning, team-first culture, and develop them into productive starters or role-players. It's only been 1 season under the Robinson/Mularkey regime, but there does seem to be a palpable culture change, buying into the team-first attitude, with an expectation of winning. Is this something you could see Robinson doing more of in the future, with high-attitude guys filing the locker room? Thanks,
Jim: Thanks for the question Nicholas. A good take on your part. I'll say this: Every guy is different, and every organization is different. Just because a guy didn't have success/fit in elsewhere doesn't mean he wouldn't fit in here. You're right in observing the Patriots have taken chances on some players, and they've been rewarded in many cases. Robinson and Mularkey have definitely changed the culture, and they're not going to keep guys around who might hurt the locker room chemistry. Both of those guys are improving, and Amaro is befitting from the knowledge he gained from being around last year.
---
Dustin Rogers from Durham, North Carolina
Question: Hey Jim, how is Kevin Dodd's foot doing? Would love to see Dodd and Jayon Brown play well and be healthy in 2017 because if these two can raise the level of our LB core our defense should be much improved. Everyone's been talking about the CB issues which is the biggest issue but I think the defense also needs some big time plays out of our LBs this year (2016 LB stats for interception: 2), only 2! (2016 LB stats for sacks excluding Brian Orakpo and Derrick Morgan: 8). Morgan and Orako were great but two guys shouldn't make up 50% of the sack total, they need help. Share the sack love. Would love to hear your thoughts on this topic. #TitanUp
Jim: Hey Dustin. Dodd is progressing, but the team is being patient with him as he works his way back from his foot injury, and a second surgery. So he hasn't been on the field in OTAs. Brown has been out there, and he's looked good. He's fast, and I think he's definitely going to help this fall in coverage and tracking down ball carriers. The Titans drafted Josh Carraway to help the pass rush, and while he's flashed in the OTAs, the real test for him will come when the pads are on.
---
Eli Decko from Pittsburgh, Pennsylvania
*Question: *Coach said he intends to do more 7 on 7 drills with Marcus Mariota recovering. I think this is an amazing idea considering he will still be able to learn who has hands and who is really in the playbook. With that being said, do they run a timer or something to give him an accurate feel of a rush since there isn't one, and give the WR's a more accurate feel of their route depth and how long it takes to be exactly where they are needed? Cuz one thing I saw a lot last year was Coach talking about WR not being where they need to be so MM can make anticipation throws to them and what not. Obviously Delanie is always where he is supposed to be so that's not an issue really, but to help the rookie TE Jonnu Smith more than Walker. Thanks again for taking time to read this and my past questions!
Jim: Hey Eli. Mariota is definitely getting good work, and when the other quarterbacks have been out there in team periods, I've noticed him mimicking some of the moves and footwork. He's definitely taking mental notes on top of the work he's gotten in individual drills and 7 on 7. But there is no timer. Jonnu Smith has been getting up to speed and he's worked on timing with the quarterbacks in practices. And he had a really good week.
---
Sal Vasquez from Austin, Texas
Question: Hey, Jim. My question is about roster development, specifically targeting needs on the team instead of selecting the possibly highest rated players who had fallen to them in the draft. The Titans selected a big playmaking receiver at #5 overall for Mariota to throw to, and passed on Jamal Adams. Corey Davis is a remarkable talent who fills a need, but Jamal Adams looks like another Ronnie Lott, or more physical Ed Reed. Picking offense first at #5 meant they then had to pick defense at #18-their big explosive target for Mariota fell right to them in the form of O.J. Howard, but the Titans now had to get their secondary man or wait until the third round. How long before we can say the Titans navigated the draft correctly this year?
Jim: In a few years, when we see how all these careers play out. I strongly believe the Titans got the best receiver in the draft in Corey Davis, and Adoree' Jackson has big-time potential himself.
---
Garrett Burkhart from Dover, Tennessee
Question: Hey Jim. This is my 2nd time writing to you and I just want to say thank you from all us fans for all that you do. You always keep us very informed on what's going on and up to date on things. I'm really excited this year to see what we can do. I'm excited every year even through the good and the bad but this year feels special from all the great players we got coming back from last year and all our new additions. From reading stuff online and on TV we have some big expectations to hold up to this year. I can't wait. But I was wondering...do you think Matt Cassel getting hurt and with Mariota still recovering, will we bring in a new QB this offseason with a little more experience or just keep what we have? I know Alex Tanney knows our stuff more than anyone else we could bring in but I just didn't know if it would be a wake-up call and they think we better get a more experienced QB in here just in case something happens like this when the season gets here. God forbid something like that does happen again. I'm not a real big fan of Kaepernick but I think for the right price he would be good to have around in case we ever need another backup QB. What are your thoughts on all this? I'm probably just stressing out and overthinking it all.
Jim: Hey Garrett. Thanks for the question. Coach Mularkey was asked if the team plans to bring in another QB, and he said no. So that means more work for Tanney in OTAs and the minicamp as Cassel recovers, and Mariota returns to 100 percent himself. The Titans also have undrafted free agent Tyler Ferguson in camp. By the time training camp begins, though, the expectation is the team will be back at full strength, or close to it.
Have a great weekend everyone!
Titans players take the field for Day 6 of the team's 2017 OTAs at Saint Thomas Sports Park. (Photos: Donn Jones)