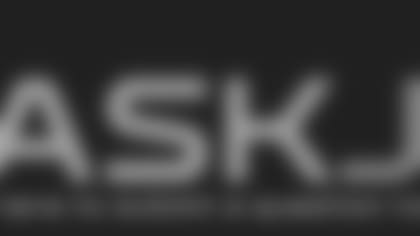 NASHVILLE, Tenn. – Ten OTAs are now in the books for the Titans.
Next up is a three-day minicamp, which begins on Tuesday at Saint Thomas Sports Park.
Man, the offseason is flying by.
It's a crazy weekend here in the Music City. The Stanley Cup is in town, and so is CMA Music Festival. Let's take a quick break from the action and dive into another mailbag …
Josh Carter from Chattanooga, Tennessee
Question: Rishard Matthews provided something last year at wideout that the Titans have not had in a while, and that is a reliable, hard-working, productive, number one receiver. Why is he being so overlooked at this point? It seems like almost no one is talking about his potential to get even better in an offense that just added weapons. I get it that Corey Davis and Taywan Taylor are exciting additions but Matthews is the only one of these guys who is likely to put up 1,000 yards for us next season. I for one, am very thankful for a couple of amazing, highlight reel, layout catches from last season from him. Am I missing something here or is he not getting a lot of attention because he is a lock for the number one receiver? Thanks for keeping us all in the know! Titan Up!
Jim: Hey Josh. Good looking out for Rishard. He was very good last year, and in my mind he starts the year as the No.1 option as some of the young receivers find their way. Rishard's had a great offseason, and if you remember, he said he welcomed a big-time receiver in the NFL Draft when asked about it at the end of the 2016 season. Well, the Titans have two newcomers with a lot of potential in Davis and Taylor. Both players will contribute this season, and their presence should also make Matthews even better.
---
Chris Bourn from Abilene, Texas
Question: How is the secondary looking? Is LeShaun Sims showing progress? Does Adoree' look good? Is Logan Ryan fitting into our system well? Who will be our starting safeties between Byard, Cyprien, and Johnson?
Jim: Hey Chris. It's been good. Coaches have been complimentary of all the guys you mentioned. Defensive coordinator Dick LeBeau offered big praise for veterans Cyprien and Ryan, and raved about Adoree' Jackson's speed. And don't forget about Da'Norris Searcy, who will be in the mix as well. You mentioned Johnson, and I assume you're talking about Rashad, but he's no longer with the team. His one-year contract expired in March.
---
Robert Conlon from Baltimore, Maryland
Question: Hi Jim, Oilers/Titans fan since Earl Campbell's rookie year ('78). Is there any chance Alex Tanney could supplant Matt Cassel as the #2 QB? Obviously the Titans' season will hinge on Marcus staying healthy, but if Tanney could be a spark if needed, that may qualm a little anxiety. Also, will this be the year that the Titans can FINALLY beat Andrew Luck? It's gotten to the point where I can't even watch their games against the Colts anymore...
Jim: Well, Tanney is getting a chance to impress. He's been getting a lot of reps with Mariota limited and Matt Cassel out for the remainder of the offseason with a thumb injury. Tanney is a good athlete who has worked hard, and he's performed well in practices. He had a really nice week in the four OTAs. And I could see him as a No.2 at some point. As for the Colts question, I hear ya. It's been a frustrating stretch against them. The plan around here is for that to change this fall.
---
Joscha Viertauer from Vienna, Austria
Question: Just wanted to thank you coming by at last year's Packers game. I remember my journey to Nashville very vivid and loved to see how the yellow-and-green went quiet after a stunner (really nice people though). Also I could snag an autograph for my Kendall Wright jersey in the Indy game – a little sad to see him go but inconsistency takes a toll. I'm looking forward to what Taywan Taylor can do with his number.
My question is a simple one: At this time a year you hear a lot about the rookies. What about Tajae Sharpe? How is he faring? I think he was one intriguing player in 2016 and I always see his first catch, 31-yd gain on the second play of preseason.
Thanks as always and TitanUP
Jim: Hey Joscha. Great to see you, and glad you had a big time. Taylor has been looking good in practices, so he should do the number proud. As for Sharpe, he was off to a great start before suffering a foot injury that required surgery last week. He's now on the road to recovery, but the plan is to have him up to speed and ready to go in training camp. Hope you see you back in Nissan Stadium again soon, waving your flag.
---
John Brusseau from Nashville, Tennessee
Question: Hello, Jim. I read your work on my Ipad. You're a gift to the Titans community.
I have wanted to know whether NFL teams (and in particular, the Titans) have a research staff that does research on upcoming opponents. And if so, what is the shape and responsibilities of this group on our Titans staff? Thanks for doing what you do, Jim.
Jim: *Hey John. I appreciate that. The Titans do have advance scouts who take in games for the opponents, and members of the coaching staff also do a lot of prep work leading up to games. The coaches are looking at plays, tendencies, biggest threats, etc. to make it easier game week, when it's all-in for everyone.  *
---
Tim Myatt from Chattanooga, Tennessee
Question: Hi Jim. They always say players make the biggest leaps from year one to year two (or they don't). In your opinion, do you see a difference in any of last year's rookies that will make them better players this year, whether it be physical or mental even though OTA's aren't the best place to distinguish that.
Jim: Hey Tim. You're exactly right, and some of the second-year guys have stood out this offseason – running back Derrick Henry, safety Kevin Byard and cornerback LeShaun Sims, just to name a few. The team remains optimistic about linebacker Kevin Dodd, but he's working his way back from a second surgery on his foot. And I need to see the pads on before I can make a big judgement on some of the linemen. Training camp should provide more clues.
---
Janet Hill from Mt. Juliet, Tennessee
Question: Why don't the reporters have a mic when doing player interviews and press conferences?
It would be really nice to hear what questions are being asked!
Thank you......GO TITANS!
Jim: Hey Janet. Fair question, and believe me, you're not alone with this one. The auditorium is big, so that makes it tough to pick up the questions from reporters sitting far away from the microphone. And during the post-practice interviews, whether it's with coaches or players, the group sometimes includes dozens of reporters, so there's just not a great scenario to make it work. I wish I had a solution, but I don't. I'll spread the work to talk LOUDER when asking questions! :)
---
Beau Blaker from Longmont, Colorado
Question:Hey Jim, Love the insight you give and detailed reporting you are able to give. Die-hard fan out here in Colorado fighting off all these Broncos fans (including my Fiance.) My question is in regards to the NFL top 100 players list going right now. How have the guys Lewan, Orakpo. Casey, Etc. How have they reacted to it being voted into this list by all the other players in the NFL? Also do you know if Titans players can vote for their teammates on this list or can you only vote for players on opposing teams? Do you by chance know when they vote on this list? I am sure they are honored to be on this as it is not the media that decides this list but the players that they go up against. I believe it carries more meaning to them don't you? After the turnaround season they had it leaves us fans waiting to see what is in store for this upcoming season and the further growth of this team. Thanks Jim! Also I wouldn't mind getting an autograph from Mariota in the future if you could pull that off! :)
Jim: Appreciate it, Beau. Well, at least you have bragging rights out there a little longer. As for the list, guys are happy to be recognized, but no one is looking to use the honor in negotiations in their next contract. There's been some chatter about the list here -- some folks really shooting holes in it. The way I look at it is it's better to be on the list than not on it, because it's nice to be recognized by peers across the league, who are doing the voting. The way I understand the voting process: NFL Network sent a representative to each team at the end of last year and they handed out ballots, and players filled in the slots. They weren't allowed to vote for players on their team. All the ballots were collected, and the list was formed. I saw where J.J. Watt called the list a "joke" this week, because he was 35 on the list. He pointed out he played in just three games last year. I don't think the list is a "Top 100" for 2016. It's "Top 100" in the game for 2017. So how would Watt feel if he would've been completely left off? Hey, I'm not saying the list is 100% percent accurate. Of course it's up for debate. But so is every other list out there, from the Power Rankings headed into the season to Fantasy Football Top 10 by position lists in June. Personally, I think it's a pretty nice honor for the Titans to have so many guys recognized, because that hasn't always been the case. As for a Mariota autograph, well, I'll put it on his list…
---
Darin Finkelstein from Chatham, New Jersey
Question: Hey Jim-Hope all is well...Looking forward to the Titans first preseason game.  I am sure the Northeast Titans fans will be at Met Life to watch.
I have been reading some articles that mention Jalston Fowler being on the bubble.  Have you seen any statistics regarding yards Murrary and Henry gained when Fowler was blocking?  Love Fowler's style and physical play. Seems like he fits the Titans mold. Do you think Fowler is in the future plans? Do you think the Titans would ever go back to the Oilers throwback uniforms for a throwback game? Would be great to see the Luv Ya Blue with this team? Best, Darin.
Jim: Hey Darin. Not sure where you heard the "Fowler on the bubble" talk. I do know coaches love him, and Mike Mularkey has said he likes having a fullback on the roster. As for the throwback uniforms, I agree it would be a pretty cool look, but haven't heard any discussions about it.
---
Pearce Neal from Scottsdale, Arizona
Question: Hey Jim, I've heard a lot about three of our first four draft picks during OTA's, but I'm curious as to how Adoree' Jackson has been looking so far?  I haven't heard much on him, but I heard … Sims might be on the opposite side of Ryan as of now. What have you seen from him so far and do you think he has the potential to start by week one?  I know it's early and he might be a player that will get better throughout the season because some said he came out a year early.
Jim: Hey Pearce. Adoree' seems to be getting better each week. He made an incredible play in practice this week when he went up high to break up a pass in the end zone. LeBeau said he's "faster than fast" when complimenting him. Sims finished last year strong, and he's been solid this offseason as well. A lot to be determined here. I think they all play in some fashion, but Brice McCain is also in the mix. What happens in training camp and the preseason will help this shake out.
Have a great weekend everyone!
Titans players take the field for Day 10 of the team's 2017 OTAs at Saint Thomas Sports Park. (Photos: Gary Glenn)