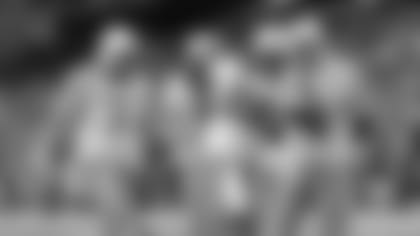 Sources tell The Associated Press that Titans running back Chris Johnson (28) will not report to camp until he has a new contract.
NASHVILLE, Tenn. - Tennessee running back Chris Johnson will not be reporting for training camp with the Titans until he gets a new contract, according to a person familiar with the situation.
The person told The Associated Press Friday that Johnson will not report to the Titans. The person spoke on condition of anonymity because the decision had not been publicly announced.
Johnson, a Florida native, said in 2010 he wanted a new deal with $30 million guaranteed. The Titans revised his contract by pushing some money from the final year into 2010 to convince the running back to report. Johnson said on Twitter on Friday that "Imma just leave it in god hands.''
The Titans are scheduled to report for camp Friday with the first practice Saturday.
The Tennessean first reported that Johnson would not be reporting.
Johnson can be fined $30,000 for each day of camp missed, but the three-time Pro Bowl running back wants to be rewarded for his production over his first three seasons. He became only the sixth man in NFL history to run for at least 2,000 yards when he ran for 2,006 yards in 2009 and the first to rack up 2,500 yards with 500 yards receiving.
He followed that up by running for 1,364 yards in 2009 despite finishing the season with a bruised thigh and has started 46 of the 47 games he has played in since being drafted 24th overall in 2008 out of East Carolina. Johnson has 4,598 career yards averaging 5 yards per carry and also has 1,008 yards receiving. Johnson is scheduled to make $800,000 in salary this season.
DeAngelo Williams got a new deal from Carolina earlier this week worth $21 million in guaranteed money. He played only six games in 2010 and ran for 361 yards while dealing with injuries.