**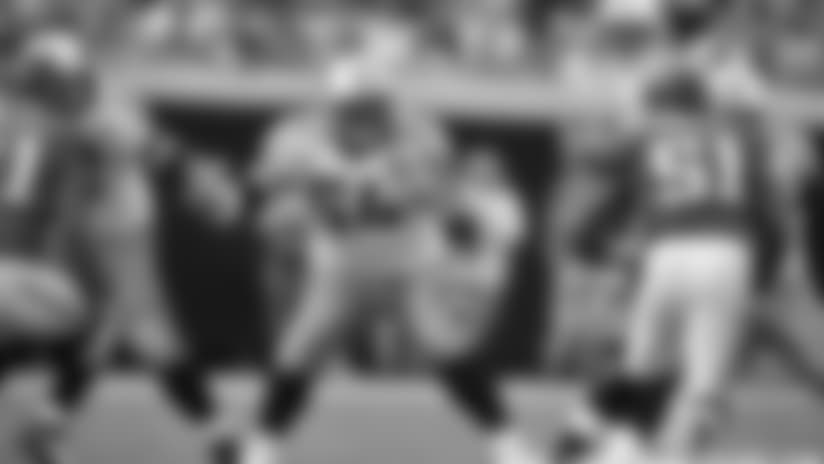 Offensive lineman Eugene Amano (54) has several community initiatives in place where he grew up just outside of San Diego.
NASHVILLE, Tenn. --** Entering his seventh year as a Tennessee Titan, Eugene Amano has played in all but one game during his NFL career. A seventh-round draft pick in 2004, Amano has proven his strength and quickness on the offensive line. He played on special teams and in a reserve role from 2004 until 2007, and in the past two seasons, Amano has started for the Titans at left guard.
After a contract extension in the 2010 offseason, Amano is looking to become the starting center for the Titans this year. Even with all of his success, Amano still finds time to give back to the community where he grew up.
Amano was born in Manila, Philippines, while his father, who served in the U.S. Navy, was stationed. Amano's family moved back to the United States when he was just two months old. While residing in National City, Calif., just outside of San Diego, the Amanos lived as a typical military family – frequently separated.
"When I was growing up, my dad was always deployed," Amano said. "It was a tough thing to deal with."
Remembering the struggles he faced as the child of a serviceman, Amano decided to establish the Amano Family Foundation, which assists military families in the San Diego area.
"It's a big military town, so there's a huge need for it," Amano said. "We're working with the military families who have parents who are deployed or out of town.  We're trying to help the kids deal with their parents' being gone."
For the past two years, Amano has held a football camp for military children. Each year, about 300 campers, ages 10 to 18, arrive at Amano's camp to receive instruction from San Diego area high school coaches, former San Diego State and University of San Diego players and even some NFL stars. Current Titans defensive end Eric Bakhtiari was among the pros who participated in this year's camp.
"The kids had a great time out there," Amano said. "It was an amazing time, and I want to do this every year."
The Amano Family Foundation also arranges trips to San Diego State football games and helps to implement organized sports programs so that the children in San Diego will have activities to enjoy while their parents are deployed.
"That area of San Diego is kind of underdeveloped, and it's something that's good for the community," Amano said. "It's a way to keep the kids off the streets while they go out, have fun, play football and all of that."
The contributions of the Amano Family Foundation haven't gone unnoticed. This year, council members of National City, Calif., declared June 1, 2010, Eugene Amano Day.
"It was a good feeling. Holding that football camp the past couple years has been a huge success down there," Amano said. "The mayor just kind of wanted to honor it, I guess."
The Amano Family Foundation plans to spread its horizons beyond football and sports. Next year, Amano hopes to hold a "Christmas in July" event in National City.
"A lot of military families are separated during the holidays," Amano said. "So we want to help them celebrate Christmas while their family is together, even if it's in the summer."
Although Amano's community work is concentrated in San Diego, he plans to take on a more distant endeavor in the near future. After the 2010 season, Amano will travel back to the Philippines for the first time since leaving with his family as an infant. He will volunteer with an organization called Gawad Kalinga, which means "to give care."
"It's similar to Habitat for Humanity here," Amano said. "We're going to go out there and build homes in the poverty-stricken areas where a lot of people don't have anywhere to live. It's a small way to help develop that country and help the people out there."
Amano's foundation helped provide relief for the Philippines through Gawad Kalinga after typhoons struck the area in 2009.
Even though he plans to have a career in law enforcement when he is finished with football, Amano hopes to remain active in the work of his foundation.
"It's something I'm really passionate about," he said. "My brother (Fred) and I are really working hard to get it established out there, and I think it's the right thing to do for the people of San Diego."
To find out more about Amano and his work in the community, visit www.EugeneAmano.com.