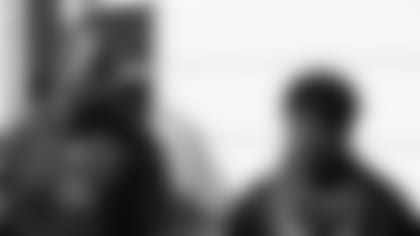 Titans fullback Ahmard Hall pictured with his mother, Nancy Hall, who will be today's honorary 12th Titan at LP Field.
NASHVILLE, Tenn. — The Tennessee Titans honor their fans before each game at LP Field with the ceremonial raising of the 12th Titan flag.
It's a way the players, coaches, administrators and owner K.S. "Bud" Adams, Jr. can say "thank you" for all the support that fans provide before, during and after games.
This Sunday's flag ceremony will have even more special significance.
Nancy Hall, a breast cancer survivor and the mother of Titans fullback Ahmard Hall, will raise a special pink 12th Titan flag. More than 69,000 fans in the stadium will then be asked to raise special pink posters to show support for Ms. Hall and 12 other breast cancer survivors who will lead the Titans on the field and represent everyone who has been touched by the disease. The ceremony, along with players wearing pink gear, is being conducted in observance of National Breast Cancer Awareness Month.
"We're excited about Sunday," Titans Vice President of Marketing Ralph Ockenfels said. "It's our first home game in October and as part of the NFL Crucial Catch Program, we thought this year we'd try something very unique. We're very honored and excited to have Nancy Hall (as) the 12th Titan.
"All of the fans will be instructed to raise their poster, and in a very tangible and visible way they can help support Breast Cancer Awareness Month," Ockenfels continued.
The backs of the pink posters, which are being placed in the seats by Boy Scouts, will have important screening information and a website for St. Thomas Health Systems.
Ms. Hall said she advocates early detection through yearly mammograms, especially if there is a family history of the disease.
"The key is to catch it early," she said after recalling when she detected something suspicious and a diagnosis confirmed the cancer.
"At that time I was devastated. There was a really inspiring nurse that was there for me," Ms. Hall recalled. "She told me you immediately cry, you think the world has come to an end and you're going to die, but she told me, 'Baby, don't cry. It's not the end of the world. We have survivors now, and you're going to be fine.' That was very inspirational for me. After that I was up and running and on my way to recovery."
Ms. Hall said her son was also supportive during her battle. He said it was an opportunity to be there for someone who means so much to him.
"My mom's a rock for me," said the sixth-year pro and former Marine. "She raised me by herself, and then to see her go through the breast cancer situation, she showed me that I can accomplish anything. She's always been there for me, so it's a tribute to be able to honor her Sunday at LP Field."