TAMPA, Fla. – No, the Titans didn't make it to the Super Bowl.
But that doesn't mean the team – and the city – wasn't represented at Raymond James Stadium at Super Bowl LV here on Sunday night.
Let's take a look at the game through the eyes of those who were there – Titans punter Brett Kern and his son, Titans superfan Brandon Galloway, named the NFL's Fan of the Year by the NFL, and Sharon Alvarez and Wes Frisbee, two healthcare workers from Nashville who were among four local healthcare workers invited to the game by the Titans and the NFL.
Also, we'll take a peek at how some former Titans did in Sunday night's game, a 31-9 win by the Tampa Bay Buccaneers over the Kansas City Chiefs.
Titans Punter Brett Kern and Son Bryce
Kern, of course, would rather have been on the field than in the stands on Sunday night.
"It really kind of hit me when I got to the stadium today, how close we got to this game (in 2019)," Kern said of the team's AFC Championship season. "You get caught up in the moment, going week by week, and your mind really never goes to the Super Bowl. To be down here to experience this and the hype, it puts even more fire in you. You want to get the opportunity to play in this game."
A three-time Pro Bowler, Kern was decked out in a No.3 Buccaneers jersey representing Tampa Bay kicker Ryan Succop, his teammate with the Titans from 2014-19.
"Ryan is my brother," Kern said. "We'll be friends, football or no football, for the rest of our lives. The opportunity to come down here and support him, it was something we couldn't pass up."
Kern traveled to the game with his 11-year-old son, Bryce.
The Kerns were seated in Section 303, Row L, seats 18 and 19.
Bryce got a special haircut just for the occasion, with the Super Bowl LV logo shaved into the side of his head.
"It was kind of like my dad's idea," Bryce said.
Dad wasn't so sure about that.
"It was his idea, he just had to get dad's approval," Kern said. "He convinced me to let him do it. We'll be back (in Nashville) Monday to see the barber to get this shored up a little so he doesn't go to school with a crazy Super Bowl haircut."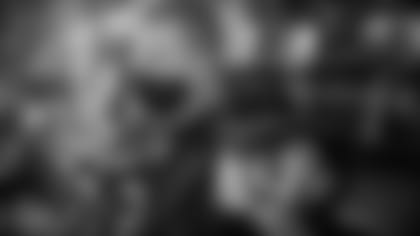 It was a memorable night for sure for the Kerns.
"This is my first NFL game as a fan since I was in high school as a Bills fan," Kern said. "I remember throwing snowballs at (kicker) Adam Vinatieri, because the Bills were playing the Patriots in a snowstorm, so it has been a while.
"To be able to bring Bryce down here and to be able to experience this together, it's something we'll have as a memory for the rest of our lives. It's a really cool experience."
Titans Fan Brandon Galloway and Wife Celesta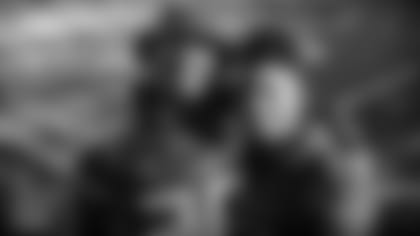 Galloway, named NFL 'Fan of the Year' during the NFL Honors show on Saturday night, said the last 24 hours have been a whirlwind.
"I'm telling you, it has been crazy," Galloway said. "My phone has not stopped buzzing. It has been ringing, it has been one text and one Twitter message after the other, but it has been real nice. Everyone has been congratulating me, and I have been enjoying it."
And, oh yeah, Galloway was at the Super Bowl. He was decked out in his Titans jersey with a "Fan of the Year" patch on the front.
The NFL awarded the three 'Fans of the Year' finalists with a trip to the Super Bowl, inclusive of two tickets plus a VIP experience. The NFL accepted 35,000 admissions as part of the "Fan of the Year" program, before Galloway was ultimately selected. Galloway skipped lines with wristbands at the NFL Experience, and he was treated to limousine rides in Tampa.
"This is beyond anything I have thought about, and it's not just the Super Bowl," Galloway said. "The NFL hooked us up with VIP experiences. To be in this stadium, even with the Covid protocols, it feels safe, and it's been great."
Galloway, who lives in Clarksville, was at Raymond James Stadium for Super Bowl LV with his wife, Celesta.
They sat in Section 303, Row E, Seats 1 and 2, the same section as the Kerns. In fact, the Kerns and Galloways met, a night after Galloway met Titans running back Derrick Henry as part of the NFL Honors show.
"Two of the best at their positions, and they're both Titans," Galloway said of Henry, and Kern.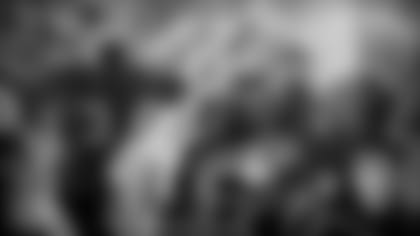 This inaugural "NFL Fan of the Year" program was designed to "spotlight fans who have a special affinity for their local team, provide inspiration to others and showcase how football unites their family, friends and local communities."
A supervisor in the Tennessee Department of Children's services, Galloway has been mentoring kids since he was just a kid himself.
As a prize from the team, the Titans informed him they're comping his season tickets next season and giving him two extra season tickets so he can bring more of his mentees to games.
"This whole experience, it has been absolutely awesome, from start to finish," Galloway said. "Everything the Titans have done for me, and this trip, from the flight down, to the whole Super Bowl experience. I'll never forget it."
Healthcare Heroes Sharon Alvarez and Wes Frisbee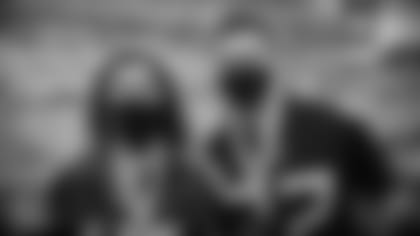 Healthcare heroes were out in full force here last night, and Middle Tennessee was well represented.
Sharon Alvarez, an ICU Nursing Manager at Saint Thomas Hospital Midtown in Nashville, was among 7,500 vaccinated health care workers at Super Bowl LV as guests of the NFL to thank and honor them for their continued extraordinary service during the pandemic.
So was Wes Frisbee, a Patient Care Technician at Ascension Saint Thomas Rutherford. They were two of four from Middle Tennessee.
The Titans worked with Ascension Saint Thomas to select four deserving individuals nominated by their peers. Along with Alvarez and Frisbee, Christie Muliford (Physical Therapist, Ascension Saint Thomas Hospital West) and Leslie Johnson (Critical Care Paramedic, Ascension Saint Thomas EMS) were all at the game.
The crew all sat in the lower bowl, Section 108, seats 13, 14, 18 and 19.
Alvarez and Frisbee were decked out in Titans jersey numbers 17 and 22, respectively, with their names on the back.
"It has been amazing," Alvarez said. "I think they really rolled out the red carpet for the healthcare workers. The NFL has done a great job."
The healthcare workers went to the Miley Cyrus TikTok Tailgate concert before the game before making their way into the stadium.
"It has been a great experience for the both of us," Frisbee said. "It's something we'll never forget, a once-in-a-lifetime experience."
Alvarez, who moved to Nashville in the 1990s, has worked at Ascension Saint Thomas Midtown for 17 years. She's been a nurse for 36 years.
Alvarez was the first nurse at Saint Thomas Midtown to get the COVID-19 vaccine. She was pulling for Tampa Bay and quarterback Tom Brady because she's a Michigan fan.
But her roots are strong with the Titans. Her first Titans game was the Music City Miracle. She attended that game during the 1999 season's playoff with her son, who was roughly 12 years old at the time. They showed up at Nissan Stadium with painted faces, in Titans colors.
Alvarez used to have Titans season tickets, but she now goes when she can because of her busy work schedule. Frisbee, who is originally from Chattanooga but moved to Murfreesboro for school at MTSU, is a Titans fan as well.
"Everybody has been saying thank you to us everywhere we go," Frisbee said. "It is really an honor to be here, representing healthcare workers across the country. And we're representing the Titans, too. We're representing the Titans and Ascension Saint Thomas."
Former Titans Win Super Bowl Rings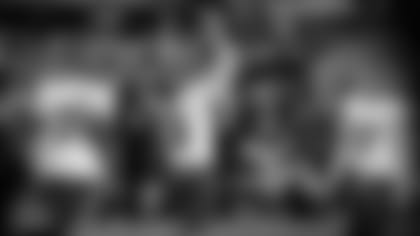 Several former Titans won Super Bowl rings on Sunday night – kicker Ryan Succop, offensive lineman Aaron Stinnie, quarterback Blaine Gabbert, and kicker Greg Joseph.
"What an awesome feeling," Succop texted early this morning. "Indescribable really."
"Super Bowl champs, baby!," Stinnie said in his Instagram livestream from the locker room. "Ain't nothing like it."
Succop hit a 52-yard field goal in the contest, and he was a perfect 4-of-4 kicking extra points.
Succop also made a 40-yard field goal in the contest, but the Chiefs were called for offsides. Moments later, Buccaneers quarterback Tom Brady connected with tight end Rob Gronkowski for their second scoring connection of the night, and Succop ended up kicking his second of four extra points on the night.
Gabbert was Brady's back-up for the Buccaneers, but he didn't play.
Joseph, who spent the season on Tampa Bay's practice squad, will get a ring.
Succop, who played from 2014-19 with the Titans before being placed on Injured Reserve during the 2019 season, was 28-of-31 on his field goal attempts (90.3 %) for the Buccaneers in the regular season, with a long of 50. Succop was a perfect 8-of-8 in the playoffs leading up to the Super Bowl.
Stinnie was with the Titans for two seasons (2018-19), and he played in four career games. His first NFL start came during the 2019 season in the team's game against the Chargers in London. Stinnie played in six games for the Buccaneers during the regular season.
Filling in for injured starter Alex Cappa, Stinnie started at right guard in Tampa Bay's playoff wins over New Orleans and Green Bay, and he was the starter on Sunday night at right guard against the Chiefs.
"This whole season has been a blessing in so many ways," Succop said.