NASHVILLE, Tenn. —The Titans/Oilers franchise has never selected from the 10th overall spot in the history of the NFL Draft, but is scheduled to do so on April 25.
With just 10 days remaining before another historic day in franchise history, Titans Online takes a look at the 10th overall pick in the context of the past 46 selections made since the first common draft between the NFL and American Football League in 1967.
13 — The combined number of wins as starting quarterbacks by Blaine Gabbert (5-19 since 2011) and Matt Leinart (8-10 since 2006), who are the only two QBs selected from the 10th spot.
10 & 10 — In the past 20 selections, there have been 10 offensive and 10 defensive players selected. Overall, there is still balance with 24 defenders and 22 offensive players chosen.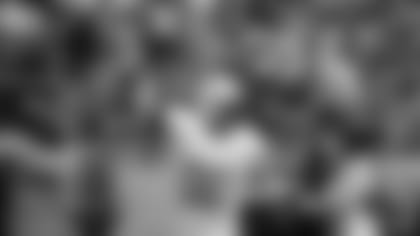 The Titans/Oilers franchise has never had the 10th overall pick in the NFL Draft, but Tennessee is slated for that spot on April 25. The Oilers acquired Ken Burrough, who was picked 10th overall in 1970, in a trade with New Orleans in 1971.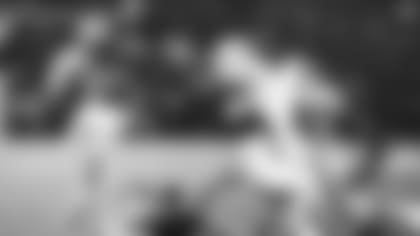 9 — There have been nine wide receivers selected from the 10th spot, including Houston Oilers great Ken Burrough, who was drafted in 1970 by New Orleans and joined Houston after a trade in January 1971. Burrough played with the Oilers until 1981 and lead the NFL in receiving in 1975 with 1,063 yards and with 75.9 yards per game that season. Burrough earned selection to two Pro Bowls and was a member of teams that made the playoffs three straight seasons (1978-80).
San Francisco most recently used a 10th pick on a receiver when it selected Michael Crabtree in 2009. Other notables include Detroit's Herman Moore (three All-Pro selections and four Pro Bowls) and Al Toon (an All Pro one time that made three Pro Bowls) for the New York Jets.
8 — The number of defensive backs that have been selected since 1967, including last year when Buffalo drafted Stephon Gilmore out of South Carolina. Gilmore made 13 starts in 16 games last season.
The Houston Texans (Dunta Robinson in 2004) and Baltimore Ravens (one-time All Pro and three-time Pro Bowler Chris McAlister in 1999) have had success in picking defensive backs from the 10th spot in the past 14 years.
Although Terry Kinard spent most of his career with the New York Giants after they selected him from the 10th spot in 1983, Kinard played his final season with the Oilers and started all 16 games in 1990.
7 — Linebackers have been tabbed by teams seven times, including most recently in 2008 when New England picked Jerod Mayo out of the University of Tennessee. Mayo already has one All-Pro selection and two Pro Bowls to his credit.
The other linebacker selected 10th in the past 10 drafts — Baltimore's Terrell Suggs — has also been named an All Pro and has five Pro Bowls and one Super Bowl title.
Linebackers Jamir Miller (Arizona, 1994) and Isiah Robertson (L.A. Rams, 1971) also earned All-Pro and Pro Bowl honors.
6 — Defensive tackles have been selected six times, which is double the number of defensive ends taken at 10th. The most recent defensive tackle was Tyson Alualu in 2010 by Jacksonville. Alualu hasn't missed a start in three seasons with the Jaguars.
The Houston Texans also drafted a defensive tackle 10th when it picked Amobi Okoye, who played four seasons with the Texans and the past two with the Bears.
5 — Five players listed as offensive tackles have been selected 10th, but that number increases to seven with a pair of players who spent time as guards and tackles.
The most recent tackle selected was Levi Jones by Cincinnati I 2002. Jones played with the Bengals until 2008 and added one season with the Redskins, starting 97 of 103 games. The Bengals also drafted the other most notable tackle from the 10th spot (three-time All Pro and four-time Pro Bowler Willie Anderson) in 1996.
The New York Giants drafted both players that spent time as guards and tackles (Eric Moore, 1988, and Gordon King, 1978). With that in mind, Chris Naeole, by New Orleans in 1997, is the only guard (150 starts in 154 games) to be drafted 10th.
4 — The Baltimore Ravens, the Detroit Lions and the San Francisco 49ers have each picked from the 10th spot four times. The 49ers (1974-75), New York Jets (1984-85), and Jaguars (2010-11) each had the spot in consecutive years, but the Ravens are the only team to pick 10th three drafts in a row (1998-2000).  
3 & 3 — The number of defensive ends that have been selected, including two-time Pro Bowler Jacob Green (Seattle in 1980), and the most number of years in a row in which the same position was drafted (Baltimore Colts DT Joe Ehrmann in 1973, and 49ers DTs Bill Sandifer and Jimmy Webb in '74 and '75).
2 — So far, there have been two players who have been selected 10th overall that have been enshrined in the Pro Football Hall of Fame: two-time All Pro and six-time Pro Bowl running back Marcus Allen (drafted by the L.A. Raiders in 1982) and six-time All Pro and 11-time Pro Bowl defensive back Rod Woodson (drafted by Pittsburgh in 1987). 1 — The first round of the 2013 NFL Draft is scheduled to begin at 7 p.m. CT on April 25. **Click here to visit Titans Draft Central**.