ATLANTA – Eddie George woke up on January 30, 2000 – Super Bowl Sunday – feeling like a kid again.
The Titans running back, in his fourth NFL season and the turbulence that comes with playing in four different home stadiums in four years behind him, had survived it all.
And he was ready to live out a childhood dream.
"It was like Christmas Day," recalled George, smiling. "It was like, "This is something I've thought about since I was a young boy. But I felt comfortable. I felt like this was the next step to achieve greatness, by hoisting up that Lombardi Trophy. I was ready. I could hardly wait until kickoff."
Exactly 19 years ago -- 6,940 days to be exact -- in the Atlanta suburb of Buckhead, George got out of bed and lived a day he'll never forget as long as he lives. The day would include tears, following a 23-16 loss to the St. Louis Rams in Super Bowl XXXIV.
It would also include memories George carries with him today, 14 years after his playing career ended, and now closing in on his 46th birthday. The day includes memories with his fallen friend, late Titans quarterback Steve McNair, from their quiet moments before and after the game, to McNair's heroic moments on the field at the Georgia Dome.
In an interview with Titans Online leading up to Super Bowl LIII, George took us through his day, from beginning to end. His only regret was not winning the game, and not getting another chance.
This was Eddie George's day 19 years ago today:
George had his own room at the team hotel. Tamara Johnson, his girlfriend at the time (and now his wife), gave him a pep talk the night before, and then left him by himself.
"She kissed me and said: Go get 'em," George recalled. "I kind of went over a few things in my playbook, meditated a bit, visualized what the next day would be like, and I went to sleep."
George woke up and had breakfast, and then went to a chapel service at the team hotel.
"It was standing room only," George said. "I want to say every coach, every player, was in there. I felt like in that moment we all had this feeling that we were about to play the game of our lives, and we wanted to be connected in spirit with that."
After the service, George attended meetings. The gameplan was in place.
Then came the team meal. George sat with teammate Anthony Dorsett, and they couldn't keep from hearing the nearby televisions tuned to pregame Super Bowl coverage.
"Some of them were giving their Super Bowl predictions," George said. "One guy said it wasn't going to even be close. He predicted 38-13 Rams, and that ticked us off. We took it personally."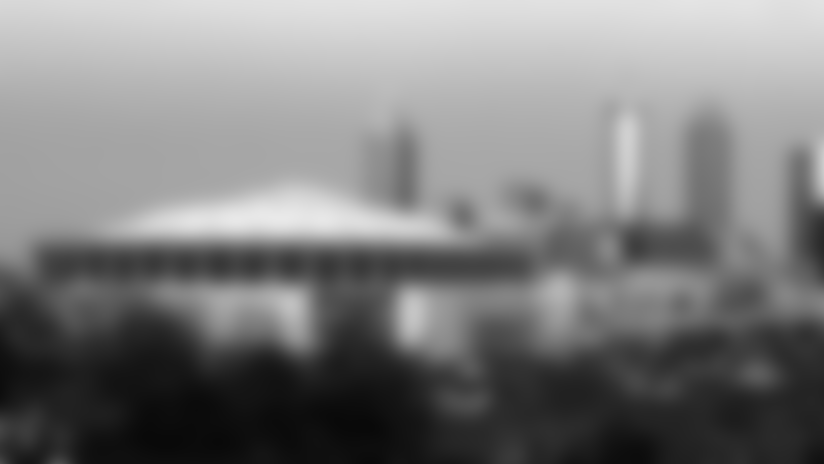 On a gray day, George took the third bus from Buckhead to the Georgia Dome. He looked out the windows as he listened to music while heading down the Interstate, a police escort leading the way.
"I didn't have to pump myself up to play in this game," George said. "I wanted the whole world to see what we were made of, what I was made of, and I wanted to put on a performance like no other.
"On the bus, I looked around. I wanted to see every face on the bus, and soak up every memory."
The Titans buses headed down the tunnel, and into the Georgia Dome parking lot.
"When I got off the bus," George recalled, "I said to myself: 'The next time I get on this bus, I'm going to be a Super Bowl champion."
George got himself mentally geared up in the locker room, and then headed out for warmups.
It didn't take him long to realize things were different.
George saw Sean "P Diddy" Combs on the sideline. Not far from him was Jon Bon Jovi. There were celebrities, and star athletes, everywhere.
"And as the stadium started to fill up," George said, "you could feel the energy. I was thinking, "Oh man. This is it. This is the big stage."
George returned to the locker room, and the team gathered before taking the field.
In the tunnel, he remembers jumping up and down, slapping fives with every coach and every player.
"And then I got to Steve," George said of McNair. "I put my arm around him and told him I loved him. I told him we'd been through so much, and this was our time. I just fell so connected with Steve, and with everyone."
The Titans then took the field. When George came sprinting out of the tunnel, teammates Blaine Bishop and Joe Salave'a were the first to greet him.
Faith Hill performed the National Anthem, and it was time to go.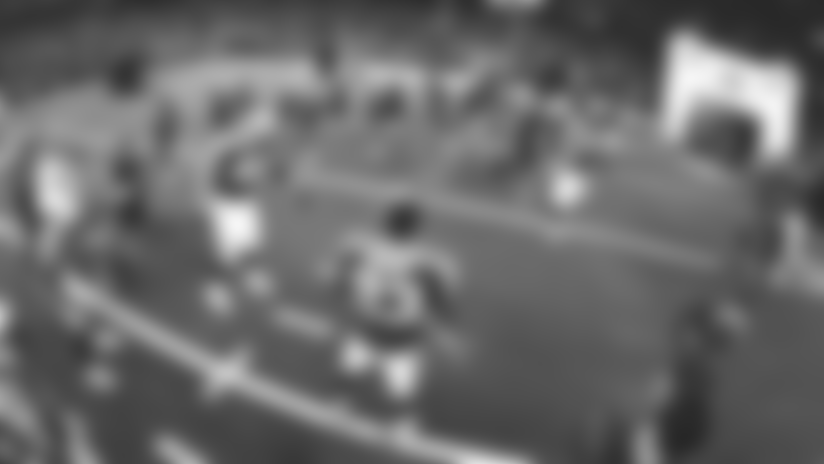 The game, of course, didn't start out as planned.
The Titans trailed 3-0 at the end of the first quarter, and 9-0 at the half. When Rams receiver Torry Holt caught a nine-yard touchdown pass from quarterback Kurt Warner with 7:20 remaining in the third quarter, the Titans found themselves trailing the Rams 16-0.
That's when George remembers Titans coach Jeff Fisher giving a fiery talk on the sideline.
"He brought us all together," George said of Fisher. "He let us know (the Rams) thought the game was over, and they hadn't gotten our best shot yet. … We had almost two quarters to make a run, and we did just that."
A one-yard touchdown run by George made it 16-6 with 14 seconds left in the third quarter.
With 7:21 left in the game, George scored again on a two-yard run, making it 16-13.
"We were delivering body blows to the Rams," George said. "Every time I slammed it up in there, I could hear them gasping for air, taking the wind out of them. The momentum had shifted."
Then, with 2:12 left, the Titans tied the game at 16-16 on a 43-yard field goal by Al Del Greco.
Even when the Rams retook the lead at 23-16 with 1:54 left on a 73-yard touchdown pass from Warner to Isaac Bruce, George still believed.
"There was no sense of panic," George said. "We looked at the clock, and we knew we had time to score a touchdown, send the game into overtime, and then win the game.
"And lo and behold, Steve was masterful. He was like a surgeon on that drive with his throws, and his resiliency, putting the ball under his arm and running with it. We fed off his energy, and there was no doubt we were going to score and win the game."
Time stood still for George and the Titans as receiver Kevin Dyson was tackled at the one-yard line after making a catch on the final play of the game.
George sat down and watched the confetti fall from the roof of the Georgia Dome, as the Rams celebrated.
"I didn't want to leave the field," he recalled. "I couldn't believe it was over. I think all of us felt that way. We all felt so deeply that it was our time, and that we were destined to win the game. And to lose like that, at the one-yard line, after fighting so hard. It was gut-wrenching."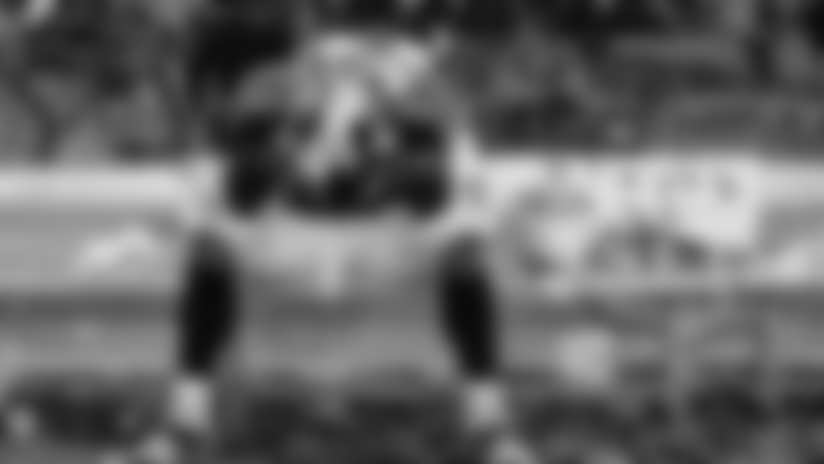 George eventually left the field. He said he shed tears moments after the game, and then again later that night.
He returned to the locker room, did post-game interviews, and walked back on the same bus he'd boarded earlier in the day.
George sat down, across the aisle from McNair.
The two men looked at one another, and vowed to get back to the Super Bowl again one day.
George shakes his head when thinking about everything that's transpired since. He knows the 10th anniversary of McNair's death will be this summer.
"On that dark bus, Steve and I sat there, and we were just numb," George recalled. "We were excited, and devastated at the same time. Steve said, "Damn, 27, that was a hell of a ride, man. I said, "You know what? We gave it all we had, and we're going to make it back. We're going to make it back, and win it.
"Unfortunately, we never made it back. We came close, but we just couldn't get there. But it was a hell of a ride. When I think back at all those memories we shared together, it was special. It was a special time in all of our lives. It's hard to believe it's been 19 years. But just thinking back on all of it, you realize even more just how special it all was. It was a hell of a ride for sure. "
The Tennessee Titans take on the St. Louis Rams in Super Bowl XXXIV on Sunday, Jan. 30, 2000 at the Georgia Dome in Atlanta, Ga. (AP Photos)