**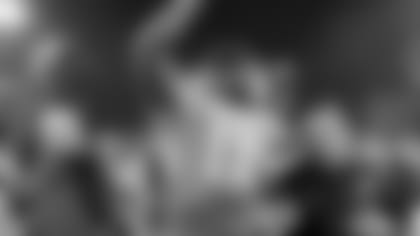 Vince Young waives to the crowd after he helped lead the Titans to a 30-13 victory over Jacksonville.
NASHVILLE, Tenn. --** Vince Young felt good but nervous before his first start this season for the Tennessee Titans. He wound up celebrating with his offensive coordinator and getting high grades from the team owner who wanted him back on the job.
And yes, he threw for a touchdown in helping the Titans win their first game this season, routing Jacksonville 30-13 Sunday to snap an eight-game skid dating to last year.
"The year off has helped me a whole lot," Young said. "I put myself in different scenarios at night time. If I go out and make a bad play and they start to boo me and anything that is going to happen, put it in the past and don't worry about that. ... Continue to make plays and show your humbleness and maturity."
He was greeted by cheers, but Young wasn't the highlight of a game the NFL said was the only one in league history with four touchdowns rushing of 50 yards or longer.
The Titans (1-6) helped put Young in the best position by focusing on running the ball. Chris Johnson set a franchise record by rushing for 228 yards on 24 carries, and he reeled off TD runs of 52 and 89 yards after Jacksonville tied the game at 13 in the opening minute of the third quarter.
Jacksonville's Maurice Jones-Drew added TD runs of 80 and 79 yards as he ran for 177 yards on eight carries.
Coordinator Mike Heimerdinger got Young into a rhythm early with lots of short throws and runs to tap into his mobility. Young also made some nice throws, including his 6-yard TD toss to Nate Washington and a 7-yarder out to the sideline to Kenny Britt to keep the go-ahead TD drive alive on third down.
Young was 15 of 18 for 125 yards and had 10 runs for 32 yards before two kneel downs at the end for the Titans' first win since Dec. 21. He finished with a 114.1 passer rating that was his second highest in a start and highest since 2006 when he was Offensive Rookie of the Year.
It was exactly what owner Bud Adams wanted to see to revive a team coming off a 59-0 shutout at New England, especially for a franchise that must decide whether to keep Young after this season. Young is due a $4.25 million roster bonus in March with a deal counting $14.2 million against the salary cap in 2010.
"I think there's some things that happened to him early in his career that didn't let him concentrate on football. I think he realized he needed to work at it hard. And he has shown that," Adams said.
The Tennessee defense helped as well, sacking David Garrard four times and intercepting him twice. The Titans hadn't had two picks in a game since the season opening loss at Pittsburgh.
With Johnson running away, Tennessee held the ball for nearly 40 minutes and outgained Jacksonville 430-330. Not bad for a team that came in last in the NFL in time of possession, and the 305 yards rushing easily was a season-high.
Jacksonville coach Jack Del Rio took the blame for the loss, which he said caught him off guard. The Jaguars (3-4) missed their first chance to start 3-1 in the AFC South under Del Rio.
"I'm very disappointed to come in here in a game that we had to have, a divisional game and allow a team to basically cram it down our throats, which they did," he said.
It didn't help Jacksonville that cornerback Rashean Mathis sat with a broken left index finger. His replacement, Reggie Nelson, was moved over from his free safety spot and never looked comfortable.
Jacksonville didn't get the ball to Jones-Drew near enough. He was thrown to only four times with one catch for minus-4 yards, though he now leads the NFL with 10 TDs rushing.
"We called runs, but they were putting so many in the box that I had the option of throwing to the receivers outside on those quick slants," Garrard said. "They game-planned it well."
The Titans are sticking with Young, who is now 19-11 as a starter. Not that they are looking too far ahead.
"It's just one week at a time now we got the first win," Titans coach Jeff Fisher said. "Unfortunately, it took us a little bit too long. Now we're going to take it and just move on."