**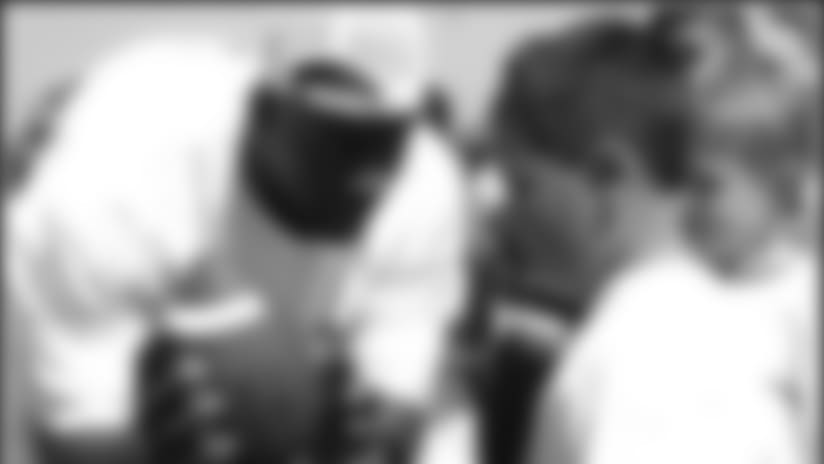 Titans QB Vince Young goes over a play with children during a recent football camp he conducted in Austin.

NASHVILLE, TN, May 6, 2008 —** Titans quarterback Vince Young recently hosted his first annual Vince Young Football Camp at St. Michael's Catholic Academy in Austin, Texas. The one-day camp, which included boys ages 8-16, was divided by position, grade, age and ability level. This was the first of three camps Young has arranged during the offseason, the last of which will be held in Nashville June 26-27 at Father Ryan High School.
The 325 boys that attended the camp had the opportunity to learn from Young, along with his University of Texas and Titans teammates Bo Scaife, Ahmard Hall and Michael Griffin. In addition, some of the top local high school coaches were on hand to lend their expertise.
The campers not only learned about the fundamentals of the game, but had the chance to hear inspiring stories of how the Titans players were able to overcome formidable obstacles to rise to where they are today. Each camper received a camp T-shirt, goodie bag, participation certificate, and an autographed photo by Young.
Young will host his second camp in Houston on May 17 at Butler Stadium. The third and final camp will be held June 26-27 at Father Ryan High School in Nashville. Signup information for that camp will be available next week.
The proceeds raised by the camps benefit the Vincent Young Foundation, which was established in 2006 to assist charitable organizations throughout Tennessee and Texas.
For camp registration and additional information, including the annual Vincent Young Foundation Dinner to be held June 19th at LP Field, please visit Vince Young's website at www.10vinceyoung.com.